The best VPN for Apple iPhone & iPad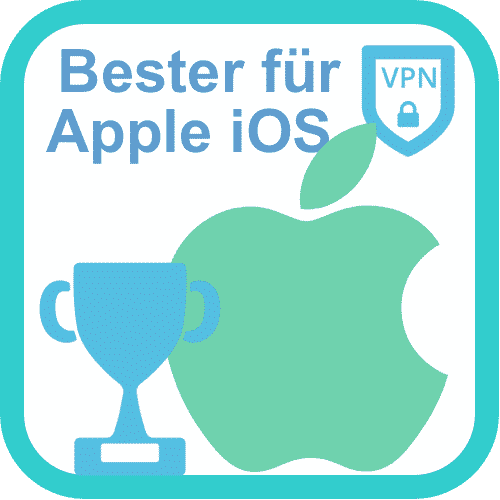 Are you an absolute Apple fan – and do you value your privacy? Then an Apple iOS VPN is a must for you. Most VPN providers have various applications in their programmes. An app for Apple devices is usually also included. After all, there are a lot of Apple users. We'll tell you which iOS VPN delivers what it promises in our Top 10!
Also, take a look at the best VPNs for other categories.
VPN for iPhone: "IKEv2 or Wireguard"
Apple iPhones and iPads are excellent devices and have few vulnerabilities. Nevertheless, Apple does not allow all VPN options to be freely chosen. Common VPN protocols (communication standards for VPN) such as OpenVPN are not supported, nor can complex rules in the firewall of the devices be used by apps. The KillSwitch function for iOS, for example, can only be used with iOS' own "Permanently connected" rule. Only since 2016, however, has a new VPN protocol been implemented "natively" in all Apple products: "IKEv2", which offers smooth and fast data transfer and is considered very secure. However, many VPN providers for MacOS now offer an additional protocol called "Wireguard" that guarantees even faster data transfers and consumes less power, thus conserving battery power. VPN providers that offer this VPN protocol in their software, therefore, have a clear advantage in terms of security and speed.
VPN for iOS devices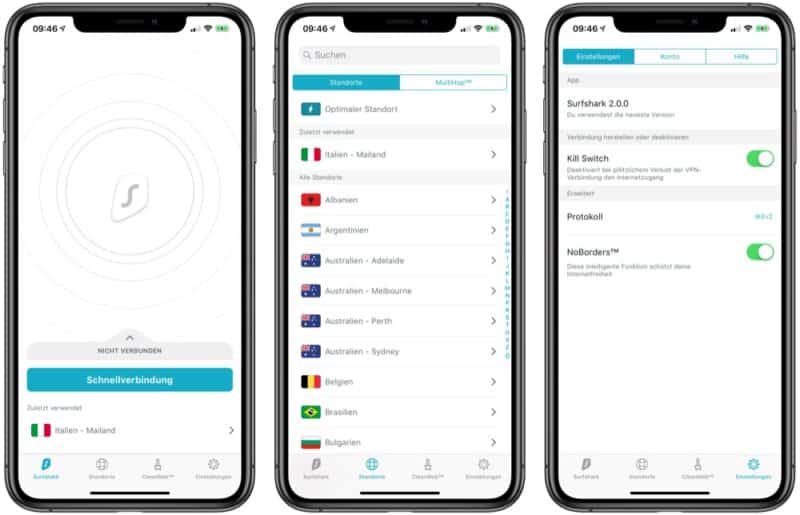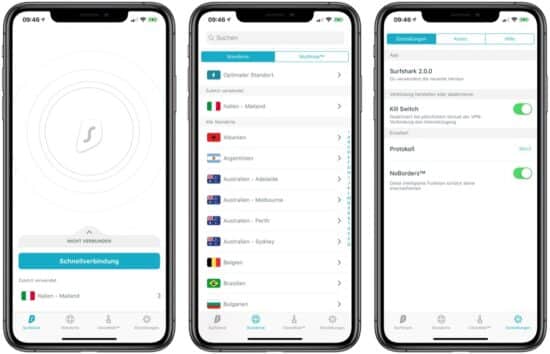 Streaming with the iPhone / iPad
While applications such as torrent use are not possible on iOS devices, these Apple iPhones or iPads are often used for streaming. It is convenient to watch music or videos on them, and possibly even while you are abroad. Therefore, the possibility of VPN streaming with iOS devices is of course important, but it is important to note that not every VPN is compatible with all video platforms.
Best VPN for iOS / iPhone / iPad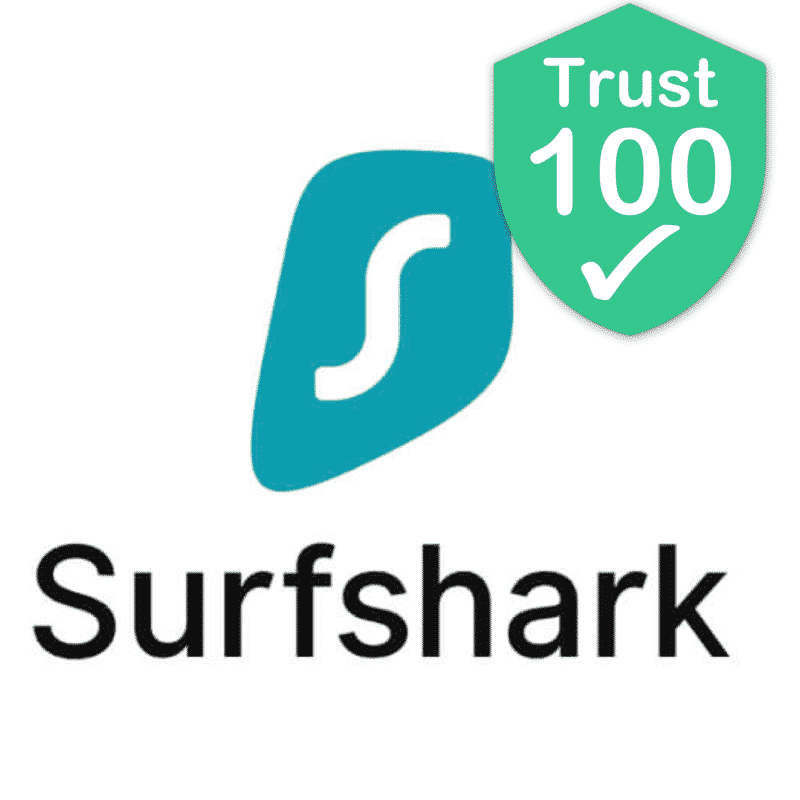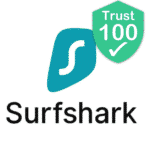 Surfshark VPN
The service offers excellent applications for iPhone and iPad that are easy to use and contain many functions. The filter that blocks malware and other dangers is also excellent and you can also define individual applications that are to be used WITH or WITHOUT VPN. Of course, all security functions such as "KillSwitch" are on board. Surfshark costs less than 2€ per month and you can use one user account on any number of devices in parallel.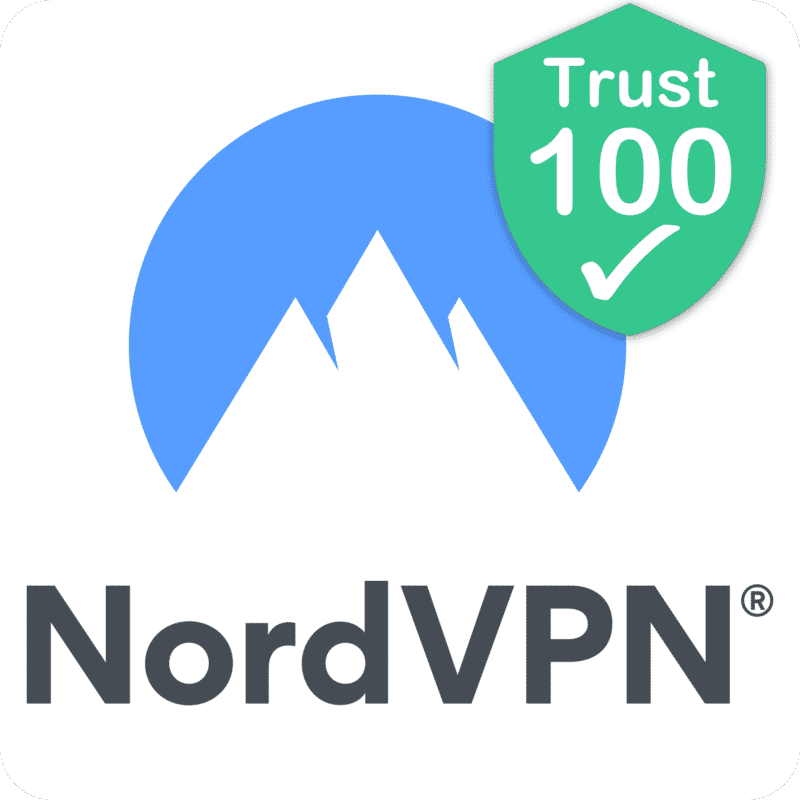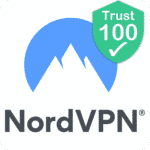 NordVPN
NordVPN is not one of the innovators of the VPN market, but it has imitated many functions more professionally and successfully than other services or has improved them itself. The company has made a name for itself in recent years through enormous advertising presence on the Internet and TV. The success also made the company invest a lot in the operation, additional functions and also security. The VPN provider is one of the most professional VPN providers on the market with easy handling, very good speed and the best security.
10 best VPNs for iOS (iPhone/iPad)
Anbieter
Bewertung
Beschreibung
Preis
Links
Surfshark VPN Test: Unsere aktuellen Erfahrungen mit Surfshark Surfshark ist ein neuer Service aus den BV.Islands, welcher mit einfacher Bedienung punkten will. Der VPN-Anbieter eignet sich gut für TV-Streaming...

ab 2.26 EUR
pro Monat
unlimitiert gleichzeitige
Verbindungen möglich

Webseite Testbericht
Hide.me VPN ist ein Anbieter aus Malaysia, welcher einen kostenlosen, jedoch eingeschränkten, Zugang bietet. Filesharing und TV-Streaming sind in guter Qualität möglich. Die Bedienung ist einfach, die VPN Zugangssoftware...

ab 3.85 EUR
pro Monat
10 gleichzeitige
Verbindungen möglich

Webseite Testbericht
NordVPN Test - Unsere Erfahrungen und alle Vor- und Nachteile. NordVPN wird betrieben von der Firma Tefinkom co S.A. die in Panama ihren Hauptsitz hat und seit 2010 im...

ab 2.89 EUR
pro Monat
6 gleichzeitige
Verbindungen möglich

Webseite Testbericht
OVPN ist in der Branche ein sehr bekannter Anbieter. Mit dem Unternehmensstandort (Firma: OVPN Integrietet AB) in Schweden zeichnet sich dieser Anbieter durch technisch einwandfreie und fortschrittliche Datensicherheit aus....

ab 4.99 EUR
pro Monat
4 gleichzeitige
Verbindungen möglich

Webseite Testbericht
Trust.Zone VPN ist ein preiswerter VPN-Anbieter OHNE Logfiles und mit Hauptsitz auf den Seychellen. Der Service bietet eine große Anzahl an schnellen und hoch verfügbaren Servern zu einem sehr...

ab 1.77 USD
pro Monat
5 gleichzeitige
Verbindungen möglich

Webseite Webseite Testbericht
VPN.ac ist ein rumänischer VPN-Service, welcher einen wirklich akzeptablen Preis und VPN-Server in den wichtigsten Ländern verspricht. Dabei ist die Bedienung kinderleicht und die Server sind zumeist nur sehr...

ab 3.75 USD
pro Monat
6 gleichzeitige
Verbindungen möglich

Webseite Testbericht
ProtonVPN ist der VPN Service des häufiger bekannten ProtonMail Services aus der Schweiz. Es ist der zweite Service des Betreibers, der bekannt wurde für ProtonMail. In unserem Test begleiten...

ab 4 EUR
pro Monat
10 gleichzeitige
Verbindungen möglich

Webseite Webseite Testbericht
---
Apple standard VPN protocol "IEKv2" or "Wireguard"?
Three years ago, Apple integrated a new standard for VPN use into all operating systems (Mac OS and iOS). Since then, "IEKv2" has replaced the previous protocols on the platforms and impresses with its seamless integration.
This has the advantage that the resources that have to be used for encryption and data transport no longer have any limitations and thus high transmission speeds are possible. Compared to OpenVPN, these are impressive advantages that a VPN service must also offer if it is to be the best VPN for Apple devices.