As a streaming and file-sharing fan, I took a look at the Swiss service PrivadoVPN. The service is supposed to be top for torrenting – but is that true? Find out everything in the PrivadoVPN review!
PrivadoVPN Test 2023 – Better for Torrent, Wireguard Test Phase and Little New for Streaming
The most important facts about PrivadoVPN in a nutshell:
The provider is not a real streaming pro, but you can use it to watch Netflix and Disney, among others, as well as some TV channels.
For the torrenting community, Privado actually has a lot to offer – extra functions, own P2P servers, etc.
You can also use PrivadoVPN for free, but with limited data volume.
As a Swiss VPN provider, the service can boast special data protection.
| | |
| --- | --- |
| Product name | PrivadoVPN |
| Recommended areas of application | File sharing/TorrentsVPN routerAvoid warningsHigh anonymityStreaming (Copyright)Bypass locksSecure data transmissionAnonymous communicationFirewall & Protection |
Lack of responses for the "VPN provider trust position" / trust level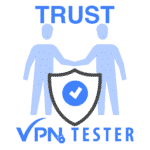 We have written to the VPN provider PrivadoVPN several times to verify the information provided on the website. However, the provider has not responded to our enquiries, which means that we cannot place any trust in this provider. However, if you use a VPN service, you have to trust it. Exactly this circumstance is currently not given with PrivadoVPN from our point of view, which is why we would like to explicitly mention this here.
You can find out more about our trust level certification and why this is important from our point of view in our description.
Our opinion about PrivadoVPN
It is a Swiss service and we see a lot of potential for PrivadoVPN in the future.
PrivadoVPN currently has a smaller customer base and we suspect that this is mainly from the torrent scene. This is where the service is currently strongest, but streaming and other factors will gradually become more important, and the service should therefore continue to develop significantly here. In any case, we will continue to observe the provider and continue our tests. Privado VPN can definitely be recommended to users who also like to use newer providers. And as a free VPN, Privado VPN is absolutely in the top range. We hope that we will soon be able to take a closer look at the background of the service, because so far the provider has refused to provide us with information.
Simple & Secure Applications
---
Privado VPN Background & Company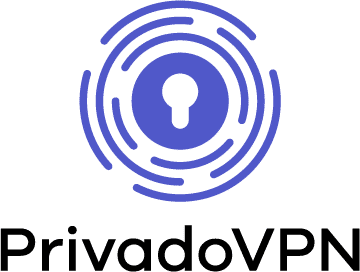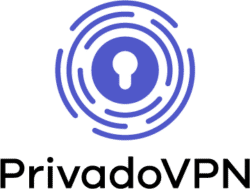 The VPN service "Privado VPN" is operated by the Swiss company Privado Networks AG. The company is based in Landis & Gyr-Strasse 1, 6300 Zug, Switzerland. As is usual with Swiss companies, the turnover data is not publicly available, but we assume that "Privado" is a reputable company. There is a complete imprint on the website and VPN promises to take the data protection of its customers seriously.
| | |
| --- | --- |
| Operating site | Switzerland |
| Clearing location | Switzerland |
| Local legislation has an impact on customer protection | ✔ |
| Operation and billing separately | ✘ |
| Server locations | 45 |
| No log files | ✔ |
| Own DNS Server | ✔ |
| Virtual server | ✘ |
| Dedicated server | ✔ |
| RAM-Disk Server | ✘ |
| Hardware owner | ✔ |
| IP addresses owner | ✔ |
Data protection and ZERO LOG conditions
On the page of the data protection information, it is particularly emphasised:
We do not store any data about what any specific user browsed or accessed through a PrivadoVPN connection.
We are not able to connect activity originating from an IP address from our VPN servers to activity conducted by an individual user.
We encrypt all data over our VPN connections, and we do not inspect or record the contents of what you are viewing, browsing or doing through the PrivadoVPN connections.
We ensure that we never log browsing history, traffic destination, data content, IP addresses, or DNS queries.
We will never sell your data to any third parties.
Finally, we cannot verify PrivadoVPN's own statements, but there is no reason not to believe the provider's statements. We assume that Privado VPN provides a very high level of protection for your identity and activities.
---
What does PrivadoVPN cost?
Privado VPN can be used free of charge and of course, there is also a corresponding premium tariff.
The free tariff
is limited to 10Gb data volume per month, but for many occasional users, this will be sufficient. The restriction you have to live with, however, is the further limitation to 12 servers to choose from, which are used by the "free users" and are accordingly not exceptionally fast. However, users on mobile devices will hardly have a problem with this.
Premium tariff
The premium tariff is also not very expensive and absolutely affordable. This opens up all the servers and a better speed. There are no limits with the premium tariff, but you can only use the service on a maximum of 10 devices in parallel.
In addition, the SOCKS5 proxies are available to conceal the use of the VPN service from the Internet providers. This means that you leave a few less noticeable traces when you use PrivadoVPN.
Note: A 30-day money-back guarantee is a matter of course. The refund was done within 48h without any problems.
Costs / Tariffs

Free use
✘
Tariff (1 Month )
10.99 EUR
Tariff (12 Months )
59.88 EUR (per month 4.99 EUR)
Tariff (24 Months )
95.76 EUR (per month 3.99 EUR)
Number of simultaneous connections per account
10
Test options
Free tariff available
---
Download and Torrent
PrivadoVPN explicitly allows torrent use and supports P2P on all servers. So we already have permission. But what about security, which is extremely important, especially with torrenting.
Functions for secure P2P
1. Extra protection with KillSwitch
If you are in the middle of torrenting and your VPN connection is interrupted, you would be "at the mercy" of the P2P swarm without protection. Anyone sharing a file with you would suddenly have access to your real IP address and your ISP would be able to see what you are doing. The best way to protect yourself from this is to use KillSwitch. The best way to protect yourself from this is to use a kill switch. Fortunately, PrivadoVPN has this really important security feature. As soon as you lose your VPN connection, the kill switch shuts down your internet activities and your IP address is protected. Therefore: Always activate the kill switch in the PrivadoVPN app! This is not switched on from the start!
2. Disguise IP & still secure with SOCKS5
Another essential feature PrivadoVPN offers P2P users (in the premium tariffs) is the SOCKS5 protocol. Unlike our other VPN protocols, SOCKS5 is used through your preferred P2P client instead of the PrivadoVPN app. SOCKS5 only changes your IP address and doesn't route all of your online activity through an encryption tunnel, providing a less than secure but fast connection, which is obviously handy for torrenting. You can set up your torrent client so that only your torrenting runs over this protocol.
3. IPv6 and DNS Leak Protection
PrivadoVPN offers its users IPv6 and DNS leak protection, which is crucial for secure torrenting. All data is encrypted on your device, sent through an encrypted tunnel and not decrypted until it reaches the destination device.
4. Fast PrivadoVPN servers
We should not forget that speed is of course also a factor in P2P, what is the point of being particularly secure on the move, but having to wait days for downloads. In our experience, the VPN servers are really TOP fast for typical torrent downloads.
Download and torrent

Torrent use allowed
✔
Own Torrent Server
✔
Avoid warnings
✔
Port forwarding
✘
SOCKS5 Proxy for Torrent Clients
A particularly good approach, in our opinion, is to use SOCKS5 proxies for the torrent clients directly. This means that you can still use Torrent very securely and, above all, quickly without using VPN software and without resource problems with the device due to the encryption.
PrivadoVPN even says themselves that they especially recommend and support this for torrent. Without limitations. It has become quite rare in this day and age that VPN services recommend themselves so highly to torrent users. Many are also afraid that they could get into trouble with payment service providers from the USA.
You can use the service really easy and fast with the following torrent clients
Torrent clients with SOCKS5 proxy settings:
BiglyBT
BitComet
BitTorrent
Deluge
qBittorrent
uTorrent
Vuze
---
Streaming with PrivadoVPN
Privado is designed more for torrenting and this is also noticeable when streaming from various platforms. The lack of SmartDNS is noticeable here and most video portals block PrivadoVPN users due to IP address blocks. For perfect streaming, take a look at our top 10 VPNs!
Streaming of TV and video content

Use on home router
✔
Use with KODI
✔
SmartDNS
✘
FireTV App
✔
Avoid warnings
✔
Supported international streaming platforms
Disney+ (US)Hulu (US)Amazon Prime Video (US)Netflix (US)Apple TV (US)Watch ESPN (US)Channel 4 (US)NFL Gamepass (US)MLB.tv (US)abc (US)CBS (US)FOX (US)NBC (US)Showtime (US)FLIX (US)HBO Now (US)BBC iPlayer (UK)YouTubestarz (US)hustlerTV (US)PenthouseTV (US)PlayboyTV (US)
---
Speed of PrivadoVPN
The service corresponds to the good midfield of VPN providers that we have tested so far for their speed. The fact that the Wireguard protocol, which is used by many VPNs, hardly makes a difference here compared to the use of OpenVPN also speaks for the well-equipped VPN servers. Therefore, they can also cope very well with the higher load through OpenVPN. The provider is thus certainly one of the most efficient on the market, and torrent friends will particularly appreciate this. Of course, it is even faster if you use the SOCKS5 proxies for torrents.
Maximum speed tested
Germany | 31.12.2022
Speedtest mit PrivadoVPN
---
Privacy & Data Protection
VPN providers PrivadoVPN Networks Ltd are based in Switzerland, which means they are subject to Swiss jurisdiction. This is good news, as Switzerland has some of the strictest consumer protection laws in the world. In addition, PrivadoVPN promises a no-log policy. Let's take a closer look at the provider's privacy policy:
PrivadoVPN logs and stores the following information (supposedly only) to manage accounts:
The customer's email address for account creation
Customer payment information for paid accounts (the website states that the provider does not collect or store your credit card number)
Support data for troubleshooting certain problems
Anonymous statistics about mobile applications
PrivadoVPN (Zero Log VPN) does not log:
Browsing history
Data content
IP addresses and physical locations
Personally identifying information
So it's not really that PrivadoVPN doesn't store anything at all, but at least not everything.
The VPN provider owns and operates its own backbone and runs its own DNS servers. Among them, over 40 SOCKS5 proxy servers for all torrenting users who need high speeds and want to mask their IP address at the same time. A really great thing!
Anonymous on the Internet

Changed virtual location
✔
Protection against requests for information
✔
Prevent general monitoring
✔
Prevent targeted surveillance
✘
No log files
✔
Obfusication (masking)
✔
TOP: No leaks found
We checked the PrivadoVPN applications for various IP, DNS or torrent leaks and also on different devices. It turned out that the applications all do their job well. No leaks occurred during use and users can therefore be sure that all settings also offer corresponding protection immediately after installing the applications.
---
Applications & Apps
PrivadoVPN has apps available for the following operating systems:


Mac
Windows
Linux
Android
iOS
Amazon Fire TV
FireTV
Android TV
PrivadoVPN can also be used with SOCKS5 proxies and OpenVPN on many other devices such as VPN routers or even within individual torrent clients such as BitComet, BitTorrent, qBittorrent, uTorrent and several others.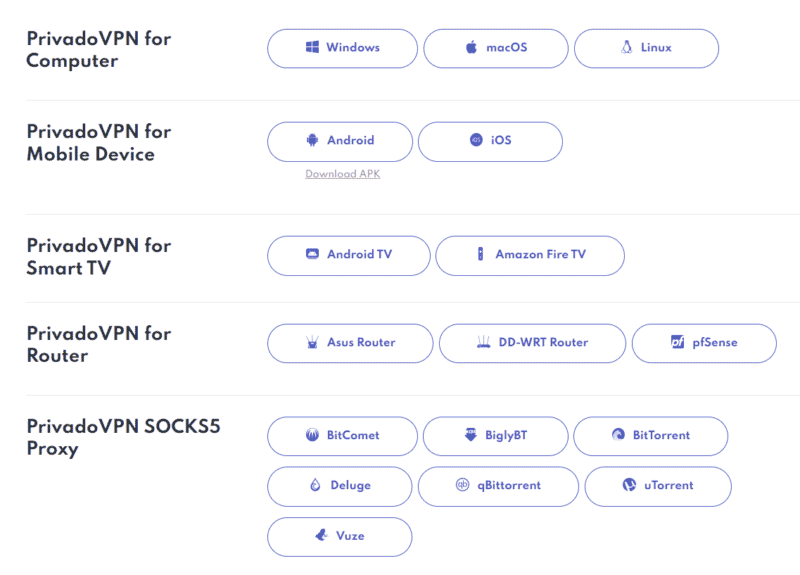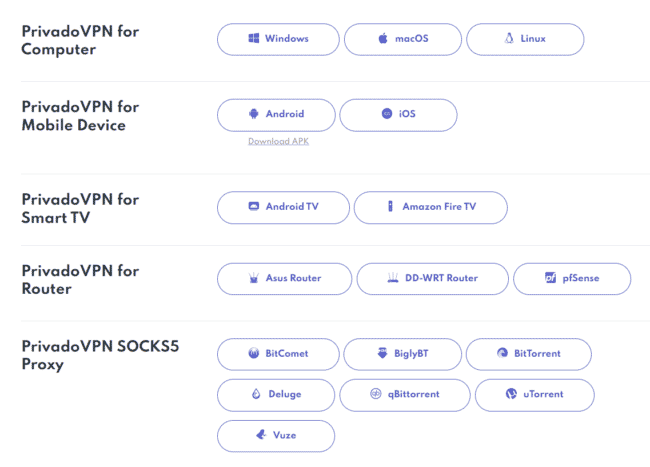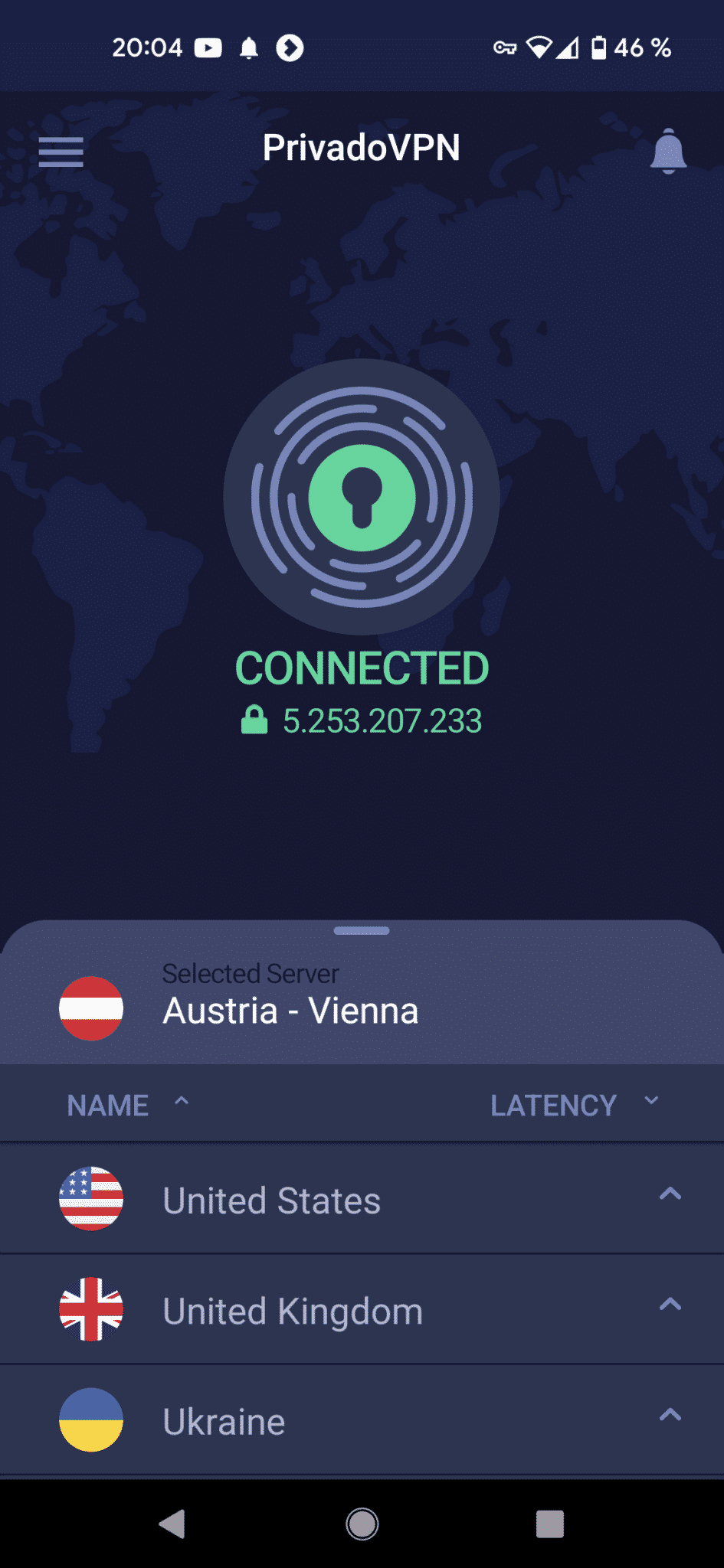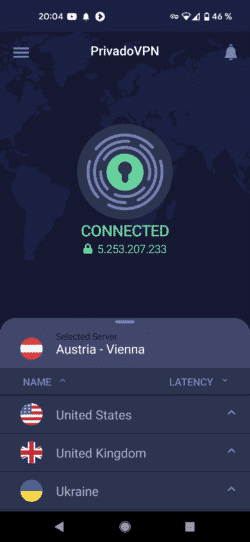 I carried out the PrivadoVPN test with the Windows desktop version. The app was easy to install and also easy to use. However, what bothers me is that the VPN window closes and I always had to open the app again to check the connection. Personally, I have also changed it. To do this simply:
Open app
Click on the 3 dashes at the top left (to get to the settings).
"Click on "Preferences
Click on the "Application" section
Set Windows Style to "Undocked
Privado VPN options of the apps
The PrivadoVPN apps offer you the following options:
Automatic connection options as well as one-tap connection
Automatic selection of the fastest server based on your location
Automatically connect to the last connected server
Manual selection of any server
Fast and easy switching of protocols (Wireguard is currently being introduced)
Encryption of all incoming and outgoing data
Encrypted end-to-end tunneling to avoid DNS and IP leaks
| | |
| --- | --- |
| Available protocols | SOCKS5OpenVPN (UDP)OpenVPN (TCP)IKEv2WireGuard |
| Own applications/apps | AndroidKODI AddOnFireTVOpenWRTASUSWRTOpenVPN UDPAndroid TVWindowsMac OSXApple iOSLinuxDD-WRTOther OS/IntegrationWindows Phone |
| KillSwitch function | ✔ |
| Applications language | English |
---
VPN Router with PrivadoVPN
The provider also allows users to use the service on various VPN routers via OpenVPN UDP and TCP. It is a pity that we cannot use Wireguard for this. But the speeds with OpenVPN are still quite good, depending on the router used. Unfortunately, we did not find any IP addresses of PrivadoVPN's own DNS servers. This means that you have to use other public DNS. Unfortunately, many VPN services have implemented this, as they usually only allow their own DNS servers to be used in their own apps and applications.
Operation on VPN client router

Use on routers
✔
Load Balancing
✘
Failure-free operation
✘
Own router application
✔
Compatible with
ASUSGl-iNetDD-WRTVilfo Router
---
Network & Protocols
PrivadoVPN Networks Ltd. owns and manages its own data centres, which is an advantage for the security of the users, as the provider is not dependent on hosters and can therefore control the quality, speed and security of the service itself. This also gives the provider the opportunity to react quickly to problems such as server failures and IP blocks. In total, PrivadoVPN has servers in 45 countries around the world, all of which are physical, not virtual, servers. PrivadoVPN offers a choice of protocols: IKEv2, OpenVPN and SOCKS5. Wireguard is a new addition.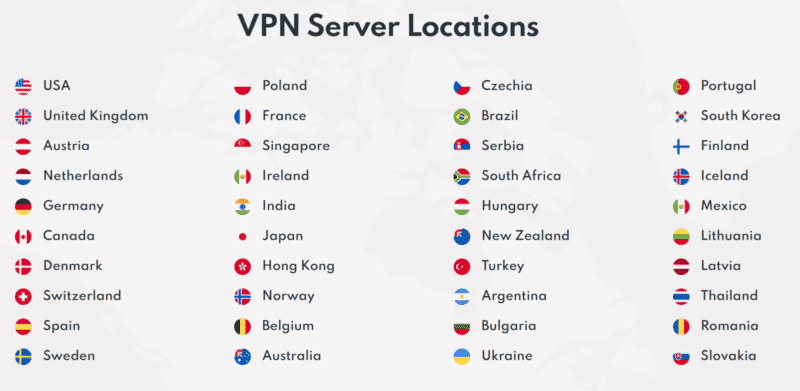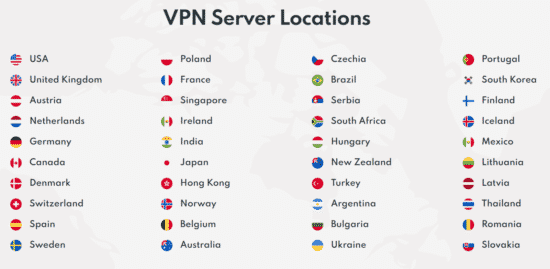 SOCKS5 Proxies for fast applications & torrent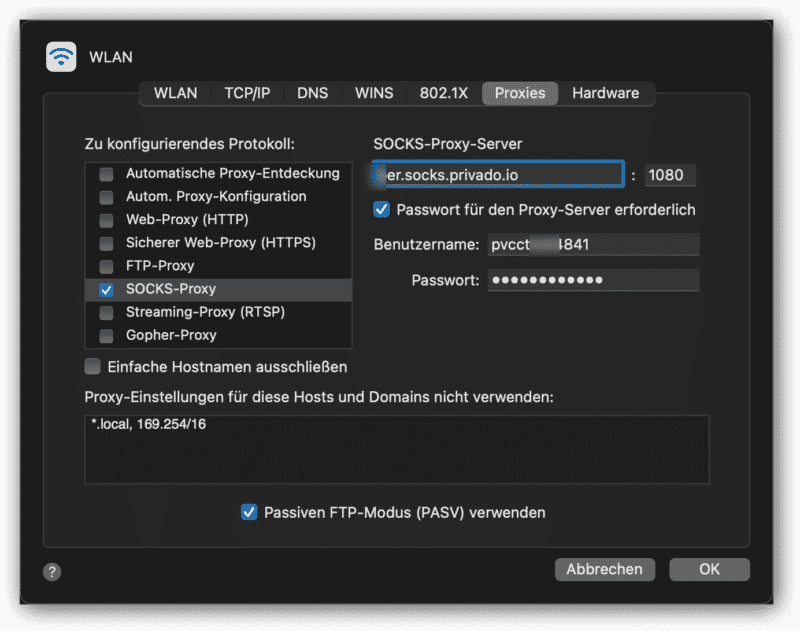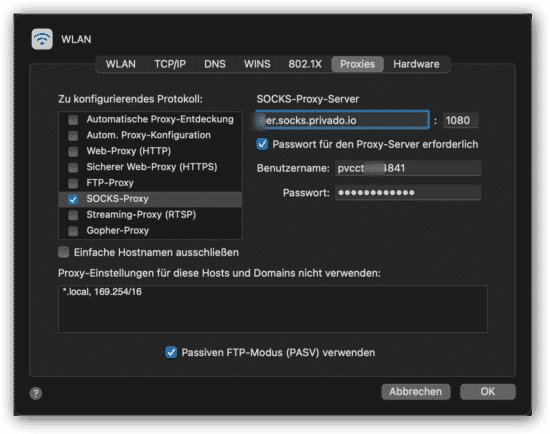 ---
Travelling mit PrivadoVPN
PrivadoVPN can be used well on the move with the apps for mobile e-devices.
High power consumption of the Android app
But even with the resource-saving standard "Wireguard", the PrivadoVPN app for Android caused an above-average battery drain in our tests. PrivadoVPN needs to make significant improvements here to make the service fit for mobile use as well.
Wireguard and SOCKS5 proxies
The fact that you can use Wireguard (beta version) means that you can use the service unhindered in most countries, but we miss the SOCKS5 integration in the mobile apps, as this would have made it possible to conceal data even in restrictive environments (China, Turkey, Dubai, UAE).
VPN for travel and abroad

Use in restrictive networks (China, hotels)
✔
Obfusication (masking)
✔
Protection in insecure wifi networks
✔
Shadowsocks or SOCKS5
✔
On the whole, Privado VPN is a good travel companion for most cases, but the power consumption problem definitely needs to be fixed
---
Customer Service
PrivadoVPN offers an extensive support page for initial information. In addition, 24/7 email support is available for all tariffs. Unfortunately, there is no real-time support, but the answers to questions are quite fast.
However, we are disappointed by the language framework, which is only available in English, and for a service from Switzerland, one could have expected more. Live chat, for example, would be a greater help here, as users could then answer answers directly by asking questions if they do not understand them straight away.
Customer service

Applications language
English
Customer service
FAQ websiteE-mail
Language in customer service
English
---
Functional overview
PrivadoVPN's range of functions is actually quite enormous, even though the provider is mainly tailored to torrent users, as we have already mentioned several times in the test report.
Special functions

IPv4
✔
IPv6 (new)
✘
Static IP
✘
Shared IP
✔
Multi-hop VPN
✘
NeuroRouting
✘
Malware filter
✘
Firewall
✘
Tracking Blocker
✘
Obfuscation (mask)
✔
RAM disk (k.HDD)
✘
AlwaysOn Server
✘
Own DNS
✔
Port forwarding
✘
VPN-to-TOR
✘
No log files
✔
Autom. IP change
✘
LoadBalancing
✘
Virtual server
✘
Dedicated server
✔
Own hardware
✔
Own IP addresses
✔
SmartDNS
✘
Own Torrent Server
✔
KillSwitch
✔
---
Frequently asked questions about PrivadoVPN
Does PrivadoVPN store log files?
The provider is very transparent in its handling of data and, according to its own information, does not store any log files or data that could identify users or their activities.
Erstellt am: 14. July 2022