VPN Providers & Services (Tests & Experience)
Here we list all tested VPN services that we have just tested. Most of the test reports have been around for a few years and we are constantly updating them.
VPN Services tests
We have made it our goal to create the best and most comprehensive tests and information on the best VPN provider for our readers and go significantly further than other VPN comparison portals. We visit the providers personally and thus get an overview that others simply do not have, instead of simply writing off the advertisements of the providers. You will find more than 200 different categories and details on each provider in our test reports and can thus also assess them under the surface of the websites themselves.
---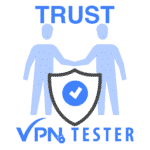 VPN Provider Trust & Transparency
We have started to test the providers not only for functions but also for their "trustworthiness & openness". This means that we have created a questionnaire, which these providers have answered and have also sent us evidence of the correctness of the information. This generated the "trust level" which is already displayed by many providers. It includes questions about the background of the company, the technical equipment and also the contractual conditions.
Trustworthiness & transparency of VPN providers
---
You don't have much time? We have sorted the services by category for you:
TV Streaming: the best providers to watch TV channels worldwide
Torrent: the best VPN provider for secure downloading
Security level: if you are not sure what your requirements are, use our service for security with VPNs
Anonymity: if you want to hide your identity from others, then a special VPN can help you do this
VPN on a router at home: get all your devices protected around the clock.
The latest VPN tests (ranking)
Provider
Evaluation
Description
Price
Links
Surfshark VPN is a VPN service that was only founded in 2018 in Vilnius, Lithuania and contributes to the anonymity of users by concealing their IP addresses. We have tested the service regularly since its …

from 2.30 EUR
per month
unlimited simultaneous
Connections possible

Website Review
OVPN review 2023: The fastest VPN on the market, no logging policy & support for many streaming services OVPN is a very well-known provider in the industry. With the company location (company: OVPN Integritet AB) in …

from 4.22 EUR
per month
7 simultaneous
Connections possible

Website Review
In our NordVPN review, we go into detail about all the functions of the VPN service and also provide information about the background of the company. NordVPN Test (Update 2023) - No log files, ram disk …

from 3.29 EUR
per month
6 simultaneous
Connections possible

Website Review
Cyber Ghost VPN Review (2023). Better streaming abroad, faster servers and new offers. CyberGhost VPN is a Romanian VPN provider that belongs to the KAPE Technologies company. The technical implementation is carried out by the company …

from 2.11 EUR
per month
7 simultaneous
Connections possible

Website Review
Perfect-Privacy VPN Test Report: Maximum Swiss Anonymity and Privacy Perfect-Privacy has been offered for more than 10 years, with special emphasis on secrecy and preservation of the user's identity. Unparalleled high standards are set for security …

from 8.96 EUR
per month
unlimited simultaneous
Connections possible

Website Website Review
VPN.AC is a Romanian VPN service that promises a really acceptable price and VPN servers in the most important countries. VPN.ac Review Update 2023 - Even faster and native Wireguard support now for many VPN routers It …

from 3.75 USD
per month
6 simultaneous
Connections possible

Website Review
AtlasVPN Review 2023 - Cheapest VPN service on the market and still secure? The provider Atlas VPN is a very new service on the market. The service was founded in January 2020 and will certainly continue …

from 1.61 EUR
per month
unlimited simultaneous
Connections possible

Website Review
Proton VPN FREE Test 2023 - How secure is the VPN provider? Proton VPN is the VPN provider of the more commonly known ProtonMail service from Proton Technologies AG, based in Switzerland. In our tests, we …

from 4.99 EUR
per month
10 simultaneous
Connections possible

Website Website Review
Hide me VPN review (2023) - Faster VPN servers & no log files The VPN provider Hide me VPN has been present on the German market for many years and we already wrote our first review …

from 3.99 EUR
per month
10 simultaneous
Connections possible

Website Review
Ivacy VPN Test Ivacy VPN is unknown to many readers in Germany, although the obvious services of this provider are extremely good. The whole thing at a price of fewer than 3 euros per month also …

from 1 USD
per month
10 simultaneous
Connections possible

Website Review
As a streaming and file-sharing fan, I took a look at the Swiss service PrivadoVPN. The service is supposed to be top for torrenting - but is that true? Find out everything in the PrivadoVPN …

from 3.99 EUR
per month
10 simultaneous
Connections possible

Website Website Review
PIA = Private Internet Access - A provider of the Kape Technologies service family and brother of VPN comparison platforms. The provider is based in the USA, where no user log files have to be stored, …

from 1.79 EUR
per month
10 simultaneous
Connections possible

Website Review
Trust.Zone VPN is a low-cost VPN provider headquartered in Seychelles. The VPN service offers VPN clients for various devices such as Windows, macOS, Android, and iOS but also some Linux distributions. In addition, you can …

from 1.85 USD
per month
5 simultaneous
Connections possible

Website Website Review
Windscribe VPN Review 2023: FREE and how secure is the service? Windscribe VPN is a free VPN service from Canada that offers ad blockers and also secure email addresses/mailboxes. The services are limited in the free …

from 5.75 USD
per month
1 simultaneous
Connections possible

Website Website Review
Mullvad VPN - test 2023 and our experience Mullvad VPN from Sweden imposes superlatives on itself, maximum security is the promise to the customers. Unfortunately, one can also see that Mullvad's technology is hardly ready for …

from 5 EUR
per month
5 simultaneous
Connections possible

Website Review
ExpressVPN Experience & Review 2023┆Not the fastest VPN in the market ExpressVPN is a VPN provider based in the British Virgin Islands with offices in Ireland. The VPN service offers a choice of VPN servers in …

from 8.32 USD
per month
1 simultaneous
Connections possible

Website Review
VyprVPN Review: A great choice for streaming & more VyprVPN offers a lot of innovative features. We have tested them all. You'll find the details in our brand-new VyprVPN review 2023! Our estimate about VyprVPN VyprVPN is among …

from 5 USD
per month
5 simultaneous
Connections possible

Website Review
Hotspot Shield Review: Be Careful With It! We tested a VPN provider that has a special relationship with US authorities and secret governmental services. Hotspot-Shield VPN. Of course, many questions arose about why someone offers VPN service …

from 8 USD
per month
5 simultaneous
Connections possible

Website Review
This list corresponds to reports updated within the past year. We do not display older reports. *Prices are indicative, current price offers can be found in the provider details.
What does a "VPN service" do?
A virtual private network (VPN) gives you online privacy and anonymity by creating a private network from a public internet connection. VPNs mask your internet protocol (IP) address so that your online actions are virtually untraceable. Most importantly, VPN services establish secure and encrypted connections to provide more privacy than even a secured Wi-Fi hotspot.
Why do you need a VPN service?
Surfing the internet or making transactions over an unsecured Wi-Fi network means you could be giving away your private information and browsing habits. That's why a virtual private network, better known as a VPN, should be a must for anyone concerned about their online safety and privacy.
Think of all the times you've been out and about, reading emails while standing in line at the coffee shop, or checking your bank account while waiting at the doctor's office. If you haven't logged into a private Wi-Fi network that requires a password, any data transmitted during your online session could be intercepted by strangers using the same network.
The encryption and anonymity offered by a VPN help protect your online activities: Sending emails, shopping online or paying bills. VPNs also help keep your internet browsing anonymous.
How a VPN protects your IP address and your privacy
VPNs create a data tunnel between your local network and an exit node in another location, which can be thousands of kilometres away, making it seem like you're in a different place. This advantage gives you online freedom, or the ability to access your favourite apps and websites on the go.
Here's a closer look at how a virtual private network works. VPNs use encryption to scramble data when it's sent over a Wi-Fi network. The encryption makes the data unreadable. Data security is especially important when you're using a public Wi-Fi network because it prevents anyone else on the network from listening in on your internet activity.
There is another privacy side. Without a VPN, your ISP can know your entire browsing history. With a VPN, your browsing history is hidden. This is because your internet activity is linked to the IP address of the VPN server, not yours. A VPN provider can have servers all over the world. This means that it looks like your search activity is coming from one of these servers. Remember that search engines also track your search history, but they will associate this information with an IP address that is not yours. Again, your VPN will keep your online activity private.
VPN privacy: What does a VPN hide
A VPN can hide a lot of information that can compromise your privacy. Here are five of them.
1. Your browsing history
It's no secret what you are searching for on the internet. Your internet provider and web browser can track pretty much everything you do on the internet. Many of the websites you visit can also store a history. Web browsers can track your search history and link this information to your IP address.
Here are two examples of why you should keep your browsing history private. Maybe you have a medical problem and are searching the internet for information about treatment options. Guess what? Without a VPN, you've automatically shared that information and could get targeted ads that draw even more attention to your condition.
Or maybe you just want to compare airline ticket prices for a flight next month. The travel sites you visit know you're looking for tickets and they might show you prices that aren't the cheapest.
These are just a few examples. Remember that your internet provider may be able to sell your browsing history. Even so-called private browsers may not be so private.
2. Your IP address and location
Anyone who captures your IP address can see what you searched for on the internet and where you were when you searched. Think of your IP address as the return address you would write on a letter. It leads back to your device.
Because a VPN uses an IP address that is not your own, it allows you to maintain your online privacy and search the internet anonymously. You are also protected from having your search history collected, viewed or sold. Remember that your search history can still be viewed if you use a public computer or a computer provided by your employer, school or other organisation.
3. Your location for streaming
You may pay for streaming services that allow you to watch things like professional sports. If you travel out of the country, the streaming service may not be available. There are good reasons for this, including contract terms and regulations in other countries. However, with a VPN, you could choose an IP address in your home country. This would probably give you access to any event shown on your streaming service. You might also be able to avoid data or speed throttling. 4.
4. Your devices
A VPN can help protect your devices, including desktop computers, laptops, tablets and smartphones, from prying eyes. Your devices can be a prime target for cybercriminals when you access the internet, especially if you're on a public Wi-Fi network. In short, a VPN helps protect the data you send and receive on your devices so hackers aren't able to watch your every move.
5. Your web activities – to preserve freedom on the internet.
Hopefully, you're not a candidate for government surveillance, but who knows? Remember that a VPN protects your internet provider from seeing your browsing history. So you're protected if a government agency asks your ISP to provide records of your internet activity. Assuming your VPN provider does not log your browsing history (some VPN providers do), your VPN can help protect your internet freedom.
How can a VPN help protect against identity theft?
Identity theft occurs when thieves steal your personal information and use it to commit crimes in your name – like taking over or opening new accounts, filing tax returns in your name, or renting or buying property. A VPN can protect against identity theft by helping to protect your data. It creates an encrypted tunnel for the data you send and receive that is out of reach of cyber thieves.
If your smartphone's Wi-Fi is always on, your device could be vulnerable without you realising it. Everyday activities such as online shopping, banking and browsing can expose your information and make you vulnerable to cybercrime.
A VPN can protect the information you share or access on your devices. This is especially important if you're using a public Wi-Fi network, where a cyberthief on the same network could intercept your login details and the credit card number you enter when shopping online.
You can't prevent identity theft. No one can. Some aspects of security – like a data breach at an organisation you have an account with – are out of your control. But a VPN can help protect the information you send and receive from your devices.
What should you look for in VPN services?
The VPN market is overflowing with options, so it's important to consider your needs when choosing a VPN.
Think about what is important to you. 1) Do you want to surf the internet anonymously by disguising your IP address? 2) Are you afraid that your data could be stolen on a public WLAN? 3) Are you a frequent traveller who wants to watch your favourite shows on the go?
A good VPN can help you do all three, but here are a few other points to consider.
How to choose a VPN provider
A smart way to stay safe when you're using public Wi-Fi is to use a VPN solution. But what's the best way to choose a virtual private network? Here are some questions you should ask when choosing a VPN provider.
Do they respect your privacy? The point of a VPN is to protect your privacy, so it's important that your VPN provider also respects your privacy. They should have a no-log policy, which means they don't track or log your online activity.
Does it use the latest protocol? OpenVPN offers more security than other protocols, such as PPTP. OpenVPN is open-source software that supports all major operating systems. However, Wireguard is the latest protocol, which not only provides security but also maximum speed.
Is there a data limit? Depending on your internet usage, bandwidth can be a deciding factor for you. Make sure the services meet your needs by checking that you get full, unmetered bandwidth with no data limits.
Where are the servers located? Decide which server locations are important to you. If you want to appear to be accessing the internet from a particular location, make sure there is a server in that country.
Will you be able to set up VPN access on multiple devices? If you're like the average consumer, you typically use between three and five devices. Ideally, you will be able to use the VPN on all devices at the same time.
How much will it cost? If price is important to you, then you may think that a free VPN is the best option. However, remember that some VPN services don't cost you any money, but you may be "paying" in other ways, such as frequent ads or having your personal information collected and sold to third parties. When you compare paid vs. free options, you may find that free VPNs:
do not offer the most up-to-date or secure protocols
do not offer the highest bandwidth and connection speeds for free users
have a higher connection dropout rate
do not have as many servers in as many countries around the world
do not offer support. There are many points to consider when choosing a VPN, so do your homework to make sure you get the right one for your needs. Regardless of which provider you choose, you can be sure that a good VPN offers more security, privacy and anonymity online than a public Wi-Fi hotspot.