CyberGhost VPN
1.89 e
Positiv
Very good for international streaming
Many functions that you can use as options
Easy installation and use on devices where there are applications
Use of BitTorrent and all other downloads possible
Negativ
Belongs to the same owner as vpnmentor.com, ExpressVPN, ZenMate, PrivateInternetAccess.
Cyber Ghost VPN Review (2023). Better streaming abroad, faster servers and new offers.
CyberGhost VPN is a Romanian VPN provider that belongs to the KAPE Technologies company. The technical implementation is carried out by the company "CyberGhost s.r.o" in Romania. Of course, customer privacy is also CyberGhost's top priority, which is why no log files and logs are kept, which the company therefore cannot share with third parties.
The service promises "anonymity" on the Internet and also provides users with a simple VPN software for almost all devices with logical instructions. Thus, the service is very suitable for newcomers who want to enter the topic of VPN for the first time and be more secure when surfing the Internet.
How good is CyberGhost VPN?
Our conclusion: After the takeover of CyberGhost VPN by the technology investor "Kape Technologies", many things have changed internally at the VPN provider and even scared off some previous customers who had previously been loyal to the provider for years. The enthusiasm of the employees and the operator of the VPN service, which was noticeable from the beginning, seems to have given way to economic considerations and calculations since then. As a result, CyberGhost has shown little innovation in the past few years and has therefore already been left behind by many of its market competitors.
Better than expected. The basic features of the service, such as the achievable speed and appealing apps, are still in the very good midfield compared to other providers. However, many of the torrent users have also been very satisfied with CyberGhost for years, we also assume that this is why most users are currently using the service.
CyberGhost VPN is less suitable for people who want to use the service for streaming services abroad. In order to use streaming services, you always have to manually select your own suitable location. On the one hand, this is a bit confusing and can also be a bit stressful if you have to change the VPN connections more often.
A VPN provider with experience
Those who continue to use CyberGhost have an experienced VPN provider, which cannot shine with great innovation and or absolute "anonymity", but cleanly made applications that work flawlessly on all devices. If you don't miss any of the features CyberGhost offers, you should stick with it.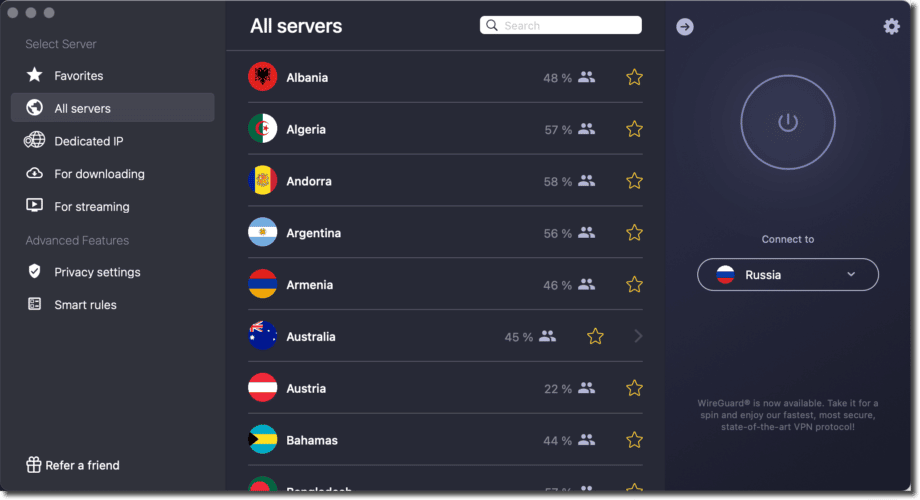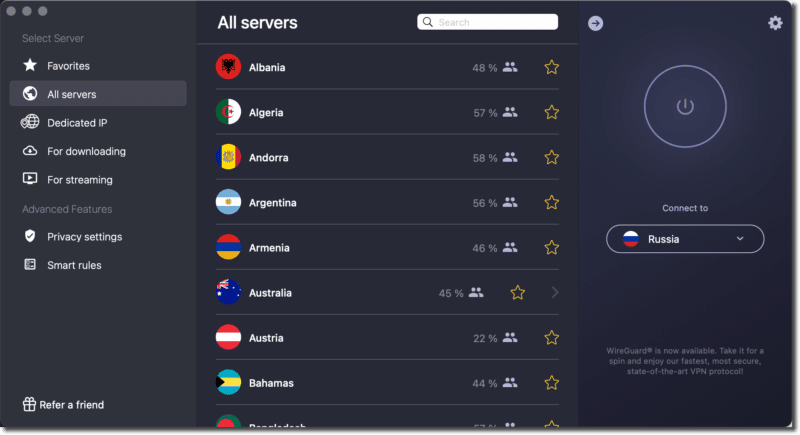 CyberGhost VPN FAQ
Does CyberGhost save Logfiles?
Yes/No. CyberGhost keeps logs of the users' logins and thus also limits the simultaneous use per user account. However, no really usable data is included here and is therefore harmless.
How much does CyberGhost cost?
CyberGhost VPN is available in different tariffs and in the cheapest case from 2.50 euros per month.
Is Cyberghost free of charge?
No, the free variant of CyberGhost was discontinued in 2018.
Is CyberGhost really safe?
This depends on what exactly one understands by the term "security". However, the service offers secure encryption and transmission of data via its own servers.
How do I cancel CyberGhost?
CyberGhost is quite easy to cancel directly from the customer area.
If you want to cancel the service and use the money back guarantee, the best way is to send an email to [email protected].
---
Company behind Cyber Ghost VPN
The provider is located in Romania. Many innovations that are now standard at numerous other VPNs were first offered by CyberGhost VPN.
Group brands besides CyberGhost
About 3 years ago, the service was sold to Kape Technologies, the technology company also owns other VPN providers like ExpressVPN, Zen Mate, PrivateInternetAccess and the VPN comparison platforms vpnmentor.com or wizcase.com, which of course highly recommend Cyber Ghost VPN. However, this is not mentioned anywhere, which is why this is of course unserious and we would like to note here that, unlike most other platforms, we are not paid for our critical reviews.
The billing still takes place via Romania and thus within the EU, which makes the payment options correspondingly extensive, but you are still safe from official requests for information with CyberGhost VPN. The merged companies also have the effect that technical aspects are now solved even more professionally. Our CyberGhost test since the merger shows positive trends in this area.
| | |
| --- | --- |
| Operating site | Romania |
| Clearing location | Romania |
| Local legislation has an impact on customer protection | ✔ |
| Operation and billing separately | ✘ |
| Server locations | 90 |
| No log files | ✔ |
| Own DNS Server | ✔ |
| Virtual server | ✘ |
| Dedicated server | ✔ |
| RAM-Disk Server | ✘ |
| Hardware owner | ✔ |
| IP addresses owner | ✘ |
---
CyberGhost costs and rates
The normal "Cyber Ghost prices" are hardly worth paying attention to due to promotions that are launched again and again. Existing customers also often get even further discounted rates than new customers. The price is usually also dependent on which functions and how many devices can be used with one user at the same time. The devices have to be created in the system, so CyberGhost VPN cannot simply be installed on any number of devices. This is something to keep in mind if you want to compare the price with other services. Today, the simultaneous use of Cyber Ghost on up to seven devices per user account is included in all available tariffs.
Cyber Ghost offers a fair price in our view, but it is not particularly cheap by any means. However, those who appreciate customer service and modern applications will certainly not look at every penny. The VPN service offers a 45-day money back guarantee.
Costs / Tariffs

Free use
✘
Tariff (1 Month )
11.99 EUR
Tariff (6 Months )
41.94 EUR (per month 6.99 EUR)
Tariff (27 Months )
56.97 EUR (per month 2.11 EUR)
Number of simultaneous connections per account
7
Test options
Money-back guarantee
CyberGhost for FREE
If you don't want a paid VPN subscription, you unfortunately don't have any more options to use the service at CyberGhost. Many years ago, CyberGhost set itself the goal of offering a crowdfunded free VPN service, but it had to say goodbye to the company after the takeover by "Kape Technologies" quite quickly. This disappointed many who supported the VPN provider back then, but some things are sacrificed for the sake of profit, especially when new owners are in the house.
CyberGhost's free plan was discontinued in 2018!
---
Privacy and safety
The Romanian service is very transparent in its own data protection activities and also promises compliance with European laws. This means that you can trust the company to handle your own data with the appropriate care. Protecting one's privacy is certainly at the top of many customers' wish lists, which is why this topic gets special attention in our test, along with online security.
Does CyberGhost VPN save Logfiles?
The VPN provider promises a "no log files policy", which means that it does not store any activities of the users or their IP address in logs.
Of course, CyberGhost should not be used to download copyrighted works or to do other illegal things with it. According to the terms and conditions, the provider has no understanding for this.
Anonymous on the Internet

Changed virtual location
✔
Protection against requests for information
✔
Prevent general monitoring
✔
Prevent targeted surveillance
✘
No log files
✔
Obfusication (masking)
✘
CyberGhost VPN Terms and Conditions
Excerpts from point 8 of the GTCs:
…. You agree to comply with all applicable laws, rules and regulations, and warrant that you will not permit any third party to use the VPN Service in a manner that violates any applicable law or infringes any rights of any third party. Without limiting the generality of the foregoing, you represent and warrant that you will not permit any third party…..
….(vi) use or attempt to use CyberGhost VPN to upload, store or transmit any data, information or material that: infringes the intellectual property or other rights of any third party; contains unlawful, harmful, threatening, abusive, defamatory or otherwise objectionable material of any kind; or otherwise damages, disables or interferes with the operation of CyberGhost VPN in any way….
… You understand that CyberGhost assumes no responsibility for your activities. In the event of legal violations by users, CyberGhost is obligated, to the extent permitted by law, to cooperate with authorized public and private criminal and law enforcement authorities and agencies…
…Rights holders who should conclude that content downloaded through CyberGhost VPN infringes their legitimate interests, such as intellectual property, may contact us through our copyright agent ([email protected]) to prevent further access to such content, if necessary…
Link: CyberGhost VPN T& C
---
Speed with CyberGhost
In order to measure the speeds of CyberGhost, we installed the VPN service on different devices during our test and connected to different offered locations. We repeat these measurements about every two weeks and of course publish the current values here in the test. However, we developed our own speed test, which transferred different data sizes to the nearest test server. We were able to determine some glaring deviations. Instead of the possible 500 MBit/s, we were only able to reach less than 230 MBit/s on average. This was despite the fact that we created VPN service-friendly conditions. CyberGhost therefore belongs to the good midfield of VPN services on the market.
Maximum speed tested
Germany | 31.12.2022
The VPN protocol "Wireguard" now made CyberGhost faster.
In the latest version of the CyberGhost apps, a new VPN protocol can now be found for selection: "Wireguard". Thus, this provider has now also found its way to it and therefore also surprises with faster connection speeds. However, the disadvantage of CyberGhost in this context is that you can only use the super-fast protocol with its own apps. Users who depend on standard client support, for example users of VPN routers, unfortunately cannot get these advantages.
---
Streaming with CyberGhost VPN
The service is especially good if you want to use international TV and video portals. Cyber Ghost supports virtually all major platforms worldwide. During the CyberGhost test, we really tried out many different servers all over the world – with success! In the USA, UK or even in Australia, you can choose from a variety of TV channels with Cyberghost VPN and stream them practically from anywhere.
No support for TV devices or VPN routers
Unfortunately, it has not yet been solved that these functions can also be used on VPN routers and thus also on Smart TV devices. However, this is certainly a requirement that many have in the meantime, because who doesn't like to watch the new Netflix series in full size on their own TV?
Streaming of TV and video content

Use on home router
✔
Use with KODI
✔
SmartDNS
✔
FireTV App
✔
Avoid warnings
✔
Supported streaming platforms
Netflix (DE)zattoo (CH)WaipuJOYNTVNowARD (DE)ZDF (DE)BR DE)N24 (DE)MDR (DE)rbb (DE)WDR (DE)Arte DE)3Sat (DE)Pro7 (DE)Sat1 (DE)Kabel1 (DE)Disney+ (DE)MagentaTV (DE)ORF (AT)SRF (CH)Servus TV (DE, AT, CH)
Supported international streaming platforms
Disney+ (US)Hulu (US)Amazon Prime Video (US)Netflix (US)Apple TV (US)Watch ESPN (US)Channel 4 (US)NFL Gamepass (US)MLB.tv (US)abc (US)CBS (US)FOX (US)NBC (US)Showtime (US)FLIX (US)HBO Now (US)ITV (UK)Eurosport (UK)Sky (UK)BBC iPlayer (UK)Sky News (UK)Bloomberg (UK)BT Sport (UK)YouTubeSpotifystarz (US)hustlerTV (US)PenthouseTV (US)PlayboyTV (US)
---
VPN protocols and server
As we already mentioned at the beginning, CyberGhost has not implemented any innovations for quite some time, but it has nevertheless joined a trend in August 2021. The provider now also relies on the forward-looking WireGuard VPN protocol.
Faster and more economical
This has increased the achievable speeds, but also some other problems have disappeared with it. Because the use of "Wireguard", also saves the resources that have led to an increased battery load on mobile devices and thus you can now also leave CyberGhost on the smartphone without problems all day long and we do not experience any noticeable effects. However, the proven protocols: OpenVPN, IEKv2 are still offered.
Separate VPN servers for different applications
The scope of the VPN servers is sufficient for the vast majority of applications. There is a separation of the servers for torrent, streaming of streaming services, which also leads to questions for some users. If you use different streaming services like Netflix, Amazon Prime Video or Disney+ on the Internet, this can lead to you constantly having to reconnect to the server.
---
Torrent & Downloads with CyberGhost VPN
Of course, some people also use the VPN service to use torrents safely. Torrenting is a big topic on the Internet and has its risks. Therefore, a good protection is required. Not only fast but also secure servers are required and additional functions such as "Killswitch" ensure that you will never share unprotected data with others.
Port forwarding is missing
CyberGhost offers all this without any problems. Nevertheless, there would also be potentials to make torrent even faster with Cyber Ghost, namely "port forwarding". However, these are not offered to any of the download servers either.
The VPN protocols offered meet today's standards and are all considered "secure". More importantly, however, CyberGhost can also provide sufficient capacities with VPN servers in the popular BitTorrent hotspots Netherlands and Sweden. This also makes torrent use a fast pleasure.
CyberGhost supports the torrent community and allows the use of BitTorrent and all other downloads. Users are 100% safe thanks to the anonymity of IP addresses and now Cyber Ghost's own servers. However: Eliminating the KillSwitch with version 8 presented a new security vulnerability that could be dangerous for torrenters!
Download and torrent

Torrent use allowed
✔
Own Torrent Server
✔
Avoid warnings
✔
Port forwarding
✘
---
Apps and applications from CyberGhost
CyberGhost, like most VPN services, has free access software on offer for use on various devices.
There are CyberGhost VPN Apps for:
CyberGhost for Windows
CyberGhost for macOS
CyberGhost for Android
CyberGhost for Apple iOS
The innovations in CyberGhost 8 (released at the end of 2020) make the apps very clear, well-structured and sleek. Kudos from our side for that: Really pleasant and user-friendly!

| | |
| --- | --- |
| Available protocols | OpenVPN (UDP)OpenVPN (TCP)IKEv2WireGuard |
| Own applications/apps | AndroidKODI AddOnFireTVOpenWRTASUSWRTOpenVPN UDPWindowsMac OSXApple iOSChrome extensionFirefox extensionLinuxTomatoDD-WRTOther OS/IntegrationWindows Phone |
| KillSwitch function | ✔ |
| Applications language | GermanEnglishSpanishRussianFrench |
Provided that one has an active user account, one can use up to 7 devices at the same time with it, depending on the chosen tariff.
External devices like routers can be integrated via the setup help on the service's website. We used ASUS routers with it in our CyberGhost test, but also found that the connections were neither fast nor stable enough. We therefore recommend not using CyberGhost VPN on VPN routers!
Apps and applications in German language
---
VPN Router with CyberGhost
Even though CyberGhost can be set up on VPN routers, this is not recommended in every case. In most cases, users experience slow connections after a short time, or even disconnections, which then always affect the entire network. Therefore, CyberGhost is absolutely not recommended for routers!
Note: CyberGhost and Netflix do not work through the router, and other streaming services do not automatically work on connected TVs when using CyberGhost on the VPN router.
Operation on VPN client router

Use on routers
✔
Load Balancing
✘
Failure-free operation
✘
Own router application
✔
Compatible with
ASUSGl-iNetDD-WRTTomatoVilfo Router
---
Features of CyberGhost VPN
The feature set of VPN CyberGhost has not changed much since the company was acquired, but some new servers have been added and, among other things, the features for streaming platforms abroad have been improved. What is less obvious to notice, but a big jump is that the VPN software no longer supports PPTP and L2TP protocol since 2020. However, this is not a disadvantage as far as security is concerned.
Additionally, during recent CyberGhost testing, we noticed that the apps for mobile devices now consume significantly less power and are therefore hardly noticeable when running continuously in the background. This is an important point from which many users will benefit.
Selectable CyberGhost VPN locations
However, we found it much more important than the applications or the customer area that CyberGhost only provides a limited number of countries with their own VPN servers. Some users might miss that as well.
Adblocker, phishing and malware protection not as effective
The additional functions such as phishing protection, ad blocker or virus protection can only be used in the service's own applications. These functions cannot be used on external devices like routers. However, this actually plays a rather subordinate role, because in the end, these methods do not have the really strong effect in the technical implementation chosen by CyberGhost. In our CyberGhost tests, far more than half of all tracking codes on websites were still not filtered, despite activated filtering.
This is understandable, as CyberGhost does not allow for manual fine-tuning. Therefore, the degree of filtering only corresponds to a technically feasible minimum, which also leads to the fact that no user would not be able to open individual websites as a result. The reason for this would probably be attributed to the VPN service, but most users certainly do not understand that this would be the result of effective filtering.
CyberGhost 8 on macOS: Where did the KillSwitch disappear to?
While testing the new version-8, we unfortunately noticed that (at least in the macOS application) the KillSwitch can no longer be found and activated accordingly. This is unfortunately a major shortcoming, as it allows users' data to enter the network unhindered and clearly in the event of a connection interruption. We cannot understand why CyberGhost has put an end to the KillSwitch?!
Additional features:
Cyber Ghost Werbeblocker: Removes advertising from websites and blogs
Remove viruses and malware: Block malicious websites and downloads.
CyberGhost Data Compression: Compresses data before it is loaded onto the computer, speeding up your own Internet access.
Prevent OnlineTracking: Removes and blocks content from websites that would make one's surfing behavior trackable.
Automatic or also manual anonymization of the own used internet browser and possible cookies.
Special functions

IPv4
✔
IPv6 (new)
✘
Static IP
✔
Shared IP
✔
Multi-hop VPN
✘
NeuroRouting
✘
Malware filter
✔
Firewall
✔
Tracking Blocker
✔
Obfuscation (mask)
✘
RAM disk (k.HDD)
✘
AlwaysOn Server
✘
Own DNS
✔
Port forwarding
✘
VPN-to-TOR
✘
No log files
✔
Autom. IP change
✘
LoadBalancing
✘
Virtual server
✘
Dedicated server
✔
Own hardware
✔
Own IP addresses
✘
SmartDNS
✔
Own Torrent Server
✔
KillSwitch
✔
---
On the go with Cyber Ghost
Die CyberGhost Apps are nice to look at and also easy to use, but VPN CyberGhost is not fully usable in Turkey, China and Saudi Arabia. In most other countries, however, it is of course. Since the beginning of 2021, the apps also use the new "Wireguard" protocol, which is now much more battery-saving, so you can now leave the CyberGhost apps activated all day without having to accept any significant restrictions in the runtime.
VPN for travel and abroad

Use in restrictive networks (China, hotels)
✔
Obfusication (masking)
✘
Protection in insecure wifi networks
✔
Shadowsocks or SOCKS5
✘
---
Customer support
Answers to pretty much all of the questions users have had over the last ten years can be found in the really comprehensive help database on the CyberGhost Website.
For individual questions, customer service is also available via email or even live chat.
Cyber Ghost's support is also characterized by the fact that the customer area is practically self-explanatory and therefore hardly any questions remain unanswered, as long as you have an active subscription. The offer of self-help instructions has once again increased significantly in recent months and can thus already be considered "overcomplete".
What many users who are not so concerned with the topic of VPN complain about are the awkward functions that are displayed in the customer area on the service's website, but it is precisely here that the provider's live chat can be used, which responds quickly and also provides individual answers.
Customer service

Applications language
GermanEnglishSpanishRussianFrench
Customer service
FAQ websiteLive chatE-mailForum
Language in customer service
GermanEnglishFrench
---
CyberGhost is clearly recommended by our readers
We are in direct contact with our readers on a daily basis. CyberGhost VPN was the most favored VPN service by our readers in 2019, and there was not a single case when users' requests to VPN CyberGhost's customer service were not answered satisfactorily. This deserves our respect and that's why we would like to give a clear recommendation for the service.
VPNTester Reader Opinions – Award for CyberGhost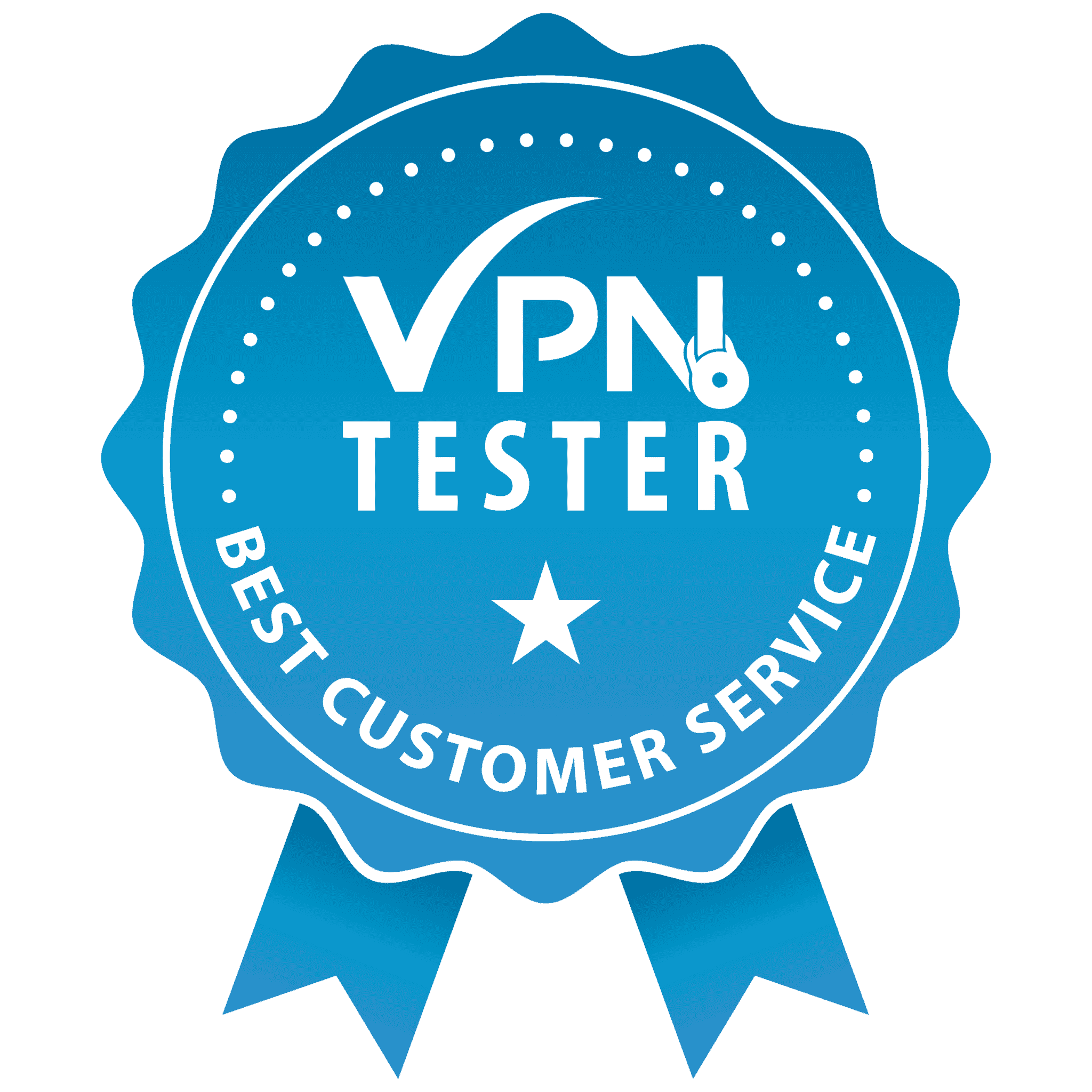 Benefit from the best customer service
Erstellt am: 9. September 2022