Atlas VPN
2,05 u
Positiv
Extremely inexpensive and really transparent and secure.
Kill-Switch is avialable
Super fast speeds!
Netflix, Amazon Prime, Disney+ (US) Unblocking
No annoying notifications
Negativ
Unfortunately, there are currently no apps for Google Chrome
Extremely new provider, still in development
AtlasVPN Review 2023 – Cheapest VPN service on the market and still secure?
The provider Atlas VPN is a very new service on the market. The service was founded in January 2020 and will certainly continue to develop. At the moment, the software is available for iOS, Android, Linux, macOS and Windows. Atlas is a free service but also offers a premium version. However, the free service can only be used on Android to a very limited extent. With the paid version you can access more and faster servers. We tested the better version and were very pleasantly surprised by the price and the speed that can be achieved.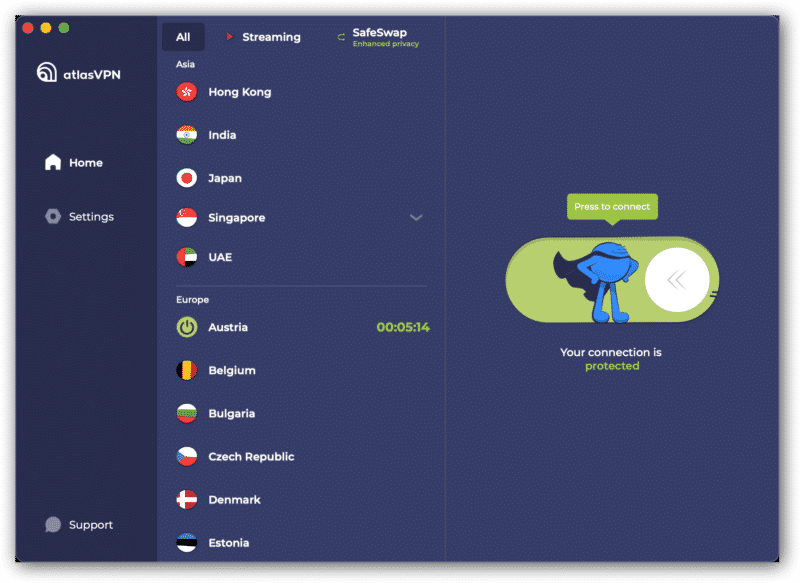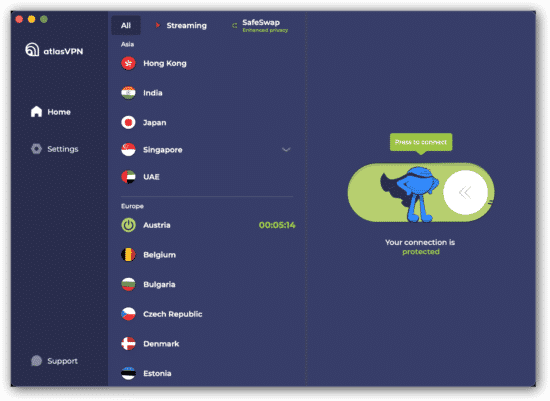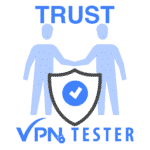 The provider shows transparency and receives our trust!
AtlasVPN has received our trust level certificate and this means that the provider has provided us with all the data about the background of the service and we have also been able to verify this information. Therefore, the provider deserves our trust.
Atlas VPN is well-suited for:
Streaming of Netflix, Disney+, Amazon Prime (US) …
To avoid geographical blocks
Secure data transmission without log files
Good speeds
Security on popular devices
| | |
| --- | --- |
| Product name | Atlas VPN |
| Recommended areas of application | Bypass locksAvoid warningsStreaming (Copyright)File sharing/TorrentsSecure data transmissionAnonymous communicationFirewall & Protection |
Our conclusion about Atlas VPN
Atlas VPN is a brand new VPN service on the market and we are already excited about the new features it will offer. Currently, the service does not offer so many functions, but AtlasVPN offers clear software that has good speeds in everyday use. In addition, with the premium version you can also use Netflix from anywhere!
[/wc_row]
The company behind Atlas VPN
AtlasVPN is a VPN provider from the USA (Peakstar technologies, inc in Delaware) and is primarily designed for the American market. It is possible to unblock many US platforms. However, the founders of the company seem to come from Lithuania and have similar ambitions to other VPN providers founded there (Surfshark, NordVPN, etc.). Therefore, much of the website and the structure of the service is very clearly reminiscent of these already globally known companies.
The service was only founded in January 2020 and is still clearly in the development phase. New servers are constantly being added and further integrated functions are also being considered and planned. The provider's servers are rented from various hosters, but Atlas VPN also insists that they have exclusive access to these servers. The IP addresses are therefore not registered directly on AtlasVPN, which is why a direct assignment of a used IP address to the service itself is not directly possible.
| | |
| --- | --- |
| Operating site | USA |
| Clearing location | USA |
| Local legislation has an impact on customer protection | ✘ |
| Operation and billing separately | ✘ |
| Server locations | 36 |
| No log files | ✔ |
| Own DNS Server | ✔ |
| Virtual server | ✘ |
| Dedicated server | ✔ |
| RAM-Disk Server | ✘ |
| Hardware owner | ✘ |
| IP addresses owner | ✘ |
Prices & Tariffs
Apart from the fact that you can also use the provider free of charge, the prices and rates for the premium version of Atlas are in the average range.  Of course, we expect a lot more innovations here, so that the costs will soon pay off.
Atlas VPN offers a 30-day money-back guarantee and you can connect an unlimited number of devices!
Paying for plans has become even more anonymous now that AtlasVPN has introduced new payment options: Cryptocurrencies (BTC, LTC, ETH & more) + QIWI. 
Costs / Tariffs

Free use
✘
Tariff (1 Month )
9.69 EUR
Tariff (12 Months )
34.76 EUR (per month 2.9 EUR)
Tariff (27 Months )
43.37 EUR (per month 1.61 EUR)
Number of simultaneous connections per account
unlimited
Test options
Free tariff availableMoney-back guarantee
Using Atlas VPN for free
Atlas VPN can be used free of charge and unlimited with servers in the Netherlands or the USA. All you need to do is enter a valid email address in the applications and confirm it. In the following video, we show you how to use this hidden function.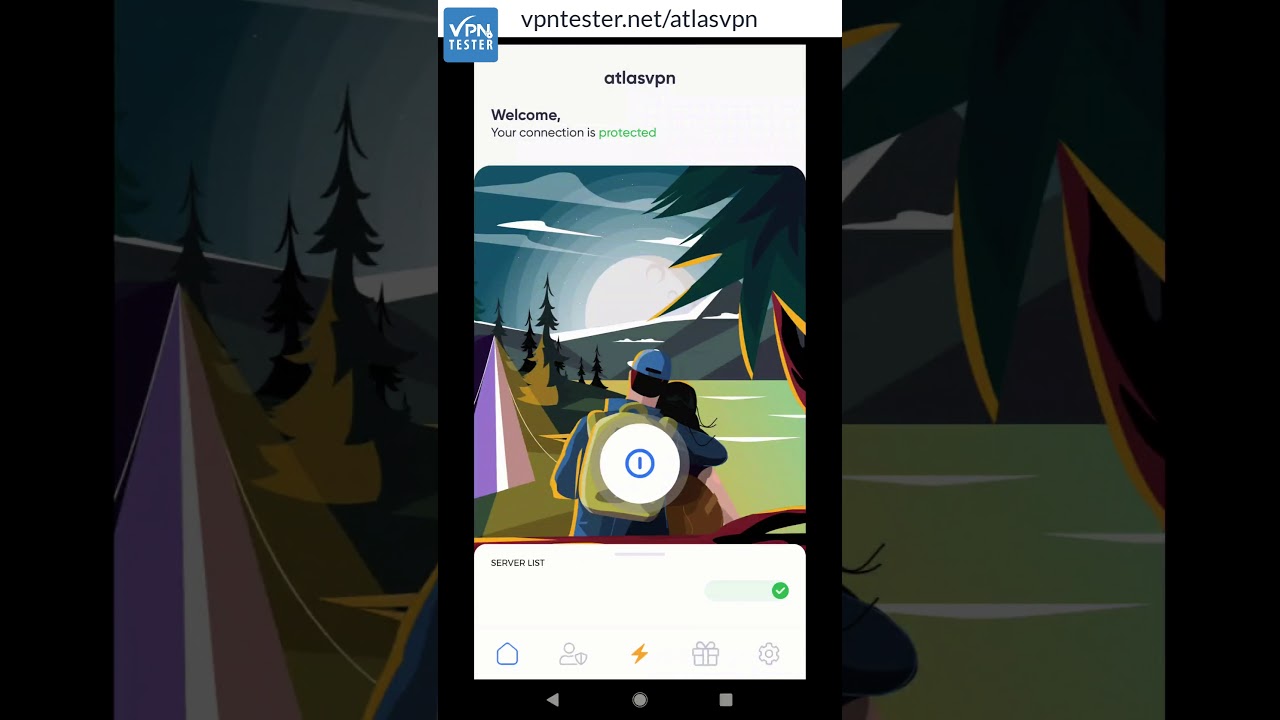 Speed & Speedtest with Atlas VPN
In general, the service offers good speeds – whether for streaming videos on Youtube, series on Netflix or simply for normal internet surfing. The service ran without interruptions. Even the latency times are absolutely fine. Especially if you use German or Austrian servers. We assume that these servers are not used much at the moment and with Wireguard you can use the full speed very efficiently.
VPN Speedtest Video
Therefore ideal for torrenting or streaming. We were really surprised how fast such an inexpensive service can be!
Maximum speed tested
Germany | 31.12.2022
Privacy and data protection
The service claims that it does not use log files at all. You do not have to register to use the software either. All you have to do is download the app and connect directly to the VPN. AtlasVPN respects the privacy of the individual user and does not constantly send any notifications that could be annoying.
The Wireguard protocol is also available!
Anonymous on the Internet

Changed virtual location
✔
Protection against requests for information
✔
Prevent general monitoring
✔
Prevent targeted surveillance
✘
No log files
✔
Obfusication (masking)
✘
Streaming with Atlas VPN
Streaming with Atlas VPN is completely problem-free and without interruptions. A huge plus is that you can use Netflix easily and everywhere. This means that the service is not recognised by the streaming service. The VPN provider is particularly good with US platforms and can also unblock Amazon Video and Disney+.
ATTENTION: This only applies to the premium version of Atlas VPN! The servers of the free version are recognised.
Streaming of TV and video content

Use on home router
✘
Use with KODI
✔
SmartDNS
✘
FireTV App
✔
Avoid warnings
✔
Supported streaming platforms
Download & Torrent with Atlas VPN
Torrenting is permitted with Atlas VPN. There are no own torrent servers, but you can download undisturbed and without interruptions!
Download and torrent

Torrent use allowed
✔
Own Torrent Server
✘
Avoid warnings
✔
Port forwarding
✔
---
AtlasVPN applications
The applications of Atlas VPN are designed in English and contain the essential functions that are needed. KillSwitch and a protocol changer are integrated. The various tasks you want to master with it, such as secure browsing or streaming, can be controlled very well via the server selection. We know this scheme from other VPN services, but it is always confusing for some users when they want to stream a film, for example, and then have to quickly switch to the appropriate servers beforehand. Therefore, many VPN services currently use this concept, but it is not perfect from our point of view.
NOW there's Atlas VPN for Linux. this new Linux VPN features state-of-the-art WireGuard® protocol and specialized servers. In addition to regular servers, Linux users can take advantage of streaming-optimized servers, as well as our unique SafeSwap and MultiHop+ servers for additional online privacy.
The Atlas VPN suite includes VPN apps for Android TV and Amazon Fire TV, as well as advanced privacy and security features such as the Data Breach Monitor leak tracking tool and the Tracker Blocker tool.
Currently, the native Atlas apps are only available for Apple iOS, Android, macOS, Linux, Windows and Android TV. Others are coming soon. The software itself is nicely designed and laid out. You can connect easily with one click and are not unnecessarily confused with settings.
| | |
| --- | --- |
| Available protocols | WireGuardMulti-hop VPNIKEv2 |
| Own applications/apps | KODI AddOnFireTVAndroid TVWindowsMac OSXApple iOSAndroidLinux |
| KillSwitch function | ✔ |
| Applications language | English |
Permissions used by AtlasVPN Apps
The AtlasVPN app in the Android Google Playstore showed the following trackers on 14/02/2021:
AppsFlyer
Google CrashLytics
Google Firebase Analytics
In addition, the following rights are granted when installing the on the Android device the application:
ACCESS_NETWORK_STATE 
ACCESS_WIFI_STATE 
FOREGROUND_SERVICE 
INTERNET 
RECEIVE_BOOT_COMPLETED 
WAKE_LOCK 
WRITE_EXTERNAL_STORAGE 

BILLING 

RECEIVE 

BIND_GET_INSTALL_REFERRER_SERVICE 
In contrast to many other VPN services, the application has very few access rights and monitors above all which websites drew the user's attention to the AtlasVPN service and subsequently installed it. From the manufacturer's point of view, this is relatively harmless information that mainly serves the marketing department of the provider. One has to give these new services credit for being able to market their products as successfully as possible.
---
AtlasVPN on the router
Whether the service will also be compatible with VPN routers at some point is still written in the stars. Atlas VPN is now available on Android TV and Amazon Fire TV. The company's developers are working on introducing even more connectivity options as native apps soon.
Operation on VPN client router

Use on routers
✘
Load Balancing
✔
Failure-free operation
✔
Own router application
✘
Compatible with
Customer support
AtlasVPN offers a live chat, which is great. Unfortunately, this is only available in English and is not so easy to contact for some users. There is also a small FAQ section where you can hopefully get answers to your questions.
Customer service

Applications language
English
Customer service
E-mailFAQ website
Language in customer service
English
---
On tour with Atlas VPN
The provider Atlas VPN is not so well suited for travelling. Especially public hotel networks can be very dangerous because they are unprotected. For this purpose, it is recommended to use another VPN that offers features like Shadowsocks.
VPN for travel and abroad

Use in restrictive networks (China, hotels)
✔
Obfusication (masking)
✘
Protection in insecure wifi networks
✔
Shadowsocks or SOCKS5
✘
---
Features of AtlasVPN
Since Atlas VPN is still quite new on the market, it also doesn't have much to offer yet. A kill switch and a malware blocker are already integrated and are also a plus point in the test. We hope for many more new features and are curious to see how the service will develop in the future.
AtlasVPN has ambitious goals and will certainly provide many more features shortly.
Atlas VPN launches MultiHop+
Atlas VPN takes Multi-Hop and Double VPN to the next level by adding server rotation into the mix. To further enhance your online security, VPN servers are randomly selected and constantly change as you surf the web, making your online activity virtually untraceable. MultiHop+ is now also available for Windows.
Special functions

IPv4
✔
IPv6 (new)
✔
Static IP
✘
Shared IP
✔
Multi-hop VPN
✔
NeuroRouting
✘
Malware filter
✔
Firewall
✘
Tracking Blocker
✔
Obfuscation (mask)
✘
RAM disk (k.HDD)
✘
AlwaysOn Server
✘
Own DNS
✔
Port forwarding
✔
VPN-to-TOR
✘
No log files
✔
Autom. IP change
✔
LoadBalancing
✔
Virtual server
✘
Dedicated server
✔
Own hardware
✘
Own IP addresses
✘
SmartDNS
✘
Own Torrent Server
✘
KillSwitch
✔
Frequently asked questions about Atlas VPN
Can I use Atlas VPN for free?
Yes, AtlasVPN can be used free of charge. But there is also a premium version that has much more to offer than the free one. Nevertheless, the VPN service runs quite solidly and you can simply download it and get started straight away.
On which devices can I use the service?
Atlas VPN currently offers apps for Android, iOS, macOS, Linux, Android TV and Windows.
Does AtlasVPN have good speeds?
Yes. The speeds are quite sufficient for everyday use. Streaming Netflix etc. is also possible with the premium version without interruptions. We would not recommend the service for gaming purposes only.
Does Atlas VPN store log files?
No. The service states that it does not store log files. You do not have to create your account to use the app. You can start right away without logging in. However, you should not rely on the fact that AtlasVPN will not pass on users' data anyway.
Erstellt am: 11. July 2022