NordVPN
3,99 e
Positiv
Provider based in Panama (settlement via Cyprus)
Very fast servers especially with the Nordlynx (Wireguard) protocol
Many functions: VPN to TOR, Multihop VPN, Dedicated Server and many other security features available
100% safe from spying and warnings
Bypassing geographical restrictions for German-language streaming services is now possible
Negativ
Tracker in Android apps for marketing purposes (but no monitoring of users!)
In our NordVPN review, we go into detail about all the functions of the VPN service and also provide information about the background of the company.
NordVPN Test (Update 2023) – No log files, ram disk server and many more features.
NordVPN is the most well-known VPN (a virtual private network) worldwide and has more than 40 million customers. We have been testing the provider regularly since its inception in 2012.
The VPN provider NordVPN now presents itself as a "security provider" and, in addition to the VPN service, also has other online services such as Nordpass (password storage) or Nordlocker (a data encryption service).
Our conclusion about NordVPN
Best VPN for privacy
The best VPN in many of our test categories
NordVPN may not be of the innovators of the VPN market today, but it has imitated many functions more professionally and successfully than other VPN services or improved them itself. The company has made a name for itself in recent years through enormous advertising presence on the Internet and on TV. The success also made the company invest a lot in the operation, additional functions and also security.

The VPN provider is one of the most professional VPN providers on the market with easy handling, very good speed and the best security.
NordVPN is well suited for:
Anonymous surfing on the internet
Secure data transmission with a strongly encrypted and stable connection
Protection from spying and warnings
Protection against attacks and hackers
Secure use of file sharing networks and torrents
Bypass geographical blocks for streaming
Einfache Handhabung
Advantages
An enormously comprehensive range of functions that hardly any other VPN service can offer.
The professionalism you can expect from the worldwide market leader.
Multilingual applications, customer service and manuals.
The largest worldwide server network in more than 70 countries.
Disadvantages
No port forwarding is available, even as an optional service.
A very marketing-oriented company, as evidenced by the use of the many marketing trackers in the apps.
Hardly any independent reporting (except for us) about NordVPN, as the provider uses a lot of money for it.
The company behind NordVPN (Tefincom)
The first NordVPN version was released in 2012 by Tom Okman, Eimantas Sabalikauskas and Jonas Karklys, and since then a lot has happened at the then small company.
The VPN company currently already has more than 800 employees in Vilnius in Lithuania. More than 40 million people use NordVPN. The company is now not only very influential due to the sheer size it has reached, but it also uses all modern advertising methods such as TV but also influencers to make its brand even better known. As a result, NordVPN now dominates the global VPN market and already has considerable influence on neighbouring sectors such as anti-virus software or even password management and similar areas.
NordVPN operation & billing separately:
Billing is carried out by the company Tefinkom in Cyprus.
The technical provision of the service is provided by Tefincom in Panama.
Nord Security in numbers:
Number of employees: more than 800
Number of customers: more than 35 million
Turnover of more than 1.2 billion USD/year
| | |
| --- | --- |
| Operating site | PanamaLithuania |
| Clearing location | Cyprus |
| Local legislation has an impact on customer protection | ✔ |
| Operation and billing separately | ✔ |
| Server locations | 56 |
| No log files | ✔ |
| Own DNS Server | ✔ |
| Virtual server | ✔ |
| Dedicated server | ✔ |
| RAM-Disk Server | ✔ |
| Hardware owner | ✔ |
| IP addresses owner | ✘ |
Update 02.02.2022: NordVPN has also merged with the VPN service "Surfshark VPN" as of February 2022. This results in further growth of the company and a combined staff of more than 1,000 in Vilnius, Lithuania.
Interview with Marijus Briedis from NordVPN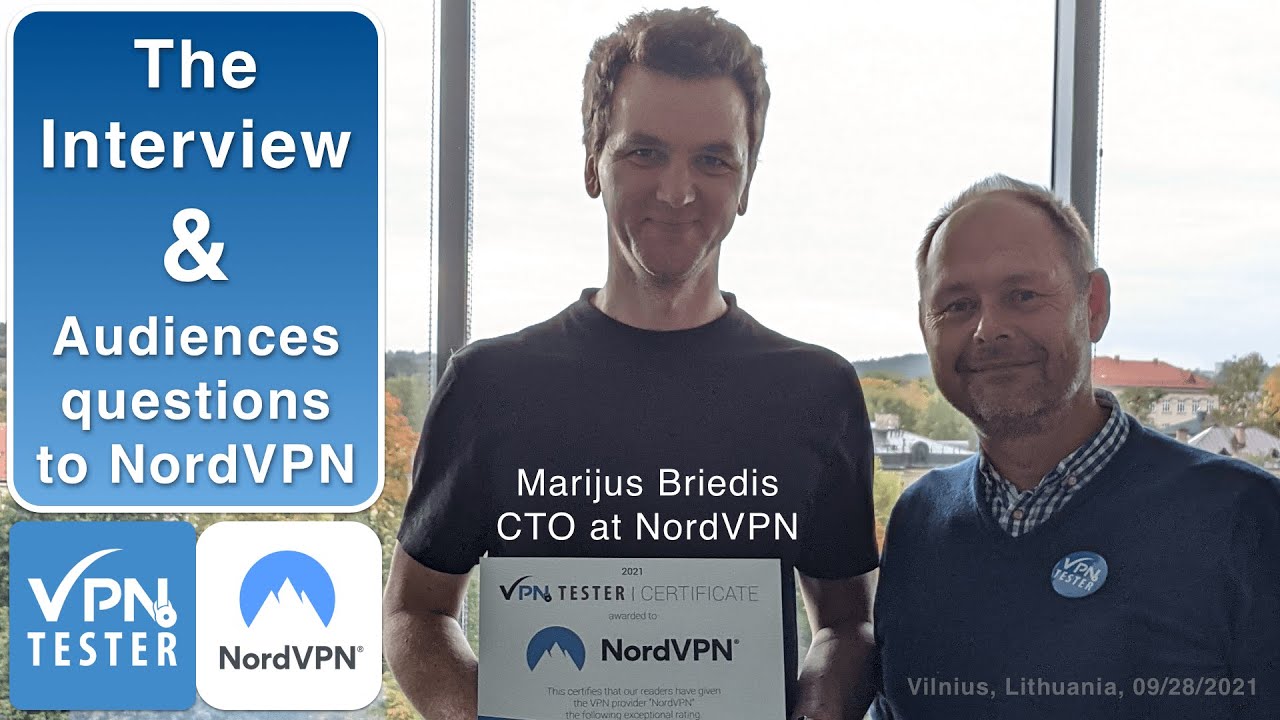 Trust level – VPNTESTER visits NordVPN
Marijus Briedis is talking to Martin Held
Transparency & Trust
We certify VPN providers by not only asking critical questions about the background, economic ownership or technology, but also by personally verifying the information provided through on-site visits. For this purpose, we also visited NordVPN in Vilnius and were able to talk to the technical director of NordVPN, Marijus Briedis. Among others, we had detailed discussions with the technical director of NordVPN, Marijus Briedis. Of course, the personal conversation completed our NordVPN review even more.
The provider answered all our questions completely and we can therefore express our trust in this provider!
100% trusted
Costs & Tariff of NordVPN
The NordVPN tariffs are simply structured and binding. There is no teaser offers that can lead to expensive surprises. Thus, the provider follows the professional line also with its offers. The 2-year package is, as always, the most profitable.
There is a "30-day money-back guarantee" for anyone who wants to try the service for the first time.  With one account you have unlimited access to all available applications and server locations worldwide. There are no data limits and no speed restrictions. Per-user account, you can connect to it with up to 6 devices in parallel.
NordVPN now offers packages that are much cheaper than buying all cybersecurity solutions individually. There are three different packages with a duration of 2 years, 1 year or 1 month and 3 tariffs each: Standard, Plus or Complete. The Complete package includes
Secure high-speed VPN
Protection against malware
Tracker and ad blocker
Cross-platform password manager
Data leak scanner
Encrypted cloud storage with 1 terabyte of storage space
The 2-year package with extended protection costs 3.99 per month.
---
NOTE on VAT: If a location within the EU is indicated, VAT will be added. However, customers who specify a location outside the EU (will not be checked!) do not have to pay the VAT.
Costs / Tariffs

Free use
✘
Tariff (1 Month )
12.99 EUR
Tariff (15 Months )
68.85 EUR (per month 4.59 EUR)
Tariff (27 Months )
88.83 EUR (per month 3.29 EUR)
Number of simultaneous connections per account
6
Test options
Money-back guarantee
The prices apply to all who order the services and do not state that they are in the EU. Those who state that they are in the EU will have to pay the local sales tax in addition, as this will then be paid to that country.
Accepted payment methods
NordVPN offers all the payment methods you would expect: debit and credit cards, PayPal, Bitcoin, Sofortüberweisung, AmazonPay and many other local payment methods are available.
False reports about NordVPN
There is much fake news about NordVPN circulating on the internet, some of which are used to trick interested users who might want to save some money when buying NordVPN. We would like to explain some typical NordVPN fake news here!
Is the NordVPN trial version available?
There is a "30-day money-back guarantee" with NordVPN. This allows you to try out the service without any risk. To make use of this guarantee, all you have to do is write to the customer service in the chat. The money is usually refunded within 3 working days.
Use NordVPN for free?
You cannot use NordVPN for free at the moment. There is no tariff offered, as with some other VPNs, which would make it possible to use a limited number of servers or the like of NordVPN for free. You can therefore only use the service with an active and paid NordVPN subscription.
Install Nord VPN Cracks?
Many stories or offers are circulating on the internet to use NordVPN with cracked software or shared accounts. However, one must understand that cracked software will not yet. Access to servers will be possible. The authentication of the user whether he is allowed to use the VPN server does not happen locally on his device but only when the connection is established. Therefore, such offers are usually rather malware-infested traps.
Using NordVPN shared accounts cheaply?
There are also more and more offers selling NordVPN accounts at a sensationally cheap price on eBay or other platforms on the internet. These offers are also called "shared accounts" because these accounts, which were usually stolen by other users via hacks, are then sold to several people. However, this often ends after only a few hours after receiving the access data by blocking the account. As a non-paying customer of NordVPN, you can of course not complain about this there.
---
Speed with NordVPN
Speed is of course an important criterion in our reviews, which is why we repeat these tests with every VPN at least every 14 days. With NordVPN, we have therefore had a really extensive collection of speed test results for years.
TOP with Nordlynx (Wireguard)
But it can be summarised very briefly. Since the introduction of Nordlynx, the speed achieved with NordVPN has improved significantly. But it also depends on which server you use and how busy it is. This can be easily selected with the own Nord VPN apps because the VPN app suggests the fast servers directly.
Not so good with VPN routers
It's not so good if you use NordVPN on a router. Firstly, there is currently only OpenVPN to use there, which is already significantly slower than Wireguard and you can also not activate an automatic server search then, in the worst case, you can only achieve permanently usable speeds with the router through "trial and error".
Maximum speed tested
Germany | 24.12.2022
Privacy with NordVPN
Nord VPN is of course often used to achieve an advantage during your internet connection: namely, to be able to remain as "ANONYMOUS" as possible! The privacy factor is also becoming more and more important.
NordVPN is designed to protect the security of users' online data and identity by strictly adhering to the most essential security standards. This starts with the fact that NordVPN implements the operation of the network and the billing in separate companies and can thus already legally protect the identity data. And it continues with NordVPN setting the highest standards for the online security of its servers and the encryption standards used.
Since the end of 2019, regular independent audits of the network have also been commissioned to ensure that nothing is overlooked by the company's technicians to secure users' data or detect security gaps. NordVPN also participates in a bug bounty programme that promises rewards for reporting security vulnerabilities.
Kill Switch at NordVPN is already integrated from the beginning. Therefore, this function, which also has an impact on the security of the VPN connections, can be used on all devices. Use Kill Switch – and you will not get any data leak even if your VPN connection drops.
NordVPN offers AES 256 bit encryption.
Anonymous on the Internet

Changed virtual location
✔
Protection against requests for information
✔
Prevent general monitoring
✔
Prevent targeted surveillance
✔
No log files
✔
Obfusication (masking)
✔
NordVPN's no-log policy passes external audit by PwC, Switzerland for the second time
NordVPN announced to set new standards by passing an external audit for its strict no logs policy for the second time. Following a comprehensive analysis of the entire network infrastructure, commissioned by PricewaterhouseCoopers AG, Switzerland, the Big 4 auditing firm was again able to confirm that NordVPN delivers on its promise and keeps no logs of user activity.
"Our users chose NordVPN for a reason. Therefore, our commitment to transparency is paramount. In the face of increasing public anger over social injustice, privacy and protection of freedom of expression remain our top priorities. As a leader in this field, we feel a responsibility to set the highest standards for no-log policies," said Laura Tyrell, NordVPN's Director of Public Relations.
Torrent & Downloading with NordVPN
Privacy and anonymity
NordVPN is considered to be a very reputable and also reliable service and also took some precautions for the data security and anonymity of its customers. Torrent downloads should therefore not be a problem. No user data is collected or stored on any servers. You also have the option of sharing an IP address with others, which also makes it technically impossible to assign online activities. Thanks to the location in Panama, no legal hurdles are imposed and data tracing cannot even be obtained by the court.
Apart from that, NordVPN does not have any data stored that it could hand over.
The provider also explicitly allows P2P file sharing. NordVPN supports this by allowing port forwarding, which increases the connection speeds of torrent downloads. NordVPN Torrent, that's easy to understand.
Download and torrent

Torrent use allowed
✔
Own Torrent Server
✔
Avoid warnings
✔
Port forwarding
✘
Streaming with Nord VPN
Best-equipped for foreign TV/video portals
NordVPN can currently unlock Netflix (DE) abroad. The cooperation with the technicians of NordVPN has now resulted in a significant improvement for German streaming services. Virtually all streaming platforms can now be used with it, even with an active VPN connection.  Netflix, DAZN, Sky, Eurosport, TVNow, and of course, Sky and the TV channels are available without any problems via the servers of NordVPN.
NordVPN + Netflix also works abroad
NordVPN Netflix works abroad and you can watch German content with it. You can also use the content from Netflix USA, France or Spain. You do not need your own Netflix account for this. You simply select the corresponding Nord VPN server in the respective countries and connect to it.
Streaming of TV and video content

Use on home router
✔
Use with KODI
✔
SmartDNS
✔
FireTV App
✔
Avoid warnings
✔
Supported international streaming platforms
Disney+ (US)Hulu (US)Amazon Prime Video (US)Netflix (US)Apple TV (US)Watch ESPN (US)Channel 4 (US)NFL Gamepass (US)MLB.tv (US)abc (US)CBS (US)FOX (US)NBC (US)Showtime (US)FLIX (US)epix (US)HBO Now (US)ITV (UK)Eurosport (UK)Sky (UK)BBC iPlayer (UK)Sky News (UK)Bloomberg (UK)BT Sport (UK)Channel 4 (UK)Sky Go (IT)YouTubeSpotifystarz (US)hustlerTV (US)PenthouseTV (US)PlayboyTV (US)
 VPN Providers Comparison:
Online Gaming with NordVPN
For online players, there must be low latency times due to the service. Inevitably, these are mostly negatively influenced by a VPN. If you use the automatic server search per location at NordVPN, then these are on average less than 20ms+, which are also excellent values in direct comparison with other VPNs. However, this always presupposes that you have a fast server available. After a few hours, this may already have been influenced or changed by other users. Therefore, a server change for online players is recommended from time to time.
Other dangers are also prevented via DDoS protection in that other players could negatively influence the gaming experience of the NordVPN user. Game consoles can also be directly equipped with this via routers and instructions.
Online Gaming

Low latency
✔
Use on game consoles
PlayStationXBox
DDoS protection
✔
Travelling with NordVPN
For travellers, NordVPN offers some essential features that guarantee security, but also access to free content even abroad. NordVPN's obfuscated servers allow stable connections even in restrictive networks such as China or Turkey. However, no German servers are then available! This should be taken into account, as it usually means that no German content can be used.
In most cases, however, users can get by with the normal standard servers. However, it is somewhat annoying that the changes to the VPN protocols in the apps are somewhat hidden, which makes it necessary for users to be well informed about them and to know how to use these options.
Nordlynx the Wireguard version of NordVPN manages to provide stable and fast VPN connections virtually everywhere! But what is an enormous advantage of Wireguard as a protocol on mobile devices is that this VPN protocol requires significantly fewer resources for data transmission, which means that the battery of one's device is practically no longer affected by it.
NordVPN services use when travelling no longer has a measurable impact on the battery life of smartphones!
VPN for travel and abroad

Use in restrictive networks (China, hotels)
✔
Obfusication (masking)
✔
Protection in insecure wifi networks
✔
Shadowsocks or SOCKS5
✘
Netzwerk & Server
The VPN service has grown over the years into a truly remarkable server network with more than 5600+ active VPN servers and some special configurations that help improve anonymity and privacy.
There are also "prioritised" connections to the USA, which is particularly useful for TV streaming. The huge server network also means that it requires automatic services in the apps to find the right server. On routers or external devices, this makes the selection much more difficult. But these problems should not deter you, it is criticism on a high level!
NordVPN servers in the following countries
VPN servers in Australia, Austria, Belgium, Brazil, Bulgaria, Canada, Czech Republic (Czech Republic), Denmark, Estonia, Finland, France, Germany, HongKong, Hungary, Iceland, India, Ireland, Israel, Italy, Japan, Lithuania, Latvia, Luxembourg, Moldavia, Netherlands, New Zealand, Norway, Poland, Portugal, Romania, Singapore, Slovakia, Spain, Sweden, Switzerland, Taiwan, Turkey, Ukraine, United Kingdom (UK), USA.
Special functions in the network for better privacy online
The special functions in the NordVPN network are
Multi hop VPN between Lithuania and Estonia; between Taiwan and Hong Kong, between the USA and Canada and between the Netherlands and Sweden. Multi-hop means that you log on to two VPN locations in succession and gain additional anonymity through this cascaded VPN connection, as the last VPN server can only know the identity data of the previous one from a purely technical point of view. The principle of the "multi-hop VPN" is similar to that of Perfect-Privacy VPN, but here you can only choose from pre-configured routes. In return, NordVPN is very very inexpensive, despite this technical performance!
VPN servers with TOR connections are located in Japan, Sweden and Latvia. This makes it possible to connect directly to the TOR (Onion) network via these VPN servers. Here, too, the technical limitation that the first TOR access point can only know the previous identity (IP address) comes into play and has a positive effect on anonymisation.
Obfuscated servers prevent the VPN connection from being blocked in restrictive networks such as in China, Turkey, etc.
Check out specialty servers if you're looking for extra protection. Specialty servers will satisfy your needs and provide you with a better protection.
Transparent monitoring of the VPN servers
The VPN servers of NordVPN are constantly monitored for free resources and this information is not only displayed directly on the website of the VPN but also in the own access software so that the user can always see whether he can also use the full performance himself with a connection. As a rule, however, more than 80% of the resources are still available on individual servers. Just "Quick Connect" to any of NordVPN's many servers.
VPN encryption protocols used
NordVPN, like most providers, uses OpenVPN as the most important VPN protocol. In addition, there are VPN protocols such as IEKv2, L2TP/IPSec and Nordlynx. Nordlynx (Wireguard) in particular is of course super fast but has the disadvantage that it is only available in NordVPN's apps. So you can't use it on routers. On the road on a mobile device or at home on a PC, Nordlynx is always the recommended protocol.
Onion over VPN (Tor)
There is also the possibility to connect directly to the TOR network via the VPN servers and thus to further disguise one's identity. And you can also have each connection encrypted twice. This reduces the transmission speed somewhat, but it cannot be decrypted. In addition, there are useful functions that also prevent programmes from communicating independently over the Internet after a VPN connection has been disconnected. The provider also has a firewall that protects each user from attacks from the internet. One then uses an IP address from an Onion computer.
All in all, from a technical point of view, this is a very clean and successful solution for protecting privacy.
DarkWeb Monitoring
In 2020, NordVPN introduced Dark Web Monitor feature on the NordVPN iOS app, and this year the new feature is also due to be released for the Android app. Dark Web Monitor scans the dark web for credentials associated with a user's email address. The monitor runs continuously as long as it is activated – no further action is required. This adds features to VPN protection that one would not have expected.
When the Dark Web Monitor detects a leaked password, it sends out a warning. The user immediately sees the leaked details, including the affected service. It's an early warning system that alerts NordVPN users to change their passwords before they lose the compromised account.
Quick selection feature
In 2020, NordVPN also introduced the Presets feature in the NordVPN app for macOS, which combines custom VPN connection settings with shortcuts to apps or websites. This combination provides users with secure, VPN-protected access to their favourite online services directly from the VPN app. Users can set up the preferences once and they will remain in the sidebar for as long as they need them.
Special functions

IPv4
✔
IPv6 (new)
✔
Static IP
✘
Shared IP
✔
Multi-hop VPN
✔
NeuroRouting
✘
Malware filter
✔
Firewall
✔
Tracking Blocker
✔
Obfuscation (mask)
✔
RAM disk (k.HDD)
✔
AlwaysOn Server
✘
Own DNS
✔
Port forwarding
✘
VPN-to-TOR
✔
No log files
✔
Autom. IP change
✘
LoadBalancing
✘
Virtual server
✔
Dedicated server
✔
Own hardware
✔
Own IP addresses
✘
SmartDNS
✔
Own Torrent Server
✔
KillSwitch
✔
Dedicated VPN Server
NordVPN servers are mostly rented and operated as virtual servers at different hosters. NordVPN has managed to provide more than 6000 active servers. However, this enormous number is put into perspective when you know that a server can hardly provide VPN speeds to more than 100 people at the same time.
There are, however, some dedicated IP servers that can be used, these are also their hardware and usually have considerably more performance available. These are intended for continuous use, for example with constantly connected devices. An advantage of these servers is also that the IP-addresses are only used by fewer changing users. This is often an advantage especially when it comes to "captchas with NordVPN". So frequent queries and solving of captcha puzzles to confirm that you are a human user is significantly reduced.
NordVPN IP addresses
Many users worry about how many IP addresses NordVPN would offer. However, this is not a relevant metric and also fluctuates constantly. If someone wants to change their IP, he can simply change the connected server, thanks to more than 6000 of them, the choice is already too big for most users to reach the limits.
The IP address of the hoster
The IPs used are registered to the hosters (lessors) of the servers. But of course, the hosters are aware of NordVPN and would also hold the company harmless in case of criminal acts. However, since NordVPN is a major customer of the hosters by now, it is not likely that they will exert much pressure for inconvenience due to copyright infringements and other legal matters.
Static IP
At one time, Nord VPN also offered the option of reserving a static IP address for a user, i.e. always being able to use the same IP. However, this option was removed after a short time, because this need for addresses for new users had increased so significantly that this function could only really be used by a few. NordVPN no longer offers this option.
VPN Server Upgrade
To make NordVPN even faster and more secure, the provider launched a server upgrade programme in 2020. Working with cybersecurity consultants VerSprite, stricter security standards were set for the data centers NordVPN works with and audits were conducted to ensure these standards were met.
Colocated servers
NordVPN commissioned its first servers in 2020, which are wholly owned, maintained and managed by the company.
RAM-based servers
All regular servers have been switched to RAM-based servers, which do not store any data or configurations on-site.
10Gbps servers
Numerous 10Gbps servers have been added to significantly improve the speed and performance of the service for users.
Apps & Applications from Nord VPN
NordVPN offers some self-programmed software and apps, but also makes use of freely available open-source software, for which there are again good configuration guides. NordVPN's software is very simply structured and also corresponds to the task in a very self-explanatory manner.
Tracker in Nord Apps
A problem and this does not only concern the Nord apps are also trackers from Google and other advertising companies that are used in the Nord apps.
/link/nordvpn-textlink/
NordVPN Tracker (Google Playstore App)
AppsFlyer
Web analysis / Usage analysis
Google Analytics
Web analysis / Usage analysis
Google CrashLytics
System crash reports
Google Firebase Analytics
Web Analytics / Usage Analysis
Google Tag Manager
Web Analytics / Usage Analysis
NordVPN does what other VPN services do?
These trackers, which are available in the NordVPN app, can show the provider how a user came to the NordVPN website. Furthermore, however, this data is shared with Google, so Google also knows something more and thus also provides the marketing team of NordVPN with data that enables the classification of the customer/user into different categories.
Even though the trackers used are now quite common and have no direct influence on the use of the provider or its data security. But the fact that NordVPN only shares this data with Google is not nice. The same picture can be found on the provider's website. It is even more unattractive that the information about the trackers is not included in NordVPN's privacy policy. At least this much transparency would have been expected.
Die Liste an Anwendungsmöglichleiten umfasst damit wirklich sehr viele verschiedene Geräte:

| | |
| --- | --- |
| Available protocols | IKEv2OpenVPN (UDP)OpenVPN (TCP)Multi-hop VPNSSL/ProxyWireGuard |
| Own applications/apps | AndroidKODI AddOnFireTVOpenWRTASUSWRTOpenVPN UDPWindowsMac OSXApple iOSChrome extensionFirefox extensionLinuxTomatoDD-WRTOther OS/Integration |
| KillSwitch function | ✔ |
| Applications language | EnglishGermanSpanishFrenchSwedish |
Currently, there are NordVPN apps and support for Windows 10, Windows 8, Windows 7, Windows Vista, Windows XP, Mac OSX, Linux, Android app, iPhone Apple iOS app, iPad Apple iOS, DD-wrt, Raspberry Pi, and Tomato.
Threat protection lite: an important new feature
Threat protection is easily integrated into the NordVPN app – you don't need to install any additional software.
What does threat protection mean?
This feature protects you from:
Web trackers (complements the VPN by blocking trackers while you surf the web. You can see and manage all blocked trackers in real-time in the app).
Harmful websites (The – threat protection keeps you away from dangerous and malicious websites. If you try to visit one, a warning message is displayed instead of downloading the content).
Contaminated files (If no threats are detected, the file is marked as safe without disturbing you in any way. If threats are detected, the file is removed immediately before it can do any harm).
Intrusive and malicious ads (the security feature reduces the risk of being infected by malicious ads by blocking them before they can be downloaded).
You can choose the level of protection you want by toggling all of these settings.
Getting started with threat protection
The new feature is available in the apps for Windows devices and macOS. Here's how you can try out threat protection now:
Download NordVPN for Windows or NordVPN for macOS from our website. The feature is not available in our macOS app on the App Store.
Sign in with your NordVPN account or register.
Click the shield icon in the left sidebar.
Enable threat protection and perform a quick setup.
Done! Threat protection works independently of your VPN connection. So you can protect yourself from cyber threats even if you are not connected to a VPN.
NordVPN FireTV
NordVPN also has its Fire TV app which can also be found in the official apps store at Amazon and can be installed directly from there. This means that NordVPN can also be used for streaming on TV devices. Within the NordVPN app, you can also define which apps installed on the Fire TV should use the NordVPN connections and which should not. This is very convenient because you may not want to use all streaming platforms directly via a VPN connection.
VPN Router with NordVPN
By using NordVPN directly on an ASUS Wi fi router, you can be connected to all your devices 24 hours a day, even without any apps installed. This is also ideal for having devices such as SmartTV, FireTV, Xbox or other receivers securely and permanently connected to NordVPN.
ASUS routers are available for as little as 25 euros, so they are not a large investment and are stable and easy to use.
Disadvantages of NordVPN for VPN routers
NordVPN ONLY supports the popular OpenVPN protocol and not any other that would be usable on home routers, but this can limit speed and usage options.
NordVPN uses smaller individual VPN servers, which can therefore become overcrowded after a period of use by other users. On devices with the NordVPN app, these connections are changed quickly and automatically, but on routers, it looks different. In the worst case, you have to configure a new connection to another VPN server first.
Only VPNs with "load balancing technology" can help!  See here: Recommended VPNs for routers
Operation on VPN client router

Use on routers
✔
Load Balancing
✘
Failure-free operation
✘
Own router application
✔
Compatible with
ASUSGl-iNetDD-WRTTomatoVilfo Router
Our criticism of NordVPN
NordVPN for Android app + Apple iOS & Windows + macOS
For mobile devices with Android or Apple iOS, the NordVPN apps are almost identical.
Many setting options are too complicated to find!
The same also applies to the apps for Windows and macOS. These are quite simple to use, but if you want to make more detailed settings, this is unfortunately usually difficult to find.
Therefore, we have to deduct some valuable points for this, because, after repeated use, nothing has changed, as soon as you want to make individual settings, it becomes more complicated and we see that our readers who use NordVPN are not happy with it either.
Nord VPN customer support
In our Nord VPN review, we noticed that NordVPN can be reached in various ways. Live chat (24h), FAQ, tickets or even e-mail is offered. NordVPN customer service can answer questions in different languages, with the usual weaknesses that translation programmes bring with them. The NordVPN customer support is always easy to reach.
Customer service

Applications language
EnglishGermanSpanishFrenchSwedish
Customer service
FAQ websiteLive chatE-mail
Language in customer service
GermanEnglishFrenchSwedishSpanish
Frequently asked questions about NordVPN
Where does NordVPN have servers?
NordVPN has VPN servers in the following 70 countries:
Albania, Austria, Belgium, Bosnia and Herzegovina, Bulgaria, Croatia, Cyprus, Czech Republic, Denmark, Estonia, Finland, France, Germany, Greece, Hungary, Iceland, Ireland, Italy, Latvia, Luxembourg, Moldova, Netherlands, Northern Macedonia, Norway, Poland, Portugal, Romania, Serbia, Slovakia, Slovenia, Spain, Sweden, Switzerland, Turkey, Ukraine, Great Britain, Argentina, Brazil, Canada, Chile, Colombia, Costa Rica, Mexico, Paraguay, USA, Israel, Nigeria, South Africa, United Arab Emirates, Australia, Azerbaijan, Hong Kong, India, Indonesia, Japan, Kazakhstan, Malaysia, New Zealand, Philippines, Singapore, South Korea, Taiwan, Thailand, Vietnam.
Well, this question has already been asked by thousands on the internet, but the fact is that a server in a Finnish server centre where two other VPN services also have servers was compromised by someone. The other two VPN providers have indirectly confirmed NordVPN's statements.
However, NordVPN has so far been able to sufficiently explain that no customers were ever affected and that the captured data on the server would not be sufficient to obtain or compromise user data.
Therefore, this NordVPN hack has probably revealed a short-term security problem of a server hoster and the users of NordVPN were never at risk. NordVPN no longer has servers at this server centre.
Even if rumours are doing the rounds on the internet that a NordVPN hack has destroyed all trust, the fact is that NordVPN customers have never really been put at risk by security holes.
NordVPN has more than 3 million active users, the hysteria around the alleged hack also shows how quickly fictitious facts spread, as well as other problems of the service would have already become apparent.
NordVPN is therefore still considered a secure provider with a private internet access.
NordVPN offers various tariffs, whereby NordVPN is "PrePaid", i.e. not a subscription but you get what you have paid for in advance. If you pay monthly, NordVPN costs about €10 per month. If you pay in advance for a longer period of time, the price is reduced to less than €4 per month.
NordVPN can be terminated quite easily in the customer area. So you don't have to write a notice of termination, but can cancel the service with a few mouse clicks.
NordVPN is a VPN provider and offers an encrypted connection to more than 5,000 servers worldwide, which means that the data is transferred securely between the user's device and the servers and cannot be viewed by third parties. Thus, to use the internet, one uses an IP address of the NordVPN servers and cannot be traced back via this. (Anonymisation).
Wireguard available at NordVPN?
Yes, NordVPN released the Wireguard version "Nordlynx" on 28 April. This has made significantly faster connections possible and online security is still guaranteed. Wireguard provides you with strong security practices.
This makes NordVPN the first major VPN to use Wireguard itself, albeit in an optimised and adapted version of "Nordlynx" for security reasons.
NordVPN is considered one of the most secure providers on the market and also has external companies check their own data security measures. Of course, Nord VPN offers maximum protection against spying, but those who prefer to rely on providers with their own servers should look further because NordVPN mostly uses rented servers.
How many devices may I use with NordVPN?
You can create up to 6 connections in parallel with one user account (access data), which means that you can use 6 devices at the same time.
Use NordVPN with the Frizbox?
Of course, you can use NordVPN with any existing internet router, including the AVM FritzBox. But what is not possible is to connect the Fritzbox directly with NordVPN and then to have all devices at home connected with it. Fritzbox routers do not offer the suitable VPN client OpenVPN function for this. However, you can find a list of all suitable routers on our page.
NordVPN or Surfshark? Which is better?
NordVPN is a somewhat older service, but basically, NordVPN and Surfshark are very closely related. Surfshark, however, offers a few more functions than NordVPN and is also completely available in German. Although the two providers share office space in a business centre in Vilnius (Lithuania), they are in direct competition with each other.
The Nord VPN service can be tested free of charge for 30 days. In addition, there is a 30 day money back guarantee, which allows every user to use and test the NorfVPN for this period free of charge.
No, NordVPN can no longer be paid with PayPal, but many other payment methods have been added. With a trick, PayPal can also be used, but there will be additional costs for this.
You can also use NordVPN with Kodi, simply install the corresponding NordVPN on the device where KODI is running and connect to it. This is very simple.
Erstellt am: 5. July 2022