AdGuard VPN
2,49 u
Positiv
VPN service of the well-known advertising and tracker filtering service
Free usage up to 3 GB per month is offered.
Protection against warnings is useful effect for families
Very easy installation and handling with good presets
Negativ
VPN usage only possible on own apps & applications but not on routers.
Protection against warnings via VPN, unfortunately not usable on family routers.
Non-transparent rates, privacy terms hidden in the applications, and a related general lack of transparency in important privacy terms lead to a downgrade in the "Privacy" test score.
AdGuard VPN – VPN service developed from an adblocker?
Adguard's VPN service has received a lot of attention over the past few months, which was noticeable in the increased inquiries from our readers. This was reason enough for us to thoroughly review the service in an in-depth test and deal with it. While the provider "AdGuard" is known for DNS filtering or also for its "AdGuard ad blocker", the company's entry into the VPN provider market was critically observed by many. Why, of all things, should the service be able to rise to become one of the leading providers in this field?
One of the reasons is undoubted that the service can be used for free. However, there are a few more reasons which we will show in the following.
Note: You can use AdGuard VPN for free, there are apps for Apple iOS, Android, Windows and macOS, additionally there are also browser extensions and thus the possibility to use the service on almost all devices everywhere. Adguard VPN is thus a fully-fledged VPN service.
Important note about AdGuard ad blocker!
We are reviewing the AdGuard VPN application in this article and not the AdGuard ad blocker or tracking blocker features. We describe these applications in another review. A VPN service means that the provider provides servers in different countries, and between the device and the VPN server the data is transmitted encrypted. The goal is to protect the user's data from access or monitoring by the network operator and to prevent websites and services from recognizing the user's real IP address. In many cases, this is also intended to make it impossible to investigate a user.
Tracking blockers filter content that the user requests from the Internet and thus prevent tracking by advertising companies, but do not help to remain undetected on the Internet. A VPN service and an ad blocker are therefore designed for completely different purposes.
The company behind "AdGuard"
AdGuard VPN is a service provided by the company AdGuard Software Limited, based in Cyprus. The later founders of AdGuard, two Russian software developers, developed the free web analytics service "NetChart" in 2009. In doing so, they began to understand the potential of user data on the Internet.
What we now call BigData became apparent in outline back then, which is why by 2011 they were already providing free extensions to filter trackers and ads. In 2014, these were banned from the web by Google itself, apparently, Google saw this as limiting them in their business area. In 2015, AdGuard also began to distribute free licenses for its software to schools, out of the firm conviction that advertising is particularly damaging to young people.
In 2016, AdGuard won several startup competitions and began to develop a "harassment filter" in addition to the constantly expanded tracker and advertising filtering. Then in 2017, more and more media also made the topic important to the masses. BigData posed a threat and AdGuard already had more than 30 different solutions for many devices, henceforth also for iOS in the offer.
In 2018, AdGuard modernized all its products with a new platform and is now again able to be a step ahead of even the advertising companies. Since then, AdGuard has been directly implemented on more and more devices, including ASUS or Gl-iNet routers of the newer generation.
| | |
| --- | --- |
| Operating site | Great Britain |
| Clearing location | Cyprus |
| Local legislation has an impact on customer protection | ✘ |
| Operation and billing separately | ✔ |
| Server locations | 45 |
| No log files | ✔ |
| Own DNS Server | ✔ |
| Virtual server | ✔ |
| Dedicated server | ✔ |
| RAM-Disk Server | ✔ |
| Hardware owner | ✘ |
| IP addresses owner | ✘ |
Prices & tariffs of AdGuard VPN
The most important thing about the prices of AdGuard? It is not possible to find the prices on the website if you do not provide the company with your data.
The user has to create a free account first and then find out the cost of the paid service through the upgrade advertisement. Of course, this circumstance is not exactly customer-friendly and requires users to share their own data with the company first to be informed about its rates.
We criticize such practices, as they promote additional data collection and have little to do with transparency, which one should expect from a VPN provider.
As described, AdGuard VPN offers a free plan, and in order to use it, users have to share their email addresses with the company. With this, one can transfer 3 GB of data per month (30 days) over it. The selectable servers are limited to 5 different countries. This option may be sufficient for occasional users.
However, if you are not satisfied with this amount of data, or if you want to use more locations or higher speeds, you should order the premium tariff of AdGuard VPN. The costs for this range from €5.49 per month to €34.59 per year. This is not a lot of money in direct comparison with other VPN providers, but it also includes access to the service for up to 5 devices, which can be used simultaneously. In addition, premium users get access to VPN servers in 50 different countries and, of course, have no data volume limits.
Costs / Tariffs

Free use
✘
Tariff (1 Month )
11.99 EUR
Tariff (12 Months )
47.88 EUR (per month 3.99 EUR)
Tariff (24 Months )
71.76 EUR (per month 2.99 EUR)
Number of simultaneous connections per account
10
Test options
Free tariff availableMoney-back guarantee
Prices without sales tax
What you have to keep in mind is that you have to specify a country as your own location in the further course. Based on this selection, the local sales tax that has to be paid to this location will be added. If you select, for example, the USA or another country outside the EU, then the displayed prices are permanently valid without sales tax! AdGuard VPN does not attempt to determine the real location. A procedure that is also practised by other online services within the EU.
Frequently asked questions about Ad Guard VPN
We have answered the most frequently asked questions in the following FAQs and are also happy to receive any other inspiring questions you may have in the comments to this article.
AdGuard VPN is a separate service from AdGuard that does not include ad blockers. However, within the AdGuard app for Android, you can also use the VPN service.
How much does AdGuard VPN cost?
You can use AdGuard VPN for free with up to 3 GB of data volume and limited server selection. Beyond that, the service costs € 5,49 per month or € 34,59 per year and offers simultaneous use of up to 5 devices.
Does Adguard VPN have log files?
The service describes itself as a No-LOG VPN service and does not store user activity in logs or log files.
Does AdGuard protect against warning letters?
AdGuard VPN uses VPN servers in 50 different countries, it can be assumed that this also makes it impossible to track down users via their IP addresses.
The applications of AdGuard VPN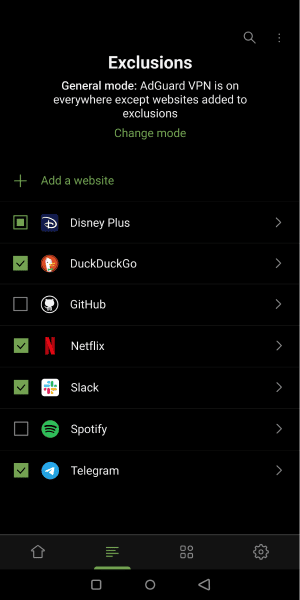 AdGuard VPN is currently available for the platforms: Windows, macOS, iOS and Android. There are browser extensions for Chrome, Opera, Microsoft Edge, and Mozilla. However, you cannot use Ad Guard VPN on other devices where there are no AdGuard apps. This excludes use with VPN routers or Linux devices.
The applications include simple site selection and also the KillSwitch function and simple exceptions for the use of VPN connections (bypass functions).
The latest AdGuard VPN download links are here:
AdGuard VPN Windows (.exe)
AdGuard VPN MacOS (.dmg)
AdGuard VPN Android (.apk)
AdGuard VPN iOS (Appstore)
Speed tested with AdGuard VPN
Regarding our speed test results below, we would like to note that we tested them exclusively with the servers and locations available via the AdGuard VPN Premium plan. In comparison, the same results may not be achievable with the free servers, and in some cases, these have also been significantly slower. However, this situation may improve if AdGuard makes more servers available for free use in the future. It should also be noted that the free servers can only be used with 3GB per month, and this amount of data will be exhausted in a very short time with today's applications like streaming.
Maximum speed tested
Germany | 16.01.2023
Privacy with AdGuard VPN
The issue of privacy with a VPN service is obviously important, even more so since this service comes from one of the leading ad-blocking services. Our expectations for compliance and implementation of privacy measures have turned out to be correspondingly high.
According to its own information, AdGuard pays attention to the data protection guidelines and laws that apply in the EU. This means that no data may be passed on to third parties unless the user explicitly agrees to it. By installing the free AdGuard VPN applications, however, the user already agrees to the privacy policy, which is why these statements have little validity in reality, but of course, sound good.
We have carefully read the privacy policy and did not notice any major problems in this context, but we do not assume that the provider would also protect users from being tracked by local authorities within the EU. The handing over of data to authorities according to local legal guidelines is a matter of course within the EU and also in Cyprus. Due to this fact, we would advise against using AdGuard VPN to avoid warnings, even though it is unlikely that AdGuard VPN will provide German lawyers with data that could lead to investigations and warnings.
On the provider's website, the provider itself mentions:
Any user's Internet traffic can be of interest and is especially valuable when it comes to marketing personal data. It can be used by both criminals and unscrupulous ISPs. However, if you use a reliable VPN, you can be sure that neither your ISP nor anyone else will be able to see your Internet activities.
Also, these statements are not exactly informative about how Ad Guard VPN intends to handle users' data. You should not let good-sounding words distract you from the real issues here. And the privacy policy that is published on AdGuard VPN's website only has something to do with the website itself, but nothing to do with the use of the service. (Privacy Policy of the website) The terms and conditions that apply when using the VPN service can only be viewed once you have already installed the software. It can be assumed that no one will read these conditions at this point.
This brings us back to the lack of transparency, and why we also had to apply a notable discount to the privacy & data protection results.
Anonymous on the Internet

Changed virtual location
✔
Protection against requests for information
✔
Prevent general monitoring
✔
Prevent targeted surveillance
✔
No log files
✔
Obfusication (masking)
✔
Streaming with AdGuard VPN
Streaming with a VPN service is now a topic that AdGuard has not been dedicated to in any way before. While the DNS used (Klar AdGuard DNS) would allow such optimizations for streaming content abroad, they are not currently used for this. This means that you have to rely on the service's used IP address not being directly marked or recognized as a VPN service, otherwise streaming services like Netflix, Sky and others will simply block the service.
Our test series therefore also showed a very mixed picture, but we would not consider it "permanent". As we said, even if today Netflix has no problems with the IP addresses of AdGuardVPN, it does not mean that it will not already be blocked tomorrow. Therefore, one should not consider or use Ad Guard VPN as a workaround for geographical blocking.
Streaming of TV and video content

Use on home router
✘
Use with KODI
✘
SmartDNS
✘
FireTV App
✘
Avoid warnings
✔
Supported international streaming platforms
Disney+ (US)Hulu (US)Amazon Prime Video (US)Netflix (US)HBO Now (US)BBC iPlayer (UK)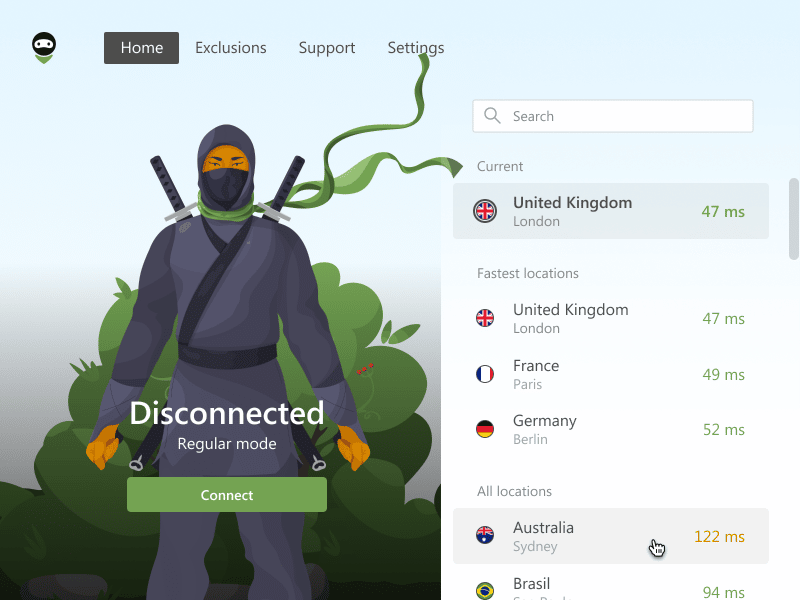 Download & Torrent with AdGuard VPN
Downloads and the use of torrents to download files is likewise a topic that AdGuard itself is now not directly dedicated to. The applications for Windows and also macOS include KillSwitch, but no other functions like port forwarding would be an advantage for torrents. The speeds that we achieved in the test with some torrent files that we loaded correspond somewhat to the values that we would have expected even without VPN, there is hardly any difference in this respect.
Download and torrent

Torrent use allowed
✔
Own Torrent Server
✔
Avoid warnings
✔
Port forwarding
✔
AdGuard VPN on the router
AdGuardVPN cannot currently be used on external devices, so you can only use the service with your own apps and therefore not on routers. AdGuard ad blocker, on the other hand, is a solution that is increasingly being used on routers as well, so we expect that the VPN service could soon follow suit here as well.
⚠️ At the moment, however, AdGuard VPN cannot be used with VPN routers.
Operation on VPN client router

Use on routers
✘
Load Balancing
✔
Failure-free operation
✔
Own router application
✘
Compatible with
Ad Guard VPN for online gaming
AdGuard has quite good ping times, which means that online gaming should also work quite quickly and without lags. We have not been able to test this so far, but the data from the connection tests suggest that this is the case.
Online Gaming

Low latency
✔
Use on game consoles
✘
DDoS protection
✘
AdGuard VPN on the road
If you use Android with AdGuard VPN, you will have a good companion on the go, that is not in question. What fails a bit is that there is no iOS VPN application yet. This detracts from the travel-friendliness, but could also be possibly fixed soon with an update of the service.
VPN for travel and abroad

Use in restrictive networks (China, hotels)
✔
Obfusication (masking)
✔
Protection in insecure wifi networks
✔
Shadowsocks or SOCKS5
✔
AdGuard VPN's customer service.
Customer service is primarily limited to the website and user forums. Paying users can also write additional emails, but these are usually answered again with links to forum articles. However, it is no wonder, since the service is also offered for free on the one hand, a chat or call centre for answering questions of various users does not pay off. Unfortunately, AdGuard joins the ranks of other VPN providers that do not consider customer service to be an essential part of their service quality.
Customer service

Applications language
EnglishGermanSpanishRussianFrenchItalianJapanesePolishPortuguese
Customer service
E-mailFAQ website
Language in customer service
GermanEnglish
Feature overview of AdGuard VPN
AdGuardVPN considered separately from the other features (ad tracking blocker), offers only a manageable feature selection. However, essential functions like "KillSwitch" or own DNS servers are present and thus the service can be understood as a complete VPN service. However, the service was only recently released and the company itself is known for having taken corresponding leadership roles through innovations in other areas. We, therefore, expect that the service's potential will be further exploited and developed in the future.
Special functions

IPv4
✔
IPv6 (new)
✔
Static IP
✘
Shared IP
✔
Multi-hop VPN
✘
NeuroRouting
✘
Malware filter
✔
Firewall
✘
Tracking Blocker
✔
Obfuscation (mask)
✔
RAM disk (k.HDD)
✔
AlwaysOn Server
✔
Own DNS
✔
Port forwarding
✔
VPN-to-TOR
✘
No log files
✔
Autom. IP change
✘
LoadBalancing
✔
Virtual server
✔
Dedicated server
✔
Own hardware
✘
Own IP addresses
✘
SmartDNS
✘
Own Torrent Server
✔
KillSwitch
✔
Erstellt am: 24. January 2023