hide.me VPN
3.85 e
Positiv
German operation and customer service is available and therefore the application is really very simple.
Fast connections are achievable, which is also quite advantageous for torrent or other applications.
The service is limited to 10G data volume per month and can also be used free of charge.
Geographical blocking for streaming is becoming less of an issue, thanks to expanded support for many streaming services.
Negativ
VPN cascades would provide yet another security feature that we miss with Hideme VPN.
Offer prices vary greatly depending on which links you use to order the provider.
Hide me VPN review (2023) – Faster VPN servers & no log files
The VPN provider Hide me VPN has been present on the German market for many years and we already wrote our first review about it 7 years ago, but there are always new things to report about it. The service, which is based in Malaysia, is run by Germans, so the customer service is also available in German. There are some things that we think are really good, but some peculiarities are still to be questioned. We will describe these issues in detail in the following article.
| | |
| --- | --- |
| Product name | hide.me VPN |
| Recommended areas of application | Anonymous communicationVPN routerUse in ChinaAvoid warningsHigh anonymityBypass locksFile sharing/TorrentsSecure data transmissionFirewall & Protection |
Our conclusion about Hide me VPN
HidemeVPN has left a good impression on us for many years and we are convinced that the VPN provider also meets the requirements of many of our readers. It is pleasing to see that both torrent users and people who want to bypass geographical blocking for streaming services are now equally satisfied with it. And VPN routers are still supported via OpenVPN. However, the provider also has its weaknesses in VPN routers, as Wireguard and the streaming servers are currently not usable with them.
Hide.me VPN convinced us with the superior technology with easy handling.  This makes security and privacy available on all devices even for inexperienced users.
100% trustworthy
100% verified information and trust towards Hide.me VPN
We were able to verify the information provided by the service itself, and Hide.meVPN answered all 69 of our questions about the company's background and technical implementation. We can therefore express our confidence in the provider.
Background/company of Hide me VPN
The company eVenture Limited is registered in Malaysia and the service is operated through this legal framework. The service was founded back in 2013 and still had the same owners since then. However, the founders and operators of the service are in Germany, and the customer service is therefore also carried out from here. The advantage of this construction may be for many that they find service available in their own language, but still, this does not have to submit to "data retention" or other requirements. Requests for information from EU authorities must therefore be made via Malaysia, which actually seems impossible from a legal point of view.
Server & Network
The dedicated servers are purchased or rented from hosters worldwide, which is why the IP addresses that the users use are also registered to these hosters. This has advantages, but the service does not operate its own infrastructure and is, of course, dependent on the local regulations and conditions of the hosters in the event of copyright violations or other issues.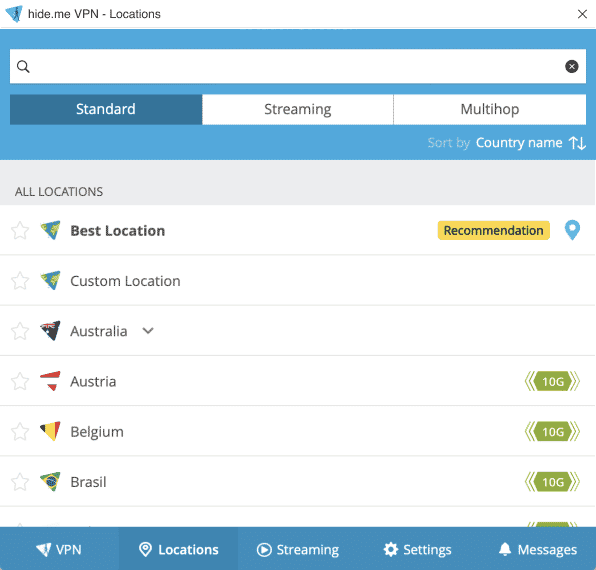 Limits & Logfiles
The Company's tariffs have limits in terms of data volume or the simultaneous use of the service on parallel connections. These limits are set via temporary session IDSs, which are automatically deleted after the end of the connections. Therefore, once a connection has been terminated, Hide me VPN servers do not retain any data about the activities of individual users. Hide me VPN also meets the ZERO log (no log files) requirements that many users have for VPN services today.
| | |
| --- | --- |
| Operating site | |
| Clearing location | |
| Local legislation has an impact on customer protection | ✔ |
| Server locations | 0 |
| No log files | ✘ |
| Own DNS Server | ✘ |
| Virtual server | ✘ |
| Dedicated server | ✘ |
| RAM-Disk Server | ✘ |
| Hardware owner | ✘ |
| IP addresses owner | ✘ |
Hide me VPN prices
Hide me can be used for free, but of course, it also offers a premium plan. The free version is limited to a monthly data volume of 10GB, while the premium rates are limited to a maximum of 5 simultaneous connections per user account. The service is therefore not completely unlimited, but many other providers have solved this as well.
HidemeVPN free
The free version can be used with all available applications and apps from Hide me, but the choice of servers is also limited to 3 different locations and in addition, users can only use the service until they have transferred 10Gb of data over it per month. These limitations are completely normal and understandable for a free VPN service. However, the speed with the free version is exceptionally good compared to other free VPN providers with Hide me VPN. Casual users who want privacy but do not want to incur ongoing costs are therefore well advised to use Hideme VPN.
HidemeVPN Premium
The paid rates can be booked on a monthly or annual basis, and at offer times also for a longer period. Longer periods are of course responsible for the service costing less, i.e. making it cheaper. The limit that exists refers to a maximum of 5 simultaneous connections that can be used in parallel. However, the amount of data, speed or location selection can be used completely unrestricted.
Costs / Tariffs

Free use
✘
Tariff (1 Month )
9.99 e
Tariff (12 Months )
79.99 e (per month 6.67 e)
Tariff (26 Months )
99.99 e (per month 3.85 e)
Number of simultaneous connections per account
Test options
Important: Used links decide the price
We have noticed that the offer prices that you can get for Hide me VPN sometimes differ quite significantly depending on which "link" you want to use to book the service. this means that users of certain offer links are apparently supposed to pay more than others. We have provided the cheapest links below, so make sure that if you want to order HidemeVPN that you use them as well.
Advantages of the Hideme VPN Premium tariff:
All servers available
Streaming server to bypass geographical barriers
No data limit
Unlimited speed
No log files
Use with all Hide.me Apps for Windows, Linux, macOS, Android, Apple iOS, FireTV, VPN Router with OpenVPN Client
FAQ
Does hide me store log files?
The service does not save logs of user activity but uses log files to limit the use of the service to a certain number of simultaneous connections.
Can you use hide me VPN on router?
Yes, the service also offers the possibility to be used directly on VPN client routers with the OpenVPN standard.
The service offers exceptionally good transfer speeds, as we were able to verify several times in our test.
Speed of Hide me
The achievable speeds for HidemeVPN, as with all other services, naturally depend on the VPN protocol used. It is good that Hideme VPN also offers "Wireguard" for the connection since last year and therefore the speed has been significantly improved again. This concerns the download as well as upload values and even the latencies have been improved by using Wireguard.
In comparison with other VPN providers, Hideme plays an expected role, which is also in the upper range due to the ram disk servers and the dedicated servers that are used. The only difference is when using Hide me VPN for free, because many other users simply share the available servers at the same time. Therefore there are also fluctuations in bandwidth, but as already described, they are very low.
Maximum speed tested
Germany | 31.12.2022
Privacy and data protection
Many of the users also use Hideme VPN to "hide" themselves, as the name suggests. This means that you use the IP address of the Hideme VPN server instead of the IP address of your Internet service provider and are therefore no longer directly visible to visited websites.
Multihop VPN (Cascades)
With the Multihop VPN server offers, two VPN servers are used in series. This corresponds to a simple VPN cascade and has the advantage that even when monitoring a VPN server and all incoming and outgoing connections over it, no back keys can be made to the individual users and their activities. This is therefore an additional level of security that is achieved.
RAM Disk Server
Clearly, hideme VPN has now also converted its own servers to ram disk functionality. This means that the entire server operating system is only operated in the temporary memory of the hardware, and in the event of a power loss or seizure, all server data would be irrevocably lost. Thus, Hide me VPN ensures that user data will never be found on the servers.
Killswitch / Stealth
It was clear to us that functions like KillSwitch should not be missing, hide me VPN has integrated these functions into its own applications and we could not detect any leaks or problems.
Own Hideme DNS Server
It is also important that Hideme operates its own DNS servers directly at the VPN server locations. this means that the DNS queries, which are still one of the biggest problems for data protection on the Internet, are not sent unencrypted over the Internet. This means that the CIA's surveillance programs, which are demonstrably also operated in Germany and other countries, are not able to track the activities of users so easily.
Anonymous on the Internet

Changed virtual location
✘
Protection against requests for information
✘
Prevent general monitoring
✔
Prevent targeted surveillance
✔
No log files
✘
Obfusication (masking)
✘
Safe from detection and "invisible"?
The features offered by HidemeVPN are on a high level and meet the requirements that you would expect from a secure VPN. There are no special features, but you can feel safe and do not need to be afraid of warnings.
However, in addition to the technical functions, the company's location and also the no-log policy of the company itself are clearly responsible for this.
No trackers are present in the Hide.me VPN apps!
Another important point is that Hide.me VPN does not use any trackers in its apps. We took a closer look and found that even if you install Hide.meVPn directly from the Playstore, no trackers are loaded.
No trackers are found in Hide.me VPN apps
Also, the used permissions are not excessive and are needed to guarantee the functionality of the service.
Permissions used by hide.me VPN apps
ACCESS_BACKGROUND_LOCATION
ACCESS_FINE_LOCATION
ACCESS_NETWORK_STATE
ACCESS_WIFI_STATE
CHANGE_WIFI_STATE
FOREGROUND_SERVICE
INTERNET
QUERY_ALL_PACKAGES
RECEIVE_BOOT_COMPLETED
WAKE_LOCK
BILLING
BIND_GET_INSTALL_REFERRER_SERVICE
Streaming with Hide me VPN
The VPN service has also responded to customer demand in the past year and now offers significantly better support for streaming services. thus, many can now also be used abroad and thus the VPN service can also be used when travelling or is even more suitable for people who are abroad. The compatibility of streaming services depends on the selection of the appropriate VPN server. This selection can be set very easily in the location selection in the Hide me apps.
The streaming services that are currently supported are also certainly not yet complete, but will already satisfy most users.
Supported international streaming services
Disney+ (US)
Hulu (US)
Amazon Prime Video (US)
Netflix (US)
Apple TV (US)
Watch ESPN (US)
HBO Now (US)
Eurosport (UK)
Sky (UK)
BBC iPlayer (UK)
and more
Streaming of TV and video content

Use on home router
✔
Use with KODI
✘
SmartDNS
✘
FireTV App
✔
Avoid warnings
✔
Supported international streaming platforms
Disney+ (US)Hulu (US)Amazon Prime Video (US)Netflix (US)Apple TV (US)Watch ESPN (US)Channel 4 (US)MLB.tv (US)abc (US)CBS (US)FOX (US)NBC (US)Showtime (US)FLIX (US)epix (US)HBO Now (US)ITV (UK)Eurosport (UK)Sky (UK)BBC iPlayer (UK)Sky News (UK)Bloomberg (UK)BT Sport (UK)Channel 4 (UK)Sky Go (IT)YouTubeSpotifystarz (US)hustlerTV (US)PenthouseTV (US)PlayboyTV (US)
Selection via own "streaming server" is well solved, but …
As long as you use the Hide me apps, for example on Windows, macOS, Android, iOS or FireTV, the selection of the appropriate server for streaming a certain platform is of course quite simple and also optimally solved. However, from the moment you want to use your own devices, such as VPN routers, this becomes a problem. Because the suitable streaming locations are simply not available for use in OpenVPN clients.
This means you can't use the streaming services if you use a VPN router with hidemevpn. Of course, this will not satisfy many users and therefore I assume Hideme VPN will come up with a solution soon.
Torrent & Download with Hide me VPN
File sharing users share their IP addresses with others and therefore have a high need for protection if they do not want to fall victim to traps or even warning letters. Hide ME VPN actually offers ideal conditions for this. From the port forwarding that helps in torrent even faster loading to the reliable KillSwitch and of course generally very good performance of the servers. Everything you would need for downloads or torrents is available. Highly recommended.
Is Hide.me secure at Torrent & Streaming?
Absolutely. Because of the Malaysian location, you are absolutely safe with Hide.me, even with torrents. First, the provider stores relatively little user activity. But most importantly, it does not give out your data! Legally, a Malaysian provider cannot be forced to hand over data. Malicious lawyers, who want to get your money by warning, have no chance! And even if you use Kodi for streaming, you are safe with Hide.me.
I would like to point out that not all VPN services support streaming so well.
Download and torrent

Torrent use allowed
✘
Own Torrent Server
✘
Avoid warnings
✘
Port forwarding
✘
VPN Router
Hideme VPN can be used on OpenVPN client routers. The Hide me VPN configuration is also already integrated into the VILFO router, so the entire server selection is available there with just a few clicks. In continuous operation, we found that Hide me has no weaknesses due to slowing speeds. However, the selection of streaming servers for VPN routers is not fully available. This is clearly a drawback for many who want to use the service to regularly watch streaming services over it as well. We have already asked Hide me VPN about this and hope that the service will improve soon.
Otherwise, Hide me VPN is really easy to use on VPN routers and can also be operated permanently.
Operation on VPN client router

Use on routers
✘
Load Balancing
✘
Failure-free operation
✘
Own router application
✘
Compatible with
Apps & software
You can use Hide Me on almost all devices, and also install it directly as an extension in browsers.
hideme VPN Software available:
Windows
Apple Mac OSX
Android
Apple iOS
FireTV
| | |
| --- | --- |
| Available protocols | |
| Own applications/apps | |
| KillSwitch function | ✘ |
| Applications language | |
The apps and applications differ only slightly in their appearance and design, which of course also helps to immediately find your way around on any device.
Online Gaming
HideMe's servers offer very short latency times and are therefore also very suitable for online games. However, there are currently no DDoS firewalls integrated on the VPN servers that would prevent unfair practices by other players.
Online Gaming

Low latency
✔
Use on game consoles
✘
DDoS protection
✘
On tour with Hide me VPN
The applications for mobile devices are easy to use and also offer a lot of conveniences. We have hardly experienced any problems when using it in hotels, but HideMe does not explicitly offer measures that would allow the connection to be established even in very restrictive networks like in China, which is another reason why this was possible in our tests, but it was always detected by the firewall after a few minutes of use and very slow afterwards.
VPN for travel and abroad

Use in restrictive networks (China, hotels)
✘
Obfusication (masking)
✘
Protection in insecure wifi networks
✘
Shadowsocks or SOCKS5
✘
Customer support of Hide me
Hide Me VPN's customer service is also available in German, and live support is available almost 24 hours a day. We noticed that although translators were sometimes used, the answers were still individually tailored to the user's questions. Overall, the VPN provider leaves us with a very good impression and is certainly one of the best on the market.
Customer service

Applications language
Customer service
Language in customer service
Hide me VPN alternatives
The following providers are also available in German and offer a similar range of features. In some cases, the services will even surpass those of Hide me VPN. It all depends on what you expect from the VPN service you want to use. In any case, we recommend that you read our reviews of these VPN services before buying Hide me VPN:
Features of Hide me VPN
With providers like HidemeVPN, it is difficult to mention all the features that the services offered in a report. The space available to a tester is simply not enough for this in most cases. In addition, where Hideme VPN for many years here continuously integrates more functions, it has already become somewhat confusing.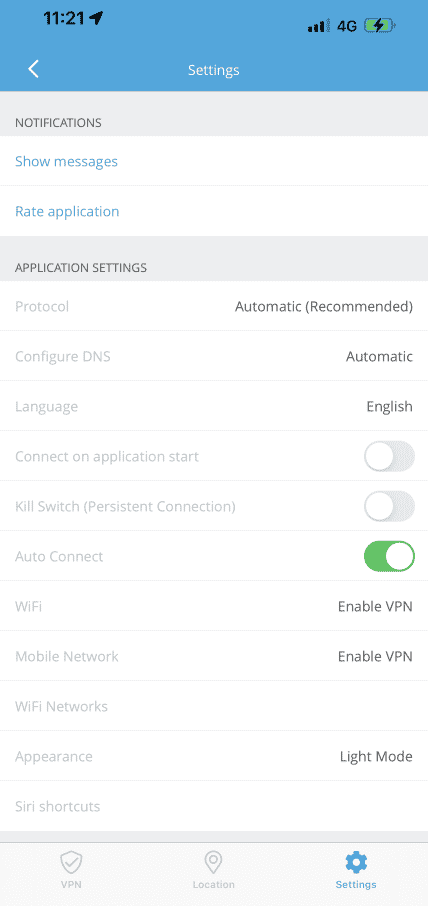 However, we summarize the most important functions here:
Ram disk servers are used
No log files on the servers (session-based limiting)
Dedicated servers with different hosters
Multihop / VPN cascades
Wireguard, OpenVPN, IEKv2 protocol used
Own apps and applications for many devices
Own streaming servers to bypass geographical barriers
Support for OpenVPN Client Router
KillSwitch
Split Tunnel
Auto-connect function
Stealth Guard
Own protocol-free DNS server
Browser extensions and secure proxy connections
These features are mainly available to Premium customers, in the case of the free version there are restrictions here due to the limited server selection.
Special functions

IPv4
✘
IPv6 (new)
✘
Static IP
✘
Shared IP
✘
Multi-hop VPN
✘
NeuroRouting
✘
Malware filter
✘
Firewall
✘
Tracking Blocker
✘
Obfuscation (mask)
✘
RAM disk (k.HDD)
✘
AlwaysOn Server
✘
Own DNS
✘
Port forwarding
✘
VPN-to-TOR
✘
No log files
✘
Autom. IP change
✘
LoadBalancing
✘
Virtual server
✘
Dedicated server
✘
Own hardware
✘
Own IP addresses
✘
SmartDNS
✘
Own Torrent Server
✘
KillSwitch
✘
Erstellt am: 8. July 2022