OVPN
4.22 e
Positiv
Swedish supplier with the highest standards
Multi-hop VPN via Sweden
No log files, cash payment possible, insurance to defend server against government access at any time.
RAM disk server and high anonymization, browser plugin monitors connection and security status at all times.
Extremely fast server especially with Wireguard it is the fastest VPN from our tests.
OVPN review 2023: The fastest VPN on the market, no logging policy & support for many streaming services
OVPN is a very well-known provider in the industry. With the company location (company: OVPN Integritet AB) in Sweden, this provider is characterized by technically flawless and advanced data security. In addition to the OpenVPN standard, secure DNS services and multi-hop are also available. As a premium provider, you can also expect corresponding speed and customer service, and we can confirm that on the bases of our OVPN review 2023.

| | |
| --- | --- |
| Product name | OVPN |
| Recommended areas of application | High anonymityNetflix (EN)Amazon Video (EN)SkyGo (EN)VPN routerUse in ChinaAvoid warningsStreaming (Copyright)Bypass locksFile sharing/TorrentsSecure data transmissionTOR (.onion) accessAnonymous communicationFirewall & Protection |
100% trustworthy
OVPN is classified as particularly trustworthy. Trust level: "100 per cent"
OVPN has answered all our questions about the background of the service 100%. For this, we would like to mark the service, especially with our "Trust level". Only transparent handling of details about the company, the technology and the service deserves the trust of the users.

69 of 69 questions asked about the background of the company and the technology used were answered.
Our conclusion on OVPN
OVPN is a Swedish provider that has to be placed in the class of premium services. By this, we mean the technically perfect implementation, the use of the best available hardware for VPN servers and also the absolute focus on user privacy. While the service has been known in Sweden for many years, it was only in the year before last that it gained a good reputation internationally, especially in the scene that has particularly high privacy requirements.
OVPN is therefore absolutely to be ranked in the
VPN Services with the highest reliability
and "security" even regarding advanced monitoring. VP cascades but also absolute abandonment of log files and stable security standards complement the service.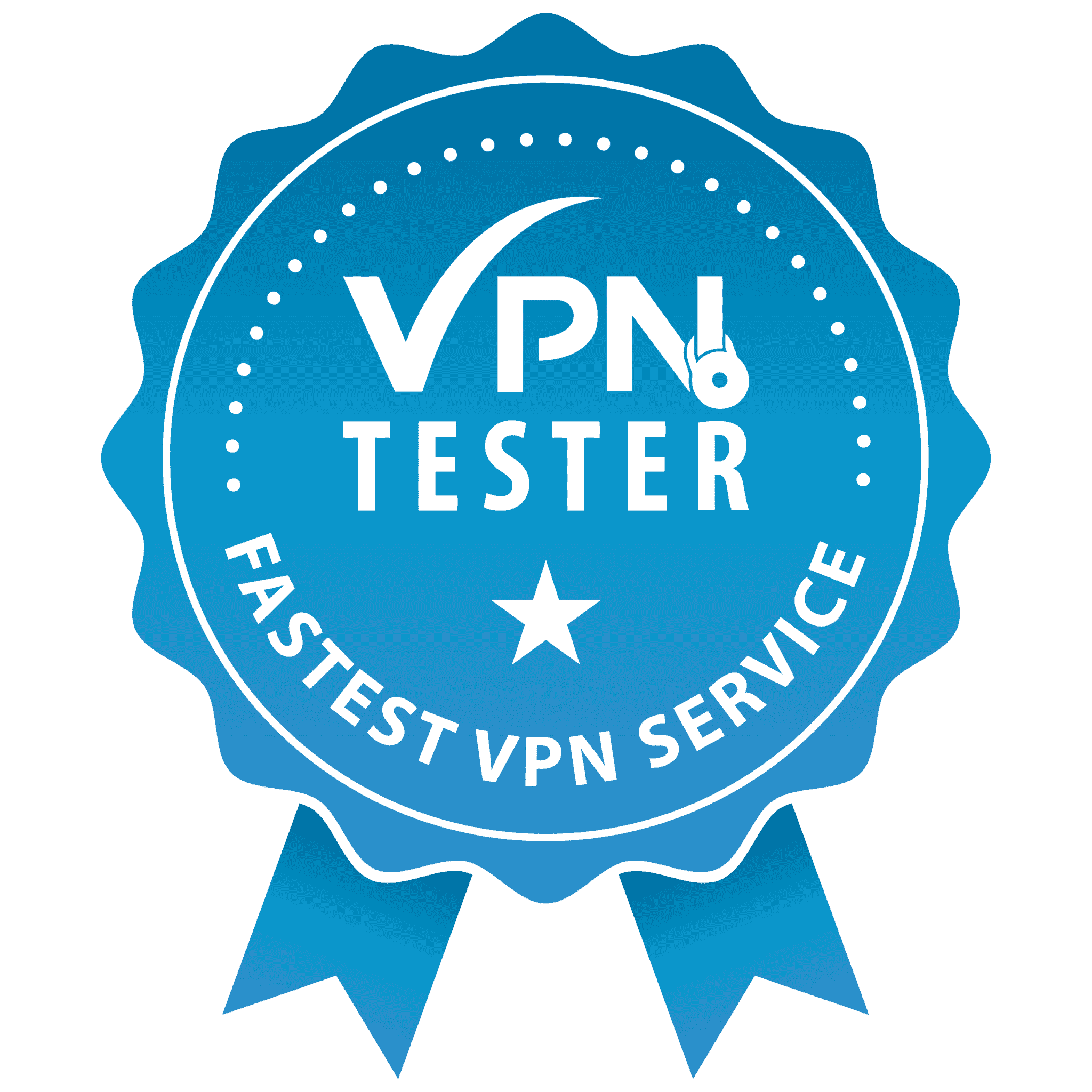 OVPN = the Fastest VPN of our tests.
In addition to that, OVPN had the fastest speed ever measured in our tests. We were able to transfer data within Germany at more than 800 MBit/s! This was realized with the new Wireguard VPN protocol, which is currently only available on Swedish servers.
All safety checks and easy handling are integrated.
Maximum privacy with OVPN
The VPN provider is in any case qualitatively equipped and offers many features that increase the privacy of the users. OVPN servers are 100% owned by the provider and are thus protected from monitoring by hosting providers. Furthermore, no hard disks are used (diskless servers) and the operating system is only run in the temporary memory of the servers. This effectively prevents third parties from accessing the running data on the server. Power gone = everything gone!
Take this opportunity to try the unlimited OVPN trial in terms of a risk-free 30-day money-back guarantee!
Advantages of OVPN.com
All the hardware belongs to OVPN, own OVPNs servers, own IP addresses, maximum data protection at the highest level
Integrated security checks for DNS, leaks and all relevant security functions
Streaming services abroad feature is constantly being expanded
With the VPN-Standard "Wireguard" + OpenVPN the fastest provider on the market in each case
2. About the company of OVPN
The Swedish company OVPN Integritet AB, is run by David Wibergh and thus has a name. The service is not required to store or share user data, even in Sweden. The service has been offered for more than 5 years and has about 100,000 paying customers at the moment.
OVPN is therefore also a special VPN service because it uses its own hardware and switches and does not rent them from any hosters. Of course, this makes a difference in any case, if the provider itself can control and influence all components.
Due to their own hardware, OVPN's speeds that can be achieved are often better than with virtual servers, which then have to share the same network card with dozens of other virtual servers, and so on. The scalability may be lower but OVPN is well equipped for this due to oversized equipment.
OVPN operates 102 servers in 17 different countries.
6 VPN servers are located in Germany (2x Frankfurt + 2x Erfurt + 2x Offenbach) plus 2 in Austria and one in Switzerland.
| | |
| --- | --- |
| Operating site | Sweden |
| Clearing location | Sweden |
| Local legislation has an impact on customer protection | ✔ |
| Operation and billing separately | ✘ |
| Server locations | 17 |
| No log files | ✔ |
| Own DNS Server | ✔ |
| Virtual server | ✘ |
| Dedicated server | ✔ |
| RAM-Disk Server | ✔ |
| Hardware owner | ✔ |
| IP addresses owner | ✔ |
Server Updates
This is how you can use the new VPN server in Offenbach:
Desktop client: Since old server lists from the time before the start of the servers may be cached you may have to manually log out and log back in to load the new server list. After that, you can already connect to Offenbach via "Select server manually".
OpenVPN and third-party systems: To connect to OpenVPN GUI, Tunnelblick, Viscosity or other third-party VPN clients, OVPN has provided new configuration files for Offenbach in the respective guides. Just click on the corresponding setup guide and follow the instructions.
WireGuard: After logging in to the OVPN website, go to the WireGuard configuration generator to generate a configuration file and a key to connect to the new server.
Good news also in the fall of 2021: In September, OVPN launched its first data centres in Ukraine and Poland. Users can now use a VPN server in Kyiv and in Warsaw to get better speeds and a wider streaming offer. As for the server type, as usual from OVPN, there are of course no surprises: as always, the servers are physically owned by the provider (no rented servers), contain no hard drives, are completely log-free, and have the same security features as all OVPN data centres. There are several ways to connect to the server in Kyiv and in Warsaw, as the servers support both OpenVPN and WireGuard®. You can find details directly at OVPN:
May 2022: First server in Italy
In 2022, OPVN also opened its first data centre in Italy, with a server in Milan that offers both OpenVPN and WireGuard. Details can be found at OVPN:
We visited OVPN in Sweden!
David Wibergh (founder of OVPN.com) on VPN services:
So before you actually get a VPN service, you should understand what you are doing when you get a VPN service. In the simplest sense, you transfer trust from your ISP to your VPN provider because your ISP can see what you are doing. However, the VPN provider can see what you're doing when they log in, analyze traffic, or just worry. I mean, they could literally do anything. They could manipulate your traffic, serve ads, and share your data with third party providers and ads. I think it's really important to know who is running the service.
Interview with insights into OVPN
We were in Stockholm from 23 to 25 September 2020 and visited the provider OVPN in person. Thereby we could also get a personal picture of the processes and also the data centres. The first video is still in English, but we would like to share it with you. (Since I am now Covid-19 positive, this has thrown me a bit off track when creating the further videos. But I will work under high pressure on it.)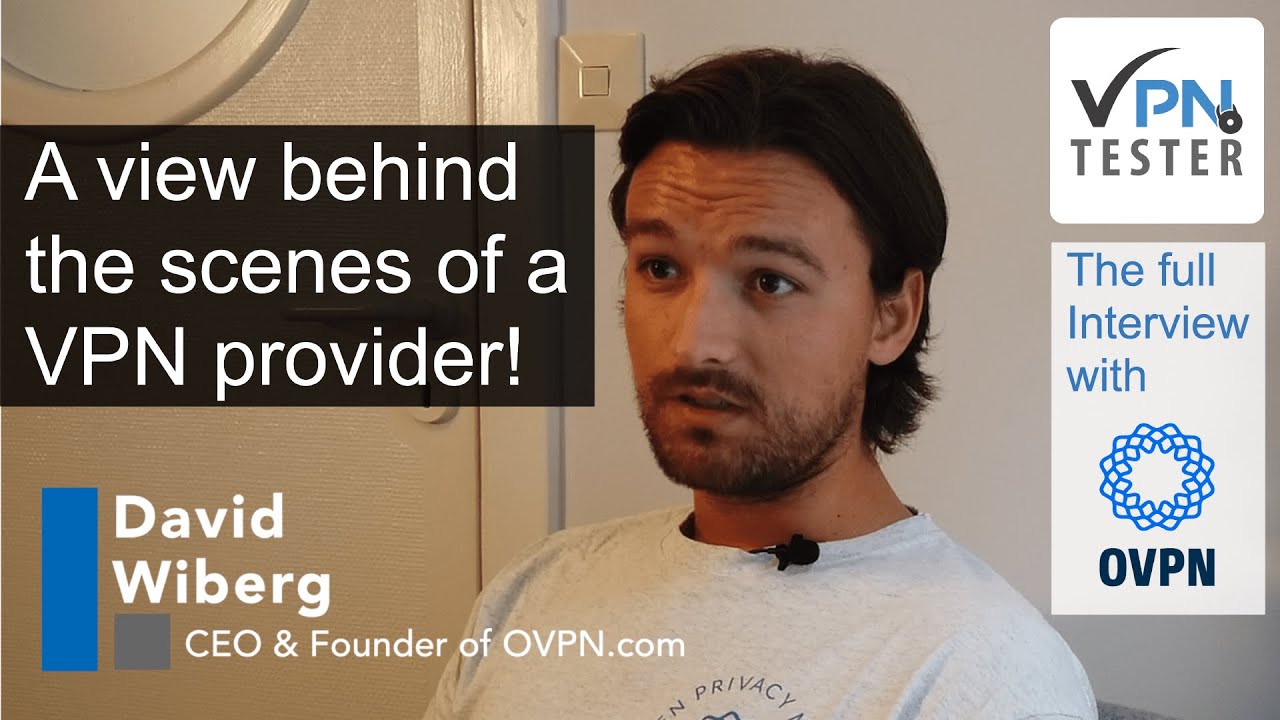 Recorded on 10/24/2020 in Stockholm, Sweden.
Court case confirms, that OVPN does not store user data
In the video on the right, David Wibergh talks to us about a past court case that aimed to obtain user data. Since the ruling was issued a few days ago and confirms that OVPN doffers a strict no logs policy and therefore does not know who is using the service, OVPN did not have to share any data. More about this in the video…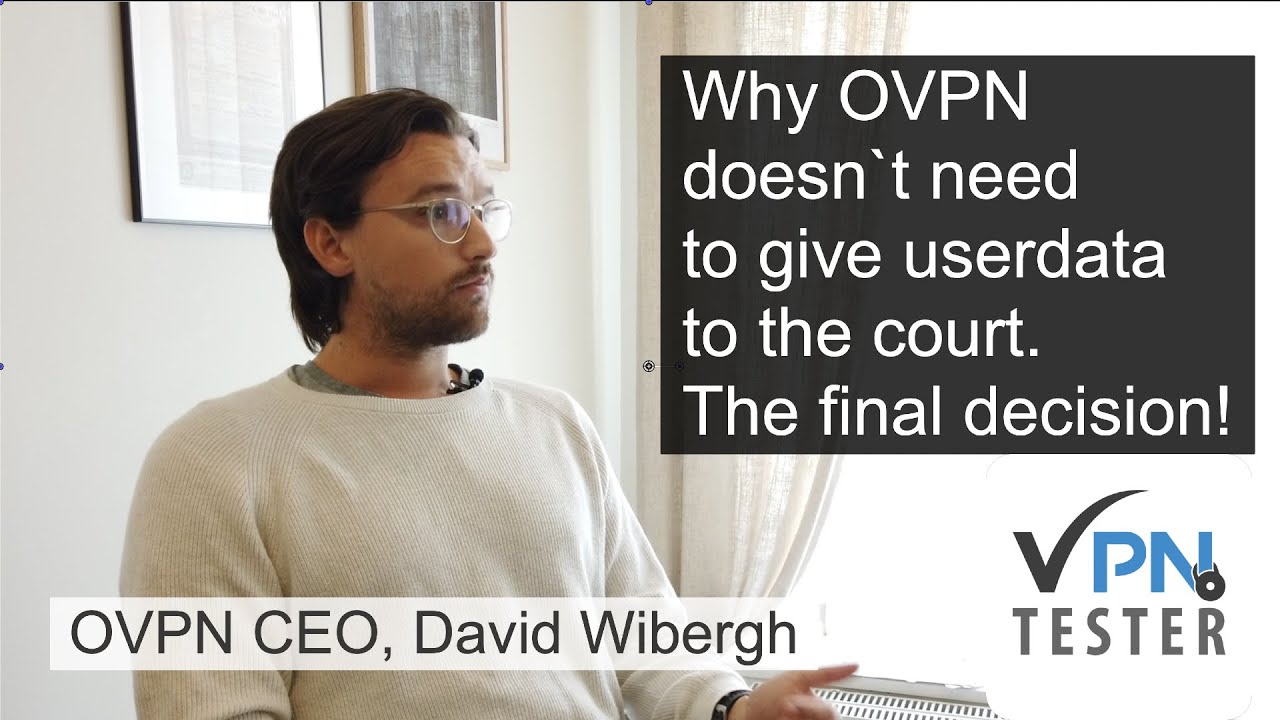 Recorded on 10/25/2020 in Stockholm, Sweden.
OVPN Interview regarding Updates 2022
We asked David Wibergh about updates to his companies. A lot has happened in the last year and so we wanted to talk about it.
The whole interview took place on 03/02/2022 via video.
[/wc_column]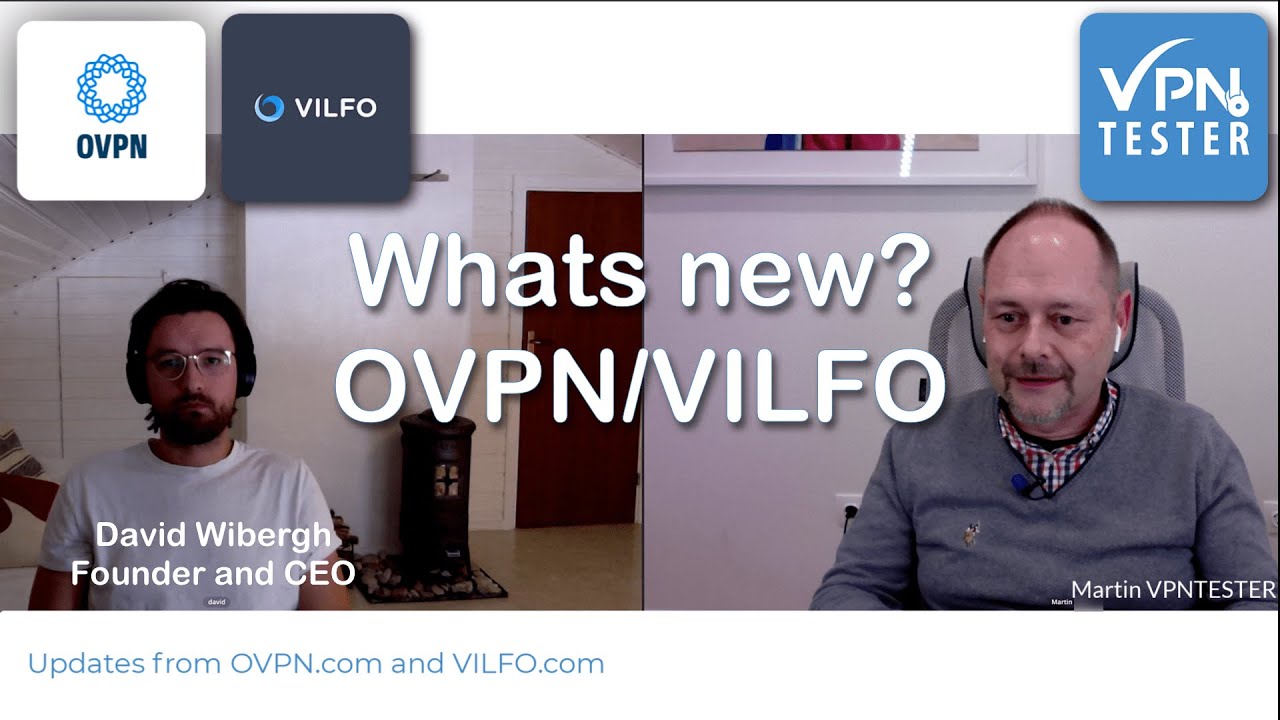 Abonniere unseren YouTube Kanal
3. Prices & tariffs of OVPN
OVPN is certainly not a cheap provider, but that is also not what we expected when we saw all the technical effort behind the service. In general, the service is in the league of higher-priced VPNs, with the difference that the focus was not on the mass market, but to ensure maximum network security and performance for individual customers. Compared to ExpressVPN, which has about the same price, OVPN certainly offers much stronger hardware, even if there are fewer locations OVPN. And you will get an OVPN T shirt 🙂
Secure payment:
You can pay with PayPal, credit cards, Bitcoin or even with CASH (No email is needed to open an account!).
Number of simultaneous connections allowed – new model since September 2021
In September 2021, OVPN introduced a new model in the number of connections allowed with a user account: Each customer initially starts with 4 devices as before. But: in addition to these 4 devices, the number of simultaneous connections increases by 1 one more device for each year you sign up for an OVPN subscription. This means that when you take out an annual subscription, you can connect 5 devices at the same time instead of 4.
The device increase is cumulative, so if you subscribe for a longer period, your device count will increase even more. The increase also applies to monthly and semi-annual subscriptions. Once the cumulative subscription period exceeds 12 months, the counter will increase by 1 for every 12 months you are subscribed to OVPN.
Want to know where you stand right now? The current number of allowed devices is displayed on your dashboard when you are logged in.
Costs / Tariffs

Free use
✘
Tariff (1 Month )
12 EUR
Tariff (12 Months )
59.88 EUR (per month 4.99 EUR)
Tariff (26 Months )
101.4 EUR (per month 3.9 EUR)
Number of simultaneous connections per account
7
Test options
Money-back guarantee
4. OVPN applications
The service offers its own applications for macOS, Windows and Linux. The remaining devices are connected via the free OpenVPN applications. There are extensive instructions on how this can be done, and they are certainly easy to use even for non-professionals.
The best VPN is also for Linux users
The application for Ubuntu or Linux users can also be highlighted. This also offers a graphical user interface and protection against leaks. This is one of the reasons why OVPN is very popular in the Linux environment.
However, the applications are also all very very simple, but offer a very good overview of all functions and settings and also have "security checks" directly integrated. So in the OVPN apps, you can also quickly see if you have activated Kill Switch, for example, or if there are DNS leaks or other problems.
The implementation is graphically tidy and practically identical for Windows, macOS, Linux and also Android and iOS. (iOS is currently being tested in the beta stage)
OVPN for Ubuntu
OVPN instructions for different devices
Custom application for Windows, macOS + Linux.
The only applications that OVPN provides itself are the applications for Windows, macOS and Linux devices. These were developed by the company itself.
Desktop client available in beta stage
Since May 2022, OVPN's desktop client also supports Apple M1, Fedora and OpenSUSE. More features are to be released soon: an always-on kill switch, the ability to specify fully custom DNS servers, and ad and tracker blocking. The desktop client is already available with beta updates enabled.
Applications images
Explanations of the settings
OVPN settings
Kill Switch
The OVPN client has a feature called Kill switch, which guarantees that no traffic will be unencrypted if you should lose connection to OVPN at any time.
When the connection to OVPN is lost, the kill switch disables your Internet connection so that no traffic is sent from you unencrypted.
The kill switch can be enabled / disabled on the Settings tab in the client.
Use TCP + port 443 (Recommended in restrictive networks)
The OVPN client has a feature called Connect using TCP 443, i.e., the connection to our servers uses TCP as the protocol and 443 as the port number. The default setting is UDP and port 1194, but this setting only takes effect when connecting through the default service. If you connect using an add-on and the check box is selected, you still connect using UDP
The Connect using TCP 443 feature can be enabled / disabled from the Settings tab in the client.
Use IPv6 addresses (enable)
With OVPN, you can tunnel your data over both IPv4 and IPv6.
You can enable/disable tunnelling over IPv6 for your account in the Settings tab in the client or the dashboard on our website under OpenVPN → Settings.
After you enable/disable IPv6 in your account, you need to restart your connection by disconnecting and then reconnecting.
Use data compression
Compression can increase your Internet speed and is therefore supported by OVPN. However, there are some security issues when compression is enabled and websites are visited over HTTP.
You can enable/disable compression in the Settings tab in the client or the Dashboard on our website under OpenVPN → Settings.
This is a change that affects all devices you use to connect to OVPN – not just when you connect through the desktop client. You must also connect to OVPN for the change to take effect.
Support streaming from video platforms
Streaming services such as Netflix, Amazon Prime Video streaming service or even US broadcasters such as Hulu (and other streaming platforms) are often forced by copyright holders to block VPN services and make content visible only from certain regions.
With OVPN, you can bypass these blockages by enabling the Enable streaming services option in the client. When this option is enabled, traffic to streaming platforms is redirected to VPN servers optimized for streaming. All other traffic continues to use the normal VPN server.
Start OVPN automatically with the device
The function controls that the OVPN software is automatically started with the system start of the device. A VOPN connection can also be created automatically to match this.
Automatically connect to OVPN
The OVPN client has a feature that allows you to connect to OVPN directly when you start the client. Therefore, you do not have to manually select whether to connect when the client starts.
The automatic connection can be enabled / disabled on the Settings tab in the client.
Display status message
The OVPN client has a feature to display a detailed message when you are connected to the client. This functionality can be enabled / disabled on the Settings tab in the client. When inactivated, you will be redirected directly to the traffic graph.
The image below shows an example of a detailed message:
OVPN success information
Store in the system tray
The interface of the OVPN software is stored in the system tray of the operating system and can therefore be called directly from there.
Enable notifications
This option enables notifications on the device that keep the user informed about changes in the status of the VPN connection. For example, the VPN connection has been disconnected.
Browser Extensions + VPN
To highlight are the browser extensions that allow a quick server switch, which is available for Google Chrome, Firefox, Vivaldi and Opera.
What is the difference between normal proxies?
OperaVPN is not a VPN service, it just has this confusing name to suggest security. OperaVPN makes encrypted data visible to Opera's operators through the proxies themselves. According to the company's annual report, the data is sold to third parties for advertising purposes. (OperaVPN is NOT A VPN!) This is anything but transparent and secure. OVPN also uses a SOCKS5 Proxy server to connect, but without any logging of the users' online activities. In addition, OVPN's server network is insanely fast. The ideal is also a combination of OVPN network connections + browser extensions, with which you can simply change your own location with a mouse click. E.g. a connection to Sweden and in this tunnel then a SOCKS5 connection is established via Germany. This is practically a tunnel-in-tunnel solution that runs stable.
OVPN Browser extensions
NEW: OVPN Wireguard application for Android (Beta)
By switching and Using Wireguard, OVPN can now use native support for this protocol directly in Android.
The result is a new Android app that, unlike competitors' apps, is truly Wireguard-based and can also connect automatically. So what I mean in detail is that OVPN continues to use the "standard of Wireguard" and is therefore 100% Wireguard compatible with any Wireguard client, and yet with its own app has found a solution to leave this standard untouched and use the protocol.
For other new Wireguard providers like "NordVPN with Nordlynx" the login procedures of the Wireguard have been changed so that it can now only be used with their own applications. So if you want to use a router with Wireguard with these providers, you can't use this modified Wireguard protocol for it. However, this is possible with OVPN.
New: OVPN v.1.11.0 available (December 2020)
OVPN's latest desktop client is especially beneficial for Windows users: OVPN recently updated all of its servers to OpenVPN 2.5.0. This makes the new Wintun adapter available, which, together with the new ChaCha20-Poly1305 cypher suite, enables significantly higher speeds for Windows users. But Mac and Ubuntu users should also see higher OVPN's speeds through ChaCha20-Poly1305.
The innovations of OVPN v1.11.0 in detail:
The default cypher suite changed from AES-256-GCM to ChaCha20-Poly1305
OpenVPN 2.5.0
Wintun for Windows user
"Use recommended encryption suite" available as a setting
Setting "Use Wintun driver" available as a setting for Windows users
NEW: OVPN Wireguard application for iOS
The time has finally come: OVPN released its iOS app for all users on October 22, 2021, and is now available in all subscriptions. The app has been beta tested by some users since April and has now been successfully approved by Apple. You can easily download it from the Apple app store. There are good reasons why the OVPN iOS app only supports WireGuard:
WireGuard enables a much faster speed than OpenVPN on less powerful devices like smartphones.
WireGuard conserves battery far better than OpenVPN, which is very convenient because you don't have to constantly charge your phone.
WireGuard works much better on roaming devices than OpenVPN because it is designed to do so from the start. Usually, you are on the road a lot with your cell phone and switch from network to network, so it is important that the VPN connection can handle roaming well.
The OVPN iOS app is easy to use and secure at the same time. The kill switch is always enabled and DNS leak protection is working.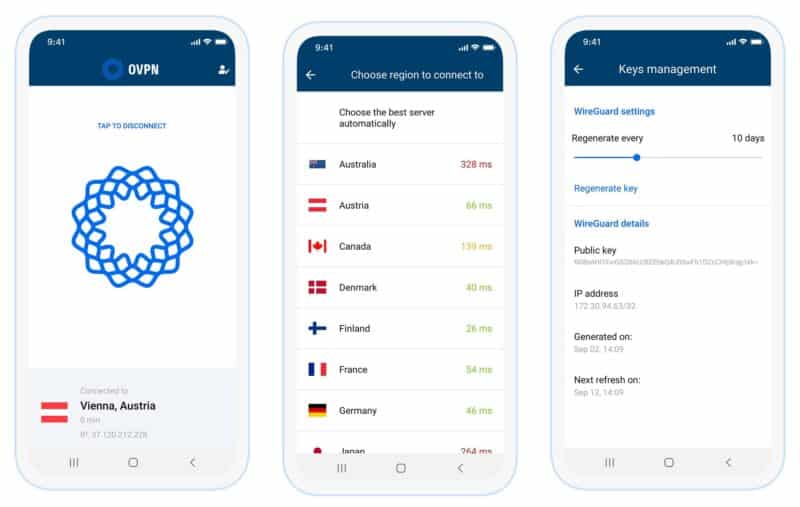 Also handy: The new OVPN app automatically selects the fastest server, but of course, you can also choose your server manually yourself.
To ensure user security, the WireGuard key pair automatically rotates every 14 days (changeable to 1 to 28 days).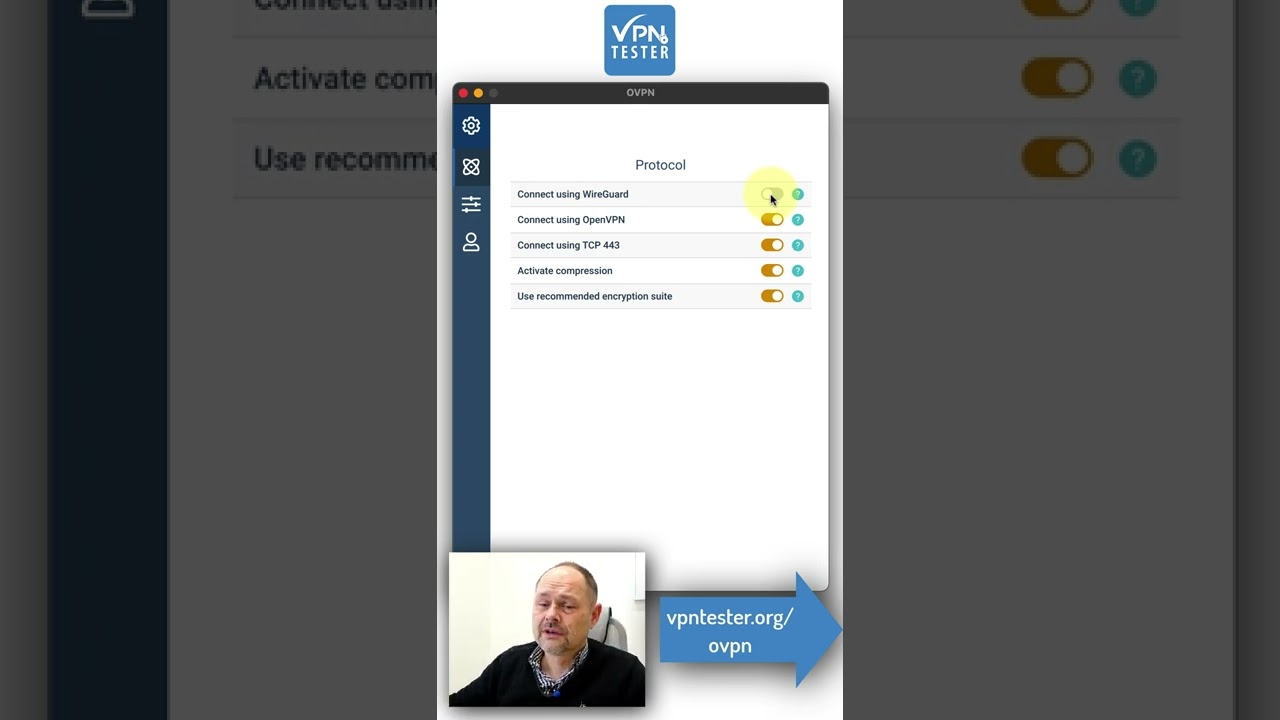 5. Tested speed with OVPN
OVPN is the fastest VPN service we have ever tested. To be fair, we are connected via Wireguard instead of OpenVPN or IEKV2. With OpenVPN, the values are still impressively fast but barely reach more than 400MBit/s.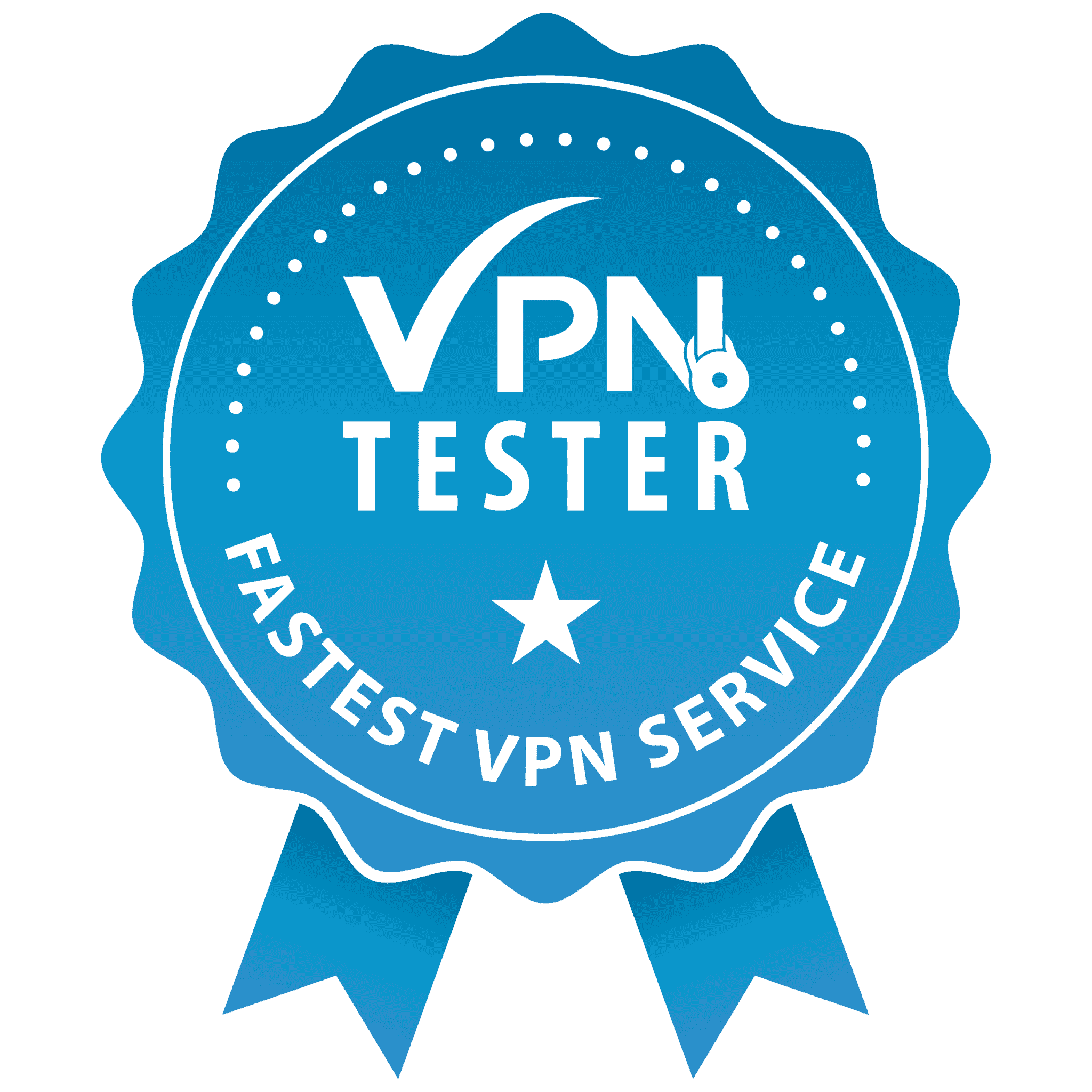 The fastest VPN over the Internet ever measured! (>800mbit/s)
Through the Wireguard VPN protocol, however, the data is processed much more resource-efficiently on your own device as well as on the server, whereby you could certainly also achieve up to 1Gigabit/s if not for the internet in between.
The OVPN server network is in any case technically as well as from the accessibility extremely well set up and adjusted, because that we can measure such values over a longer period is rather rare.

Maximum speed tested
Germany | 31.12.2022
Compare with other VPN Services:
Speed comparison of different VPN services
Wireguard at OVPN
OVPN also provides Wireguard access to its own servers in Sweden. Wireguard is a significantly simpler but no less secure VPN Protokoll, which enables stable connections even through restrictive networks and is also significantly faster than OpenVPN protocol in comparison.
Therefore, it is exciting when the service will offer this technology on other sites!
6. Privacy with OVPN
OVPN focuses on security and privacy at multiple levels:
All servers are true bare-metal servers owned by the company and located in separate lockable racks.
The servers are protected against access by various encryption methods.
The apps comply with the standards and have additional verification functions built in to independently check the activated security features.
Browser extensions can actively warn the user in case of connection changes, additionally tracking links can be blocked in the browser. Also, the browser extension performs the verification of the secure connection.
OVPN acts transparently in all activities and provides users with all the details to be able to be credible as well.
You do not need an email address to create an account.
You can pay with CASH.
OVPN has taken out an insurance policy to protect the company against legal action from abroad, this insurance also covers the costs necessary to conduct litigation so that the data of its users can remain anonymous.
Anonymous on the Internet

Changed virtual location
✔
Protection against requests for information
✔
Prevent general monitoring
✔
Prevent targeted surveillance
✔
No log files
✔
Obfusication (masking)
✔
Features
VPN cascades are clearly one of the most important special features offered at OVPN. In addition, however, there are also own server hardware, the waiver of hard disks for the entire operation and also own firewall and switches hardware at the server locations. So professional equipment in direct comparison with other services like NordVPN, which only rent virtual servers, is of course an outstanding technology.
Multi-Hop VPN
A cascaded connection from Malmö to Stockholm can also be used to disguise one's own identifiers from targeted Internet exploration. This technique is used by VPN providers for the special anonymization of users. However, there are VPN services that allow you to define the routes yourself. With OVPN, there is only one router over two locations and this has to be booked optionally, which increases the total price.
RAM Disk Server
OVPN does not store log files, and most users even use cascades to further disguise the origin and connections. OVPN offers diskless servers and operates in RAM disk mode. This means that the entire operating system, which always processes local activity, is only in temporary memory. As soon as the server is switched off, for example, all data would be gone. Therefore, no one has been able to extract or access data from the servers. This provides additional protection against the seizure of the servers, but also against a hack attack. The combination of different locations and the technical execution protects users from surveillance and tracking to an extraordinary degree.
Easy connection VPN
Simple VPN connection
VPN Cascaded connection (multi-hop)
Simple cascaded VPN connection
7. Streaming with OVPN
Streaming is of course with a service that does not have thousands of servers and is usually not predestined to enable worldwide streaming, but that should not be a limitation for most users. OVPN offers servers in Germany, the US and some other countries, these locations are also good to very good to access local limited content over it.
Streaming of TV and video content

Use on home router
✔
Use with KODI
✘
SmartDNS
✔
FireTV App
✘
Avoid warnings
✔
Supported international streaming platforms
Disney+ (US)Hulu (US)Amazon Prime Video (US)Netflix (US)Apple TV (US)Watch ESPN (US)Channel 4 (US)NFL Gamepass (US)MLB.tv (US)abc (US)CBS (US)FOX (US)NBC (US)Showtime (US)FLIX (US)epix (US)HBO Now (US)Eurosport (UK)Sky (UK)BBC iPlayer (UK)Sky News (UK)Bloomberg (UK)BT Sport (UK)Channel 4 (UK)YouTubeSpotifystarz (US)hustlerTV (US)PenthouseTV (US)
8. Download & Torrent with OVPN
One of the most popular topics for OVPN is certainly torrent usage and downloads. Due to the extremely fast server network that can create and handle thousands of connections at the same time, the service is ideally suited for this. In addition, a Swedish service is of course practically located in the centre of all torrent users in Europe, which is why many of the other partners at Torrent will of course also be connected directly via the same service and already, therefore, a clear download speed advantage can be achieved. We have also not found any service so far where torrent usage was so fast, although this is of course difficult to evaluate or compare due to different files, sources and also times. But our subjective impression is that Torrent 0 OVPN is absolutely right.
Download and torrent

Torrent use allowed
✔
Own Torrent Server
✔
Avoid warnings
✔
Port forwarding
✔
9. OVPN am Router
The great strength of the application is that the operator has even developed its own VPN router and sells it as well. With it, data can be transmitted faster than with any other router I know. In our tests, the Vilfo router with the highest OpenVPN encryption managed more than 450,000 kbit/s, which is the exception even in the professional field. However, the Vilfo router is not exactly a cheap device, with more than 400 Euros, only fewer users will consider it. However, OVPN can be used on any type of OpenVPN client router, and therefore also on the much cheaper ASUS or Gl-iNet routers. There are no problems even with the configured cascades.
Operation on VPN client router

Use on routers
✔
Load Balancing
✔
Failure-free operation
✔
Own router application
✔
Compatible with
ASUSGl-iNetDD-WRTTomatoVilfo Router
Multi-hop connections on the router
With OVPN it is also possible to use multi hop (cascade) connections on the router, just download the appropriate OpenVPN configuration files and install them on the router.
10. OVPN for Online Gaming
Due to the low latency, OVPN is ideal for online games. In addition, Wireguard and OpenVPN can also be used to supply Playstation and Xbox directly in the future.
The denial-of-service attacks that are often made by unfair players against others are safely blocked with it.
Online Gaming

Low latency
✔
Use on game consoles
PlayStationXBox
DDoS protection
✔
11. OVPN on the road
OVPN can be used on mobile devices with free apps, which means that the service does not offer its Android or iOS apps, but recommends using free apps for it. The setup is a bit more complicated for the layman, but this circumstance is quickly compensated for in daily use.
OVPN can be used via various ports and OpenVPN via TCP + UDP can be used to bypass most of the local blocks, but Wireguard is even more outstanding. This new technology used by OVPN also promises smooth connections in China, Turkey and Dubai.
VPN for travel and abroad

Use in restrictive networks (China, hotels)
✔
Obfusication (masking)
✔
Protection in insecure wifi networks
✔
Shadowsocks or SOCKS5
✔
12. OVPN customer service
Customer service at OVPN is direct contact with the customer, which can be done via chat, email or even phone. However, the company's technicians help personally here and there are no support employees who only send standard texts as answers. So personal customer service is not just a buzzword, so to speak, but a reality.
The website, instructions, and applications are in English with corresponding help texts and are therefore easy to use, even without technical knowledge.
Customer service

Applications language
EnglishGermanSwedish
Customer service
E-mailLive chatFAQ website
Language in customer service
GermanEnglishSwedish
13. Function overview of OVPN
Static IP addresses with port forwarding
If you want to reach your router or connected device via a static IP address, you can book real static IP addresses with port forwarding for an additional €3 per month with OVPN.
This is the most suitable way to get a static IP address on virtually any device, which is also accessible over the entire Internet. Other VPN providers only offer limited port forwarding and are therefore not suitable for accessing various devices such as NAS, cameras or web servers, etc.
Pros:
Access to the home network
Webserver operation is possible
No limitations
Ordering OVPN static IP
Special functions

IPv4
✔
IPv6 (new)
✔
Static IP
✔
Shared IP
✔
Multi-hop VPN
✔
NeuroRouting
✘
Malware filter
✔
Firewall
✔
Tracking Blocker
✔
Obfuscation (mask)
✔
RAM disk (k.HDD)
✔
AlwaysOn Server
✔
Own DNS
✔
Port forwarding
✔
VPN-to-TOR
✘
No log files
✔
Autom. IP change
✘
LoadBalancing
✔
Virtual server
✘
Dedicated server
✔
Own hardware
✔
Own IP addresses
✔
SmartDNS
✔
Own Torrent Server
✔
KillSwitch
✔
14. FAQ
Can OVPN unblock Netflix?
Yes, the OVPN service can unblock Netflix, you can also use Netflix worldwide with it.
Can you stream Amazon Prime Video with it?
Yes the OVPN service is not blocked by Amazon Prime Video.
Can you stream Servus TV with it?
Yes, the OVPN service is not blocked by Servus TV in Austria.
Can you stream Magenta TV with it?
Yes, the OVPN service is not blocked by Magenta TV.
Can you stream Zattoo with it?
Yes the OVPN service is not blocked by Zattoo in Switzerland.
Erstellt am: 29. June 2022