VPN for anonymity and privacy
We have highlighted the following criteria, which are important for maximum anonymity but are rarely considered or described.
TIP:
You can also get more detailed information on the individual criteria under the following links.
However, this comparison is not complete for reasons of clarity! We have currently compiled more than 170 VPN providers in our internal database, each according to more than 120 different criteria. Not all our reviews are already available in the English language – we are currently working at it.
---
Best VPNs for Anonymity & Privacy
Provider
Evaluation
Description
Privacy
Price
Links
Perfect-Privacy VPN Test Report: Maximum Swiss Anonymity and Privacy Perfect-Privacy has been offered for more than 10 years, with special emphasis on secrecy and preservation of the user's identity. Unparalleled high standards are set for security …

No log files✔
KillSwitch✔
Own DNS✔
Dedicated server✔
VPN-to-TOR✔
Own hardware✔

from 8.96 EUR
per month
unlimited simultaneous
Connections possible

Website Website Review
OVPN review 2023: The fastest VPN on the market, no logging policy & support for many streaming services OVPN is a very well-known provider in the industry. With the company location (company: OVPN Integritet AB) in …

No log files✔
KillSwitch✔
Own DNS✔
Dedicated server✔
VPN-to-TOR✘
Own hardware✔

from 4.22 EUR
per month
7 simultaneous
Connections possible

Website Review
Hide me VPN review (2023) - Faster VPN servers & no log files The VPN provider Hide me VPN has been present on the German market for many years and we already wrote our first review …

No log files✔
KillSwitch✔
Own DNS✔
Dedicated server✔
VPN-to-TOR✘
Own hardware✔

from 3.99 EUR
per month
10 simultaneous
Connections possible

Website Review
AtlasVPN Review 2023 - Cheapest VPN service on the market and still secure? The provider Atlas VPN is a very new service on the market. The service was founded in January 2020 and will certainly continue …

No log files✔
KillSwitch✔
Own DNS✔
Dedicated server✔
VPN-to-TOR✘
Own hardware✘

from 1.61 EUR
per month
unlimited simultaneous
Connections possible

Website Review
Proton VPN FREE Test 2023 - How secure is the VPN provider? Proton VPN is the VPN provider of the more commonly known ProtonMail service from Proton Technologies AG, based in Switzerland. In our tests, we …

No log files✔
KillSwitch✔
Own DNS✔
Dedicated server✔
VPN-to-TOR✔
Own hardware✘

from 4.99 EUR
per month
10 simultaneous
Connections possible

Website Website Review
As a streaming and file-sharing fan, I took a look at the Swiss service PrivadoVPN. The service is supposed to be top for torrenting - but is that true? Find out everything in the PrivadoVPN …

No log files✔
KillSwitch✔
Own DNS✔
Dedicated server✔
VPN-to-TOR✘
Own hardware✔

from 3.99 EUR
per month
10 simultaneous
Connections possible

Website Website Review
Surfshark VPN is a VPN service that was only founded in 2018 in Vilnius, Lithuania and contributes to the anonymity of users by concealing their IP addresses. We have tested the service regularly since its …

No log files✔
KillSwitch✔
Own DNS✔
Dedicated server✔
VPN-to-TOR✘
Own hardware✔

from 2.30 EUR
per month
unlimited simultaneous
Connections possible

Website Review
In our NordVPN review, we go into detail about all the functions of the VPN service and also provide information about the background of the company. NordVPN Test (Update 2023) - No log files, ram disk …

No log files✔
KillSwitch✔
Own DNS✔
Dedicated server✔
VPN-to-TOR✔
Own hardware✔

from 3.29 EUR
per month
6 simultaneous
Connections possible

Website Review
Cyber Ghost VPN Review (2023). Better streaming abroad, faster servers and new offers. CyberGhost VPN is a Romanian VPN provider that belongs to the KAPE Technologies company. The technical implementation is carried out by the company …

No log files✔
KillSwitch✔
Own DNS✔
Dedicated server✔
VPN-to-TOR✘
Own hardware✔

from 2.11 EUR
per month
7 simultaneous
Connections possible

Website Review
VPN.AC is a Romanian VPN service that promises a really acceptable price and VPN servers in the most important countries. VPN.ac Review Update 2023 - Even faster and native Wireguard support now for many VPN routers It …

No log files✔
KillSwitch✔
Own DNS✔
Dedicated server✔
VPN-to-TOR✘
Own hardware✔

from 3.75 USD
per month
6 simultaneous
Connections possible

Website Review
Explanation of the descriptions for the VPN comparison:
The restriction to only two characteristics: "no log files" and "maximum anonymity" is not at all useful for comparison. Therefore, we have compared relevant criteria that have a direct influence on the privacy of the user.
Logfile storage & logging of servers and infrastructure
Not all log files are negative because in the ongoing operation of servers and infrastructure it is sometimes helpful to ensure the performance and security of the infrastructure by simply logging errors. Some VPN providers, therefore, log these. Other providers, of course, go further and also store user activities. In our comparison, we do not go into how long this data is stored because of the simplicity of the presentation.
Important NOTE: Many VPN providers state on their websites that they do not create log files! However, as soon as the provider offers limited tariffs (e.g. use 1, 3 or 5 devices at the same time) it is technically not possible to implement these WITHOUT saving log files. The providers therefore simply exaggerate or lie on the websites, and promise the user things that are not technically feasible, so there is always a certain amount of mistrust to be developed.
How do authorities go about it?
When authorities enquire, they never ask: "What did the user do?" but this circumstance is usually known!
They ask: Who used a certain IP address at a certain time. If the provider has the log-in data (real IP address, log-in time, assigned IP address), then he can also provide this information.
Therefore, a "waiver of log files of the users' activities" is not at all a criterion for non-disclosure by the provider. The authorities only need the login data and the real IP address of the user to investigate a person.
---
The location of the company = legal framework
The location of the VPN provider has a direct influence on the legislation to which it is subject. In the "Fourteen Eyes States" as well as in all other NATO states, local laws provide that extensive cooperation with intelligence services among themselves can result in data being mutually siphoned off and exploited. It is often overlooked that this overrides the very local regulations that protect their citizens, even if politicians do not admit this publicly.
Panama is considered a "safe haven" in terms of access to companies and their data. There are no obligations for companies to grant access to foreign services and confidentiality obligations to clients are also possible.
Switzerland is considered a good location for protecting companies' data. In Switzerland, foreign intelligence services do not have access, criminal prosecution can only be achieved by decision of the local courts, this is done based on Swiss law. Clients are informed of this in the event of an official enquiry and have a right of appeal.
Seychelles is considered offshore and it can be assumed that, as in Panama, no third-party intelligence services can have direct access to company data. There is no obligation to provide information in response to official requests from abroad and these are therefore not usually made at all.
The USA is considered completely insecure vis-à-vis companies that want to protect the privacy of users, as there are obligations of confidentiality regarding access by government authorities to user data as well as the obligation to cooperate fully in the sense of the "Patriot Act".
The UK is considered completely insecure for the protection of data from authorities. In the UK, the laws do not go much further and not only allow surveillance of foreign persons but even people in their own country can also be monitored without restrictions. Companies based in the UK must disclose all data and also actively assist the authorities in surveillance activities.
Hong Kong has no extradition treaties with Western countries and local laws also prohibit cooperation with all foreign institutions, making it a very popular location for protecting users' privacy and personal data.
The British Virgin Islands are a British colony with partial British influence on their legislation. Companies based there primarily have advantages in tax matters, but protection against access by intelligence services is not given under British law.
Gibraltar is a British colony that on the one hand offers tax advantages, but no real protection against access by British secret services. Access by foreign authorities are excluded, but not access by British courts and authorities. Cooperation with the USA in this area also harms the protection of user data.
---
Warrant Canary – The passive guarantee declaration for users
A "Warrant Canary" is a guarantee declaration that a VPN provider publishes and which also has an effect if the provider is forced by an authority to "keep quiet" towards its customers.
Usually, these declarations are published transparently on the internet and renewed regularly. If a publication is delayed, users can assume that the provider can no longer "independently" guarantee the security of users.
Examples of continuously updated "warrant canaries":
---
TOR connection, an important component of anonymisation
TOR is a very secure concept and network to avoid "activity analysis" and "profiling" by companies as well as authorities. TOR has some vulnerabilities in the area of user anonymisation, which has become known in recent months.
A VPN to TOR connection, therefore, helps to effectively circumvent these and thus achieve a higher degree of security when using the so-called "darknet". To make it really secure, one connects via VPN to a TOR gateway. However, only a few VPN services can currently offer this. The thought simplest option of connecting to a VPN server and then creating the TOR access yourself via it is fraught with considerable security problems, so only direct TOR access provided by the VPN service can achieve this.
---
Multi-hop VPN, the obstacle to traceability
When it comes to avoiding internationally operating organisations and services, one must also think about the effect that total monitoring of a VPN server (incoming and outgoing data) will have on traceability to the user. In this respect, the only way to protect against this is to connect one after the other (cascade) via several VPN servers.
The consequence of this is that even this theoretically possible, technical total monitoring of the servers would only provide the last connections to another VPN server. Protection against tracing back to the user's source IP address is thus made massively more difficult or even impossible. Only a few VPN providers have the technical resources available to use their VPN servers both to connect to the user and to actively connect to further servers.
From a technical point of view, this means a multiplication of the necessary server capacities and also of the required bandwidths and is of course also reflected in the price of these services.
Special description – NeuroRouting™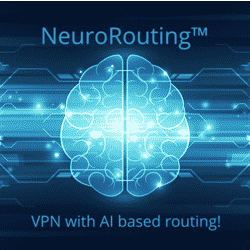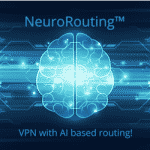 The Perfect-Privacy VPN provider has a function that allows dynamic cascades (routes) to be created and used depending on the destination address on the Internet. This means that the data always takes a different route through the highly secured Perfect-Privacy VPN network, depending on the destination address, and thus only has to cover a short distance outside of secured connections via the Internet. The changing source servers also make tracking and other modern monitoring methods much more difficult.
With NeuroRouting™, unrivalled anonymity and security of the users are achieved, which cannot be achieved with any other measure.
---
Server: Logfiles & Logging by Server Hosting Providers
Servers rented from VPN providers are mostly operated in "virtual and cloud-based server clusters". Even though this of course dramatically reduces the costs of the individual servers, and the VPN services themselves only want to do minimal logging, these "virtual servers" are logged intensively by the hosting companies. This is also regulated in the corresponding rental contracts and is primarily for technical reasons.
However, the fact that authorities can simply request this data from these server operators makes them a considerable risk to privacy protection. At the same time, the VPN providers themselves are not even informed about access to these log files. This has happened to some providers considered very secure in the past year in the Netherlands, Germany as well as France.
The VPN service can only protect itself from this by having its own hardware and using its own switches/routers at the installation site. Of course, this is much more cost-intensive (hardware purchase, the technician who puts it into operation, etc.) and therefore practically only 5-10% of all VPN services from our test reports have their own servers in operation.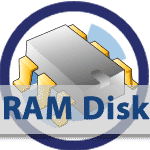 "RAM disk" instead of hard disks
Some providers additionally protect the data of the servers by not using hard disks or storage facilities of the servers, but run the entire operating system of the servers directly in the "temporary memory" of the servers. This means that, firstly, no-log files can be stored anywhere and, secondly, a takeover/seizure of individual servers would not lead to any evaluable result.
As an example, we would like to explain that in case of a power loss of the server, of course, all current data of the running operation are immediately and irretrievably lost. Providers who use this technology simply cannot pass on any data to third parties and any direct access by third parties is therefore impossible.
---
DNS servers can store your activities

DNS servers are used to translate domains (www.url.com) into IP addresses. In the process, the user's browser sends a request for the target IP address to registered DNS services every time a page is called up.
This data can be easily recorded and results in a complete activity log of the user.
For this reason, some VPN providers offer their own DNS services, which do not keep records and thus decisively limit the possible monitoring measures.
How many devices can you use with just one account? And what does that have to do with log files?
These feature restrictions in the tariffs ALWAYS mean that users must also be logged. It is not possible to recognise the login of a user with one device but not to remember this to prevent the user from connecting to more than the purchased devices at the same time.
So any provider who talks about "not storing log files" must not have any limits in their tariffs! Otherwise, they are simply lying. But some providers have no restrictions on simultaneous access. Of course, it also has an advantage if you can provide the whole family with just one VPN account. Today, a household can quickly have 5 or more devices that can use a VPN connection.
Erstellt am: 22. April 2022