Windscribe VPN
5,75 u
Positiv
Use Windscribe VPN service for free with browser extensions up to 10GB per month
Tariff for Pro Tariff beginners: 1 location for only $1 per month
Dedicated static IP addresses can be booked as an option.
Inexpensive Pro tariff to use all servers at full speed
Negativ
Server locations differ in the achievable speed
Windscribe VPN Review 2023: FREE and how secure is the service?
Windscribe VPN is a free VPN service from Canada that offers ad blockers and also secure email addresses/mailboxes. The services are limited in the free version, however, due to the 10GB data limit per month. The Pro tariff, on the other hand, which at $49/year also appears to be very inexpensive, offers a wide range of options. Reason enough for us to take a "critical" look at the VPN service.
There have been ongoing changes to the Windscribe VPN website over the past year, including changes to the terms and conditions. We have therefore subjected the VPN service to further VPN tests a few times and brought our test report up to date.
Of course, significant changes to the contents of the terms and conditions of VPN services are not generally good signs and it is important to take a close look. Even more so, since basic contents cannot change overnight. What do you do as an existing customer of VPN services if the expected services also change as a result?
Our opinion about Windscrbe VPN
Windscrbe VPN is a popular and often-used VPN service from Canada due to its free tariff. More than 20 million active users testify to the wide distribution that this VPN provider has already achieved. But even with the paid tariffs, the service offers many things that are rarely found with other services. The service is suitable for streaming USA/GB content. Price-wise, it is well-priced with simple and appealing applications.
Windscribe is easy to use and suitable for many users. Casual users additionally benefit from the free tariff but also demanding downloaders appreciate the service!
Information about Windscribe VPN Trust-Level
The VPN provider Windscribe VPN has refused to answer our questions about the background of the company and has not allowed us to verify the information provided by the VPN service itself. Therefore, we currently do not have a special "relationship of trust" with the provider. We attach great importance to transparency and would therefore like to state that we have compiled the information in the Windscribe test report based on our own research and published it here, even if in some cases the published information of the provider itself differs.
| | |
| --- | --- |
| Product name | Windscribe VPN |
| Recommended areas of application | Bypass locksVPN routerAvoid warningsStreaming (Copyright)File sharing/TorrentsSecure data transmissionFirewall & Protection |
Background & Company: Windscribe
Windscribe Limited is a Canadian-based company that provides the VPN service "Windscribe". The company was only founded in 2016 and has spread quickly, especially with intensive social media campaigns and a free tariff with which one receives additional free data volume through recommendations. According to Windscribe, more than 20 million users currently use the service. However, it is not known how many of them also use a paid tariff.
Is Windscrbe reputable?
The VPN provider Windscribe VPN offers 45 different locations to choose from. As with other services, these are spread across the globe and should be sufficient for most users. However, the "free tariff" in particular lacks the better encryption method "OpenVPN" so data connections are no longer 100% secure during transmissions.
The premium tariff offers various advertising filters, additional servers that promise faster speeds and the use of all available applications and protocols.
| | |
| --- | --- |
| Operating site | Canada |
| Clearing location | |
| Local legislation has an impact on customer protection | ✔ |
| Server locations | 61 |
| No log files | ✔ |
| Own DNS Server | ✔ |
| Virtual server | ✔ |
| Dedicated server | ✔ |
| RAM-Disk Server | ✘ |
| Hardware owner | ✘ |
| IP addresses owner | ✔ |
How much does Windscribe cost?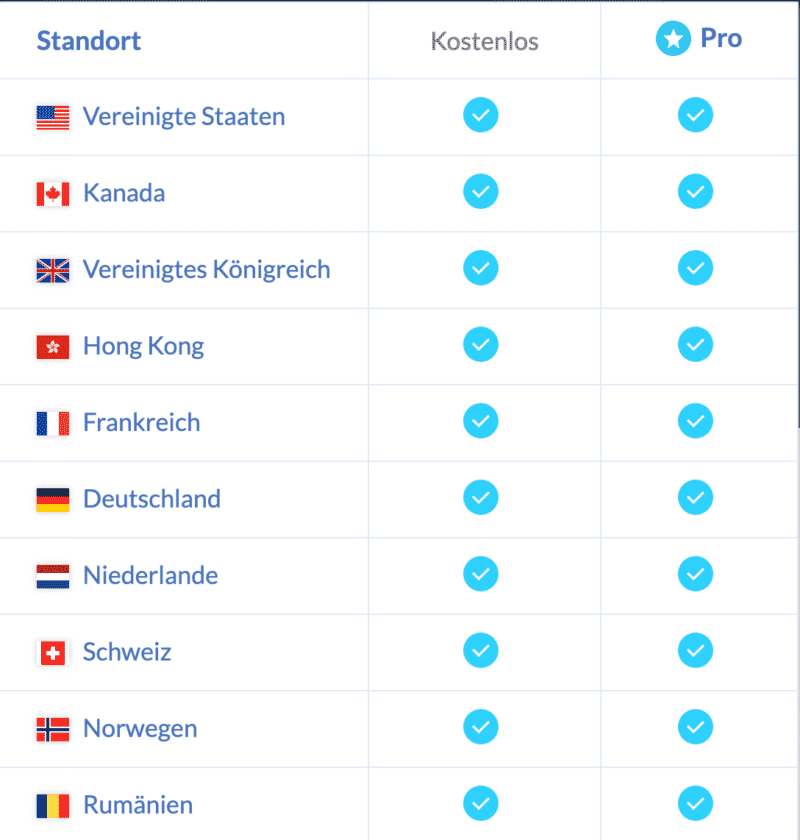 Using Windscribe VPN free of charge
While Windscrbe could be used free of charge for a while with a limited monthly data volume, this option has now been limited to the web browser extension. It is therefore no longer possible for new users to use the service free of charge as a VPN service, even if this option remains available via the browser extensions. Use is then limited to 10 different locations and the servers you choose are shared with thousands of other VPN users using this free plan option.
Create a free Windscribe VPN account without a credit card
The free account at Windscribe VPN can be created by simply providing an email address. No payment details are required. To this e-mail address, you will usually receive a regular message informing you about the current usage of the included data volume. In our test, however, we only received one e-mail per month.
the United States
Canada
the United Kingdom
Hong Kong
Switzerland
France
Germany
Luxembourg
Netherlands
Norway
In addition to the Premium Tariff there are:
Italy
Mexico
Norway
Romania
Spain
Sweden
Switzerland
Ireland
Denmark
Poland
Austria
Czech Republic
Hungary
Finland
Bulgaria
Belgium
Latvia
Moldova
Greece
Iceland
Ukraine
India
Russia
Turkey
Vietnam
Egypt
Azerbaijan
Israel
South Africa
Brazil
Australia
New Zealand
Japan
Singapore
South Korea
Taiwan
Malaysia
Thailand
United Arab Emirates
Tariff & Prices
There is now actually a 1 monthly tariff which can be used via a monthly payment of $9 or an annual payment of $69. This allows all available servers to be used on up to 6 devices at the same time. However, services such as "static IP addresses" are not included and must be purchased separately.
1 location $1 per month
A special feature is that you can also book just one VPN location for $1 per month. For users who want to use the VPN at full speed only via one location, they can use the premium server for little money.
Costs / Tariffs

Free use
✘
Tariff (1 Month )
9 USD
Tariff (12 Months )
69 USD (per month 5.75 USD)
Number of simultaneous connections per account
1
Test options
Free tariff availableMoney-back guarantee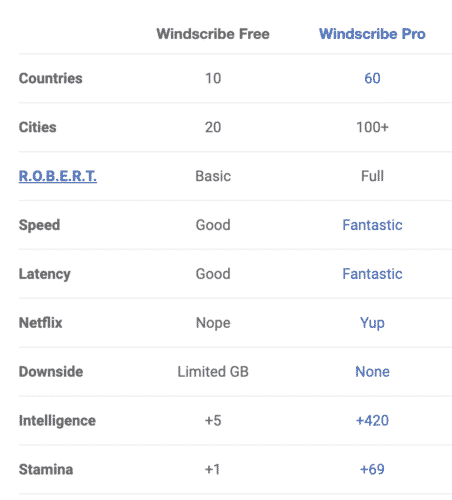 Payment options
Of course, the free tariff does not require any payment methods, only an email address is required.
With the premium rates, you can pay in many different ways: PayPal, credit cards, Bitcoin, instant transfer (Paymentwall), etc. are available.
A particularly critical aspect is that, according to Canadian law, your credit card data must remain stored with the provider. This means that you have already de facto fully authenticated yourself with every purchase.
---
Speed – Windscribe VPN
The Windscribe servers are all rented and their IP addresses are also in the name of the hosting company, which is what many VPN services do. However, in our tests of the speed over the last three years, we have noticed noticeable speed improvements. Apparently, as revenues increase, investments are also made in the speed of the sites. However, there are clear differences when using different protocols. For example, IKEv2 as a VPN protocol is significantly faster at Windscrbe than "OpenVPN". This fact leads to the conclusion that resource-intensive protocols quickly push the rather too-small servers to their limits.
However, this is a circumstance that does not have the same negative effect in all locations. In the free version of WindscribeVPN, this can be experienced even more clearly; at off-peak times, the surfing speed is significantly reduced. In terms of speed, the Pro version is therefore clearly superior to the free tariff.
In direct comparison with other VPN services such as OVPN or NordVPN, the provider still has clear disadvantages in our tests, even though they use the same VPN protocols.
Speed comparison
Maximum speed tested

VPN service name
Download
75090 kbps
361300 kbps
431444 kbps
879900 kbps
Upload
81290 kbps
335444 kbps
410980 kbps
898222 kbps
Jitter
2 ms
2 ms
1 ms
0 ms
Ping
40 ms
13 ms
14 ms
25 ms
Tested with OpenVPN (UDP) on
11.03.2023
02.09.2023
02.09.2023
02.09.2023
Connection within
Germany
Germany
Germany
Germany
Maximum speed tested
Germany | 31.12.2022
Online privacy with Windscribe VPN
Anonymity and online privacy of users is of course central issue for many users when they purchase a VPN provider. Windscrbe offers adequate measures to protect the data of the users and, at the same time, to protect the identity of the customers in case of a request for information.
Can Windscrbe be trusted?
This starts with the fact that the VPN service, according to its own statements, does not log any activities (log files). Whether this also means in practice that the service does not record any login and logout times are uncertain.
Streaming and torrent users will therefore like to use the service, but in the free version the available data volume as well as the speed is not suitable for this.
Anonymous on the Internet

Changed virtual location
✔
Protection against requests for information
✔
Prevent general monitoring
✘
Prevent targeted surveillance
✘
No log files
✔
Obfusication (masking)
✘
Streaming with Windscribe
Foreign TV and streaming services can be used without any problems. So if you want to use Hulu, Netflix, BBC iPlayer or other portals from the USA, Canada or Great Britain, you will have no problems.
Streaming of TV and video content

Use on home router
✔
Use with KODI
✘
SmartDNS
✘
FireTV App
✘
Avoid warnings
✔
Supported international streaming platforms
Disney+ (US)Hulu (US)Amazon Prime Video (US)Netflix (US)Apple TV (US)Watch ESPN (US)Channel 4 (US)NFL Gamepass (US)MLB.tv (US)abc (US)CBS (US)FOX (US)NBC (US)Showtime (US)FLIX (US)epix (US)HBO Now (US)Eurosport (UK)Sky News (UK)Bloomberg (UK)BT Sport (UK)Channel 4 (UK)YouTubeSpotifystarz (US)hustlerTV (US)PenthouseTV (US)PlayboyTV (US)
Download & Torrent with Windscribe VPN
On the one hand, the service offers the possibility to secure the connections with the built-in kill switch and thus prevent unintentional disclosure of one's own IP address. In the premium tariffs, however, sufficient and faster servers are also made available, which also enable really good use of these download services on the internet. The service itself does not hold back torrent users and supports their activities.
Due to the limitation of the data volume, premium tariffs are much better suited for this. However, the service does not have to shy away from comparison with other VPN services in this area.
Download and torrent

Torrent use allowed
✔
Own Torrent Server
✘
Avoid warnings
✔
Port forwarding
✘
VPN Router with Windscribe
The service offers no real support for VPN routers and also has no load-balancing function available. There are instructions on the internet that show how to make the service run on routers, but these were not stable in our tests.
Operation on VPN client router

Use on routers
✔
Load Balancing
✘
Failure-free operation
✘
Own router application
✔
Compatible with
ASUSGl-iNetDD-WRTTomatoVilfo Router
A large selection of routers is possible
However, Windscrbe can be used on many home routers, including ASUS routers, Gl-iNet routers with OpenWRT, DD-WRT routers and any device that can use an OpenVPN client.
Tip: Here you can find suitable VPN client routers that can be connected directly to Windscribe in your home network: VPN Client Router.
The only router that already has Windscrbe built in and thus also offers perfect support is the VILFO router. This is not quite cheap but a really good device.
Applications & Apps from Windscribe VPN
In addition to the usual apps for Windows, macOS, Android and Apple iOS, Windscrbe VPN also offers browser extensions. This allows the service to be connected directly to the browser via a VPN tunnel. However, this only applies to the data that is sent or received via this browser. Therefore, we normally recommend using the normal VPN apps, which use OpenVPN or Wireguard as VPN protocol and can thus protect all data of the device.
How do I use Windscribe?
Simplicity in everyday life
Windscrbe applications are available for many different operating systems and browsers and all have one thing in common: they reduce themselves to the essentials and therefore offer the user the simplest handling. This is also the greatest strength of these VPN applications, which are quick and easy to use for everyone. The selection of server locations is certainly sufficient for most users, after all, if it's just a matter of online privacy, you should use the closest VPN server location, exotic locations are of little help.
| | |
| --- | --- |
| Available protocols | OpenVPN (UDP)OpenVPN (TCP)SSL/ProxyIKEv2SOCKS5SSTP |
| Own applications/apps | Chrome extensionOpenWRTASUSWRTOpenVPN UDPWindowsMac OSXApple iOSAndroidFirefox extensionLinuxTomatoDD-WRT |
| KillSwitch function | ✔ |
| Applications language | EnglishGermanSpanishRussianFrenchSwedish |
Online games with Windscribe VPN
For online gamers, some points are important that Windscribe could not fulfil, at least in our test. The latency and ping times are significantly higher than those of direct connections and can therefore also lead to problems. In addition, the use of gaming consoles is not provided for. Even if the VPN speeds were sufficient, this can therefore lead to significant disruptions in the gaming experience via VPN when playing online games.
Nevertheless, the compatibility with VPN routers is often an advantage here, which led some of our readers to use the service for online games and they reported good to very good results with it. However, real online gamers will also look for alternatives anyway and may prefer a VPN service with DDoS protection.
Online Gaming

Low latency
✘
Use on game consoles
✘
DDoS protection
✔
Travelling with Windscrbe VPN Apps
When you are travelling, a VPN is of course a particularly useful thing. Windscribe apps are simple and structured and consume very little energy compared to other VPN apps, which saves the battery life of mobile devices. Where the service has problems, however, is when used in hotel networks or restrictive networks such as those that are part of everyday life in China, Turkey or even Saudi Arabia.
For occasional users, on the other hand, it is a good idea to have Windscribe already installed just in case and to use the free tariff, because those who do not regularly use the service will easily be able to get through their holidays with the 10 GB data volume offered.
VPN for travel and abroad

Use in restrictive networks (China, hotels)
✘
Obfusication (masking)
✘
Protection in insecure wifi networks
✔
Shadowsocks or SOCKS5
✔
Customer support of Windscribe VPN
Customer satisfaction is always made up of different experiences. Of course, free Windscribe users have fewer demands and expectations than premium customers. In addition, the provider hardly offers direct contact to the service team. Test queries were answered quite quickly, but without going into detail about our questions, which led us to the customer service area, where many instructions and explanations are available.
Customer service

Applications language
EnglishGermanSpanishRussianFrenchSwedish
Customer service
FAQ websiteE-mail
Language in customer service
English
Windscribe VPN feature overview
Using a static IP with Windscribe
The service also offers the possibility of booking a static IP address on all devices that can be used with it. This has the advantage that these devices can then be reached directly. Even residential IP addresses (i.e. IP addresses that are assigned to private Internet access) are available. The costs are $24 per year for IP addresses registered on servers and $96 per year for IP addresses registered for internet access. In addition, the cheapest access to a single VPN server is $12 per year.
With this, you can use your static IP address for only $36 per year, and thus also access devices in your home network via it!
Windscribe also offers optional NON-Residential IP addresses
These types of IP addresses have been assigned by the IP Commission for use on servers.
Websites and platforms can also recognise that the user is using a proxy or VPN service. Some platforms such as Netflix or DAZN block VPN users to prevent the circumvention of geographical blocks.
Special functions

IPv4
✔
IPv6 (new)
✘
Static IP
✔
Shared IP
✔
Multi-hop VPN
✘
NeuroRouting
✘
Malware filter
✔
Firewall
✔
Tracking Blocker
✔
Obfuscation (mask)
✘
RAM disk (k.HDD)
✘
AlwaysOn Server
✘
Own DNS
✔
Port forwarding
✘
VPN-to-TOR
✘
No log files
✔
Autom. IP change
✘
LoadBalancing
✘
Virtual server
✔
Dedicated server
✔
Own hardware
✘
Own IP addresses
✔
SmartDNS
✘
Own Torrent Server
✘
KillSwitch
✔
Static IP address of Windscribe
Vorteile mit einer statischen IP-Adresse
A fixed IP address can be used to always use the same IP to access the Internet and thus, for example, to comply with security rules when accessing databases.
Another possibility is to make your device directly accessible from the Internet by port forwarding. This can be advantageous if you want to access certain devices in your network while on the road and cannot use a static IP through the Internet provider or if the provider does not forward ports to your connection from outside. This affects a large number of users of different Internet providers today.
Mobile devices & static devices using the same IP address can be advantageous if you set the use of a single IP address as a requirement due to security rules for accessing databases or cloud storage. This increases the security threshold for users when accessing sensitive data, as they must have access to the VPN service.
Static IP addresses can be ordered directly from the Windscribe customer area!
Pricing using the example of a static IP address:
Anyone who wants to use a static IP address with it, therefore, pays 1 location $12 per year + 1x NON-Residential IP address $24 per year. In total only $36 per year.
Who is R.O.B.E.R.T?
The built-in "Malware and Proxy Filter" from Windscribe.
The premium versions include various types of filtering that are intended to help prevent unwanted content from reaching the user's device in the first place. ROBERT is used, as a self-developed system, which routes the user's data via a proxy service and there searches and filters it according to known dangers or content (advertising).
Filters can be used according to different rules:
Malware
Advertising & trackers
Social networks (Facebook & Co)
Erotic sites & content
Games and betting sites
Fake News Filter
Other VPN Services
Cryptocurrencies (suspected malware)
You can also manually create your own rules that are applied to all units that are already connected. However, it is not possible to activate rules for individual units only. They generally apply to all units or none.
The significant thing about this filter is that it can be specifically switched on and off and can be adapted to the needs of the user. All in all, this results in one of the best filter services integrated by VPN services that we have seen so far.
FAQ about Windscribe VPN
Our review of Windscribe VPN
Free to use in the browser
You can still use Windscribe VPN free of charge via the browser applications. However, it must be said that this does not provide 100% protection, as only the data that is transmitted directly via the browser is sent and received via it. In addition, the data is exchanged with the internet via "proxy servers", which also harbours dangers in that the proxy services can view, manipulate and also store all the data running over it, even if it is encrypted.
To maintain the complete integrity of one's data, we therefore always advise against using third-party proxy servers. The free offer is therefore rather useless for users who attach importance to this. In addition, users of this service are regularly and frequently contacted with e-mails. It is therefore worth using a pure spam email address for registration.
Data integrity can be compromised, so no free pass for anything!
But if you think you are anonymous, you should consider that your IP address is also known to the servers when you use the free service. Together with the time of use and the activities, a user can therefore be identified relatively easily or his real identity can be investigated. So the free Windscribe tariff should not be understood as a free pass for everything on the internet.
Important information about identity protection
Many readers ask me whether you can also use Windscribe to use torrent or streaming services, for example.
The problem with this is that Windscribe stores your data (i.e. the real IP address) and could pass it on in the case of legally impeccable enquiries from authorities or also because of copyright matters or other legally stipulated investigations. This is provided for in Canadian law, as it is in Germany. In this respect, you should know that your own identity will not remain protected. The provider's terms and conditions also state that copyright-related activities by users are not permitted.
A free service? Or is your data actually worth the money? – Windscribe VPN
The danger is that the users give your data to the operator, let's say, completely voluntarily. Every page you open, every email you send and also who you send it to, etc. It is undoubtedly not recommended to gather all your data (surfing behaviour, e-mail + data control (malware protection) with one provider.
Never give all your data (emails, activities, content) to one provider. Even if it seems trustworthy or even practical, we advise against it, because then you are too dependent. In addition, Canada has not provided any special data protection for foreigners. You also can't object or complain about the use of your data!
Windscribe is probably also a thorn in the side of many data protectionists because of its too-obvious advertising promises and the free tariff. Contradictory statements on data storage (We do not store any of your data, but we limit your access to 10GB per month – both together are technically impossible, even for the layman) and full-bodied promises on the website are intended to convince new customers of the service. Whoever uses the service, that may be the calculation behind it, no longer questions what happens to their data.
In an earlier version of the provider's GTC, data transfer to partner companies was mentioned! Possibly due to many enquiries about this, these unclear regulations and formulations have been removed, but they have not been explicitly excluded.
The use of proxies to filter user data is therefore controversial and or excluded by many VPN services. Many, such as Perfect-Privacy VPN, argue that they could be forced to access the users' data. This can therefore only be ruled out if this type of data filtering has not been implemented at all. The other way of filtering data could also be done without a proxy, but it would be technically much more complex, which is probably why Windscribe decided to take the simpler route via proxies.
In the end, however, the users also benefit from this, as the price of the service can be kept within a really attractive range and one can use these functions free of charge, so to speak.
Whether you trust the service in these circumstances or not is ultimately up to you. However, we generally advise against using these functions when it comes to confidential data.
Alternatives to Windscribe
OVPN
OVPN Logo Trust-Level
NordVPN
NordVPN Logo Trust-Level
The provider, which also has offices at the same location in Lithuania, is the best-known VPN service on the market. NordVPN also offers some extra features, but they are not included and cost extra.
The disadvantages compared to Surfshark are:
Higher price
A limited number of simultaneously connected devices
No GPS Spoofing
hide.me VPN
Hide.me VPN Logo Trust-Level
The provider with "German founders" also offers quite good support for streaming abroad in addition to simple applications. There are no major advantages compared to Surfshark.
The disadvantages compared to Surfshark are:
Higher price
A limited number of simultaneously connected devices
No GPS Spoofing
Erstellt am: 20. October 2022