IvacyVPN
1,5 u
Positiv
Suppliers from Singapore, outside the EU/USA
Very cheap, attracts customers with it.
Many available locations worldwide
Very good for streaming US + GB content
Negativ
Use on router not perfectly solved
Ivacy VPN Test
Ivacy VPN is unknown to many readers in Germany, although the obvious services of this provider are extremely good. The whole thing at a price of fewer than 3 euros per month also meets the expectations of frugal users. Nevertheless, the service also has to contend with many limitations for various user groups, including the fact that the service sometimes has to contend with speed problems or can only be used very awkwardly on routers and with significant connection problems.
Therefore, we have paid a lot of attention to this test report and tried to get and describe all the background information. The name "Ivacy", which sounds strange to us, is an abbreviation for "Pr-IVACY", i.e. privacy.
| | |
| --- | --- |
| Product name | IvacyVPN |
| Recommended areas of application | Netflix (EN)VPN routerUse in ChinaAvoid warningsStreaming (Copyright)Bypass locksFile sharing/TorrentsSecure data transmissionAnonymous communicationFirewall & Protection |
Our opinion about Ivacy VPN:
Ivacy VPN is not a completely independent VPN service, but belongs to the same company as PureVPN. The provider is often talked about as a LifeTime offer and entices many with a particularly low price. The customer service offers only few customer sufficient support, and we are receiving more and more contacts from readers who have negative comments about the service overall.

The technical solution for using Ivacy VPN on routers is also unfortunate and it is not recommended to use Ivacy VPN on routers!

Ivaci VPN is a good choice for the less experienced user, especially considering the value for money.
Ivacy VPN is well suited for:
Streaming and file sharing
Bypassing local geographical blocks
Protection against spying
Bypassing local data storage by authorities or ISPs
Access to content that is only available in other countries
Security when using foreign public networks (Wifi hotspots)
Daily or even occasional use on mobile devices
Prices of Ivacy VPN
There is actually only one tariff at Ivacy VPN and we see no reason to offer more options. IvacyVPN offers a 5-year subscription for only 0,9 €/month.
Costs / Tariffs

Free use
✘
Tariff (1 Month )
9.95 u
Tariff (24 Months )
47.76 u (per month 1.99 u)
Tariff (60 Months )
90 u (per month 1.5 u)
Number of simultaneous connections per account
Test options
IvacyVPN bietet mehrere Zahlungsmöglichkeiten an:
Kreditkartenzahlung
PayPal
Bitcoin
Perfectmoney
Webmoney
Please note when paying via PayPal: PayPal changed the rules for payment of direct debit agreements and required at least a verified means of payment such as bank debit or a deposited credit card. Since with Ivacy, as with other providers, you have to agree to a PayPal debit, this deposited and verified "credit card" is required by PayPal for payment. This is not directly due to Ivacy. If you want to avoid this, you can make a payment to IvacyVPN directly via PayPal by sending the open amount (note exchange rate to USD) directly to the PayPal address [email protected]. In the purpose of payment, the "credit card" must be indicated. Please state the "Invoice Number" in the reason for payment.
Included services:
Software for Windows, Mac OSX, Android and Apple iOS
Use of up to 10 devices at the same time
Unlimited bandwidth and data usage
Server access to more than 100 servers worldwide
No log file storage (partial log files, technical reasons)
30 days money back guarantee: 7 days money back guarantee is for 1 month deal.
So a good price-performance ratio.
Facts about Ivacy VPN:
| | |
| --- | --- |
| Operating site | HongKong |
| Clearing location | HongKong |
| Local legislation has an impact on customer protection | ✔ |
| Operation and billing separately | ✘ |
| Server locations | 56 |
| No log files | ✔ |
| Own DNS Server | ✔ |
| Virtual server | ✔ |
| Dedicated server | ✔ |
| RAM-Disk Server | ✘ |
| Hardware owner | ✔ |
| IP addresses owner | ✔ |
Streaming with Ivacy VPN
Otherwise good support for streaming especially from the US and UK area in our Ivacy VPN test.
Streaming of TV and video content

Use on home router
✔
Use with KODI
✔
SmartDNS
✔
FireTV App
✔
Avoid warnings
✔
Supported international streaming platforms
Disney+ (US)Hulu (US)Amazon Prime Video (US)Netflix (US)Apple TV (US)Watch ESPN (US)Channel 4 (US)MLB.tv (US)abc (US)CBS (US)FOX (US)NBC (US)Showtime (US)FLIX (US)HBO Now (US)ITV (UK)Eurosport (UK)BBC iPlayer (UK)Sky News (UK)Bloomberg (UK)BT Sport (UK)YouTubeSpotifystarz (US)hustlerTV (US)PenthouseTV (US)PlayboyTV (US)
Download & Torrent with IvacyVPN
You are definitely safe from spying with the service, Kill Switch and other functions are also helpful and therefore the service is also well suited for torrent users.
Download and torrent

Torrent use allowed
✔
Own Torrent Server
✔
Avoid warnings
✔
Port forwarding
✔
Ivacy VPN connection while travelling
The Ivacy apps are appealing and offer a lot of comfort, so they are also good to use when travelling. If you want to stream TV at home, you will be relatively well served…
VPN for travel and abroad

Use in restrictive networks (China, hotels)
✔
Obfusication (masking)
✔
Protection in insecure wifi networks
✔
Shadowsocks or SOCKS5
✘
Speed with Ivacy VPN
The service speeds are usually in the good middle range, but not outstandingly good either. It also depends strongly on which location you choose and the local time of day also plays a role.
Maximum speed tested
Germany | 14.10.2022
Speed tests and network of IvacyVPN
We have always carried out the tests with the VPN protocol that is best for us: OpenVPN and therefore also had a somewhat limited server selection, but there are also more than 50 different countries to choose from with it. We sometimes had slightly higher ping times, but this should only really affect online gamers, otherwise the data transfers were very good without interruptions and also with an average performance of up to 75% of the maximum possible bandwidth. In practice, hardly any restrictions should be noticeable and ivacy is thus also suitable for TV and video streaming.
Online gaming with Ivacy VPN
The VPN provider for gaming is not the best choice, the latency times with the service are above average.
Online Gaming

Low latency
✘
Use on game consoles
PlayStationXBox
DDoS protection
✔
Additional functions that are supported and offered:
KillSwitch: Interrupts the communication of certain programmes if a VPN service is not available.
Server also optimised for file sharing/torrent use.
VPN split-tunnelling: This allows you to assign different priorities for data communication to individual programmes or to bind or exclude some programmes
from VPN altogether.
IPv6 Leak Protection
Anonymous and record-free DNS service
5 devices can be used simultaneously with one user account
24/7 customer service in English
Tariff is unlimited (no time or volume limits)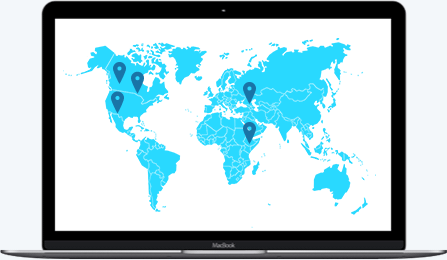 It all sounds almost too good to be true for less than €1 per month. How does ivacy VPN do it?
Installation und Nutzung von Ivacy VPN
Immediately after ordering, you can choose from many different payment methods, including local providers to the standards such as PayPal and credit cards, you can download the software. There are 4 different apps to download for Windows, Mac, Android or Apple iOS. This is done quickly and you log in with your user name (e-mail address) and the password you have chosen.
The selection of servers is very simple and clearly laid out, and the desired VPN protocols can also be changed in the settings, which means that the selection of available servers is always changing, as not all protocols are available at every location.
Some locations are also not permitted for the use of file sharing/torrent, but this is the case with many providers in order to avoid problems with authorities. (Which in the end benefits the users again).
Ivacy VPN with VPN routers
Where there are real problems is the use on routers. Ivacy does offer instructions on how to use it on routers, but the engineers are flawed in their descriptions and configurations have been offered that don't work in practice. We have talked about this several times with IvacyVPN, and apparently there is little realisation that people there will change this.
Use IvacyVPN on ASUS router!
We have solved the problem with the faulty configuration files of Ivacy VPN and offer our readers here our versions and a suitable instruction for it, with which it is quite simple to use Ivacy VPN connection also on an ASUS router.
Operation on VPN client router

Use on routers
✔
Load Balancing
✘
Failure-free operation
✘
Own router application
✔
Compatible with
ASUSGl-iNetDD-WRTTomatoVilfo Router
Our help refused
We also pointed this out to the Ivacy VPN technicians and tried to suggest solutions, but because we were afraid that we would find out and that the obvious problem could be that the service does not actually have sole access to the VPN servers, all our attempts to discuss this problem there so far have simply been denied.
Technical log files are used in any case, as otherwise the VPN service would not be able to create any restrictions on limited device use, etc. See also "Compare secure VPNs: anonymity & privacy with VPN!".
The "myth" of the log files
It is clear that this VPN provider, like most other VPN services, also uses log files, i.e. logs about how often a user uses the service at the same time. This is also necessary to prevent users who have booked an IvacyVPN tariff from sharing this access endlessly with others. IvacyVPN customers can use the service on up to 10 devices in parallel, but no more. The use of a server with the IP address of the connected device is centrally logged.
Daher ist es auch technisch möglich, dass über diese Logfiles die Auskunft erteilt werden könnte, welcher Nutzer (Reale IP-Adresse) eine IP-Adresse eines IvacyVPN Servers zu einem bestimmten Zeitpunkt verwendet hatte.
You can therefore also use the service without hesitation for protection in torrenting/filesharing or streaming!
Is the Ivacy VPN provider reputable?
We also got an idea of the provider by phone. In our telephone conversation, we were connected several times to "specialists", all of whom actually spoke good English and we were also invited to visit the company directly. All impressions were more than positive and showed professionalism. The employees were audibly eager to answer our questions and we did not have the impression that they wanted to hide something from us. Therefore, we would say: Ivacy VPN is serious!
Erstellt am: 12. October 2022