First NordLocker test: We know NordVPN as an
extremely popular VPN
that also always scores very well in our tests. Now the provider has been busy again and has developed its encryption tool: NordLocker wants to put an end to time-consuming encryption. You can use it to store all your data quickly and easily, as if in a small "safe". Directly on your hard drive, but also in clouds. We have thoroughly tested NordLocker: Does the tool deliver what it promises?
Do you encrypt your data?
Hand on heart: Do you encrypt your data? Family photos, secret company documents, access data, etc.? These are all things that should not fall into the hands of strangers. That's exactly why it would be ideal to encrypt them. But this is not so easy and requires a certain technical skill. In addition, the increasingly used clouds harbour many risks … NordLocker wants to solve exactly these two problems with an easy-to-use encryption method for all files and folders. For better data protection and more security.
NordLocker test – this is how the tool works
In the first step, you have to download NordLocker. This is very easy and fast on the NordLocker website. However, you need an account. If you already have a NordVPN account, you can use it.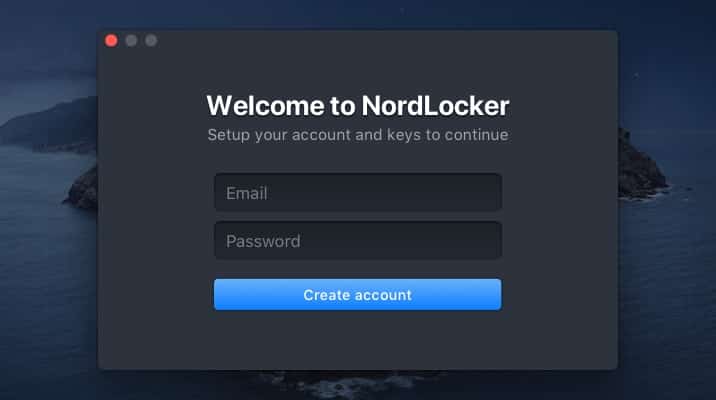 Then all you have to do is install NordLocker on your device. Open it – and you're ready to go: You shouldn't expect a lot of bloom and beautiful designs. The user interface of NordLocker is very puristic. But that's not what matters.
Top encryption with multiple protection convinces in the NordLocker test
As far as encryption is concerned, the tool is unbeatable: On the one hand, the files themselves are encrypted. And that with AES-GCM. But that is not all. The names of the files are also encrypted with EME. Your encrypted files are ultimately protected twice: Once with your user data, but also with the so-called master key. For this, the NordLocker makers have used the hyped algorithm XSalsa20-Poly1305 MAC, which has been tested by many encryption experts and researchers.
But now the NordLocker test starts: First you have to create a data safe, the "Locker". The title you give the folder is up to you. And also where you save it. This is possible directly on your device, but also in the cloud.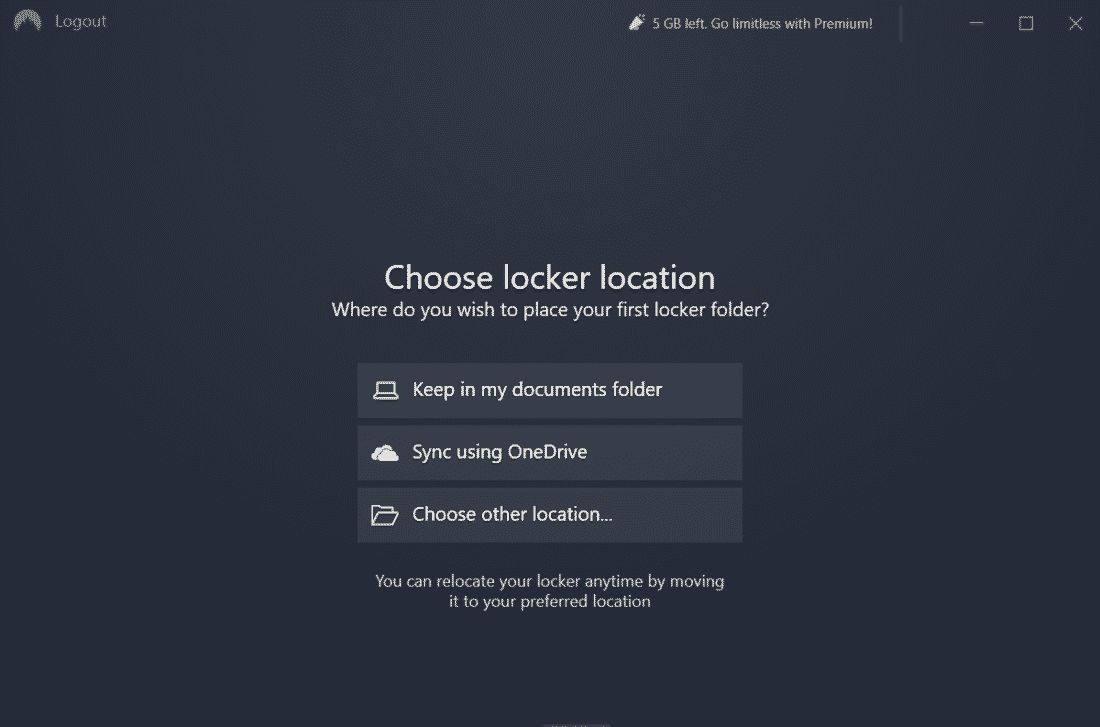 To open the Locker, you need a master password, as announced earlier.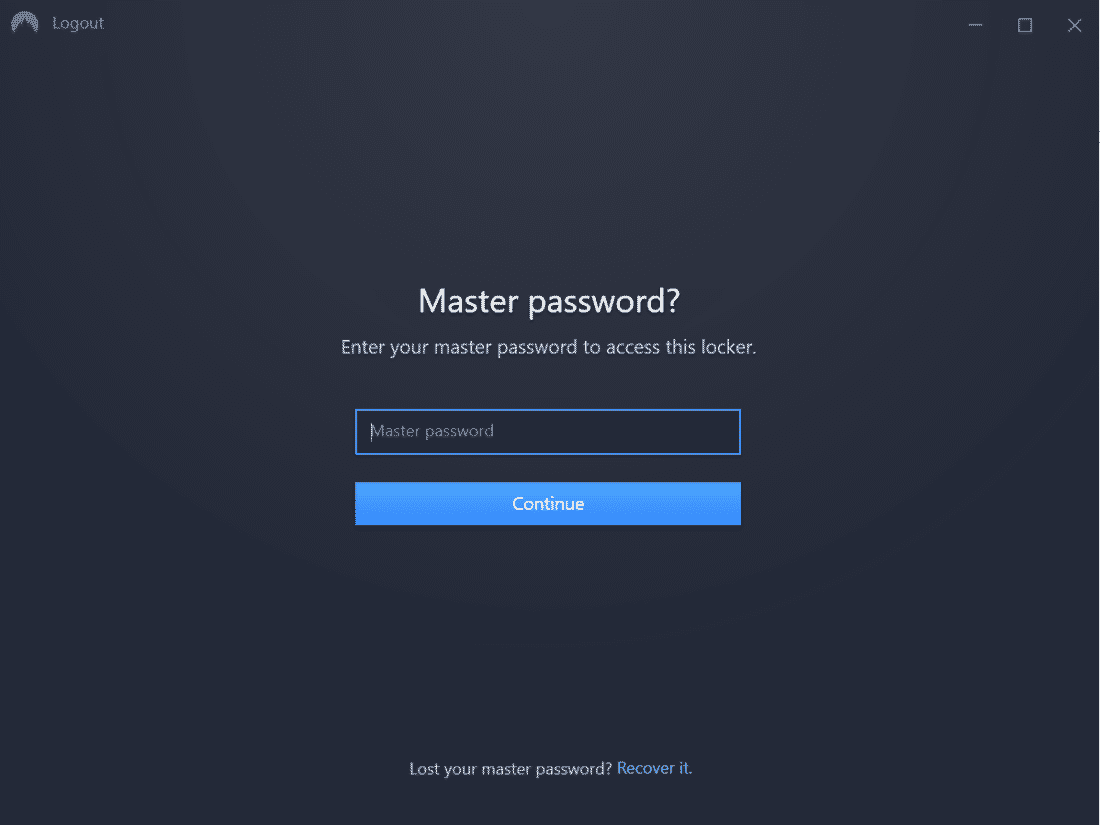 If you forget this, you still have the option of using the recovery key. You will receive this when you set your master password. But if you also lose the recovery key, you are out of luck: You can no longer access your data! So store your recovery key well or put it in a safe physical place.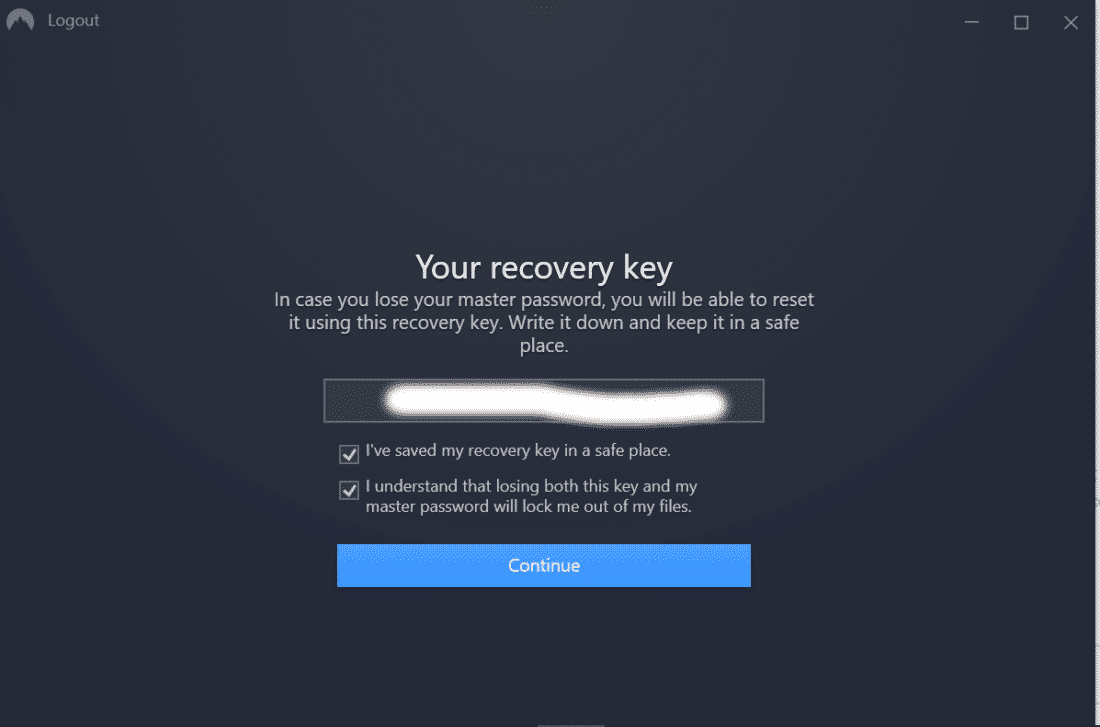 Now all the preparatory work is done and you can start: Select the file you want to encrypt. Then simply drag and drop it into the locker or add it via the menu. That's it? That's it: Encryption is time-consuming, but not to use, as we found out in the NordLocker test. It is quick and easy. So you don't have to be a tech geek to use NordLocker.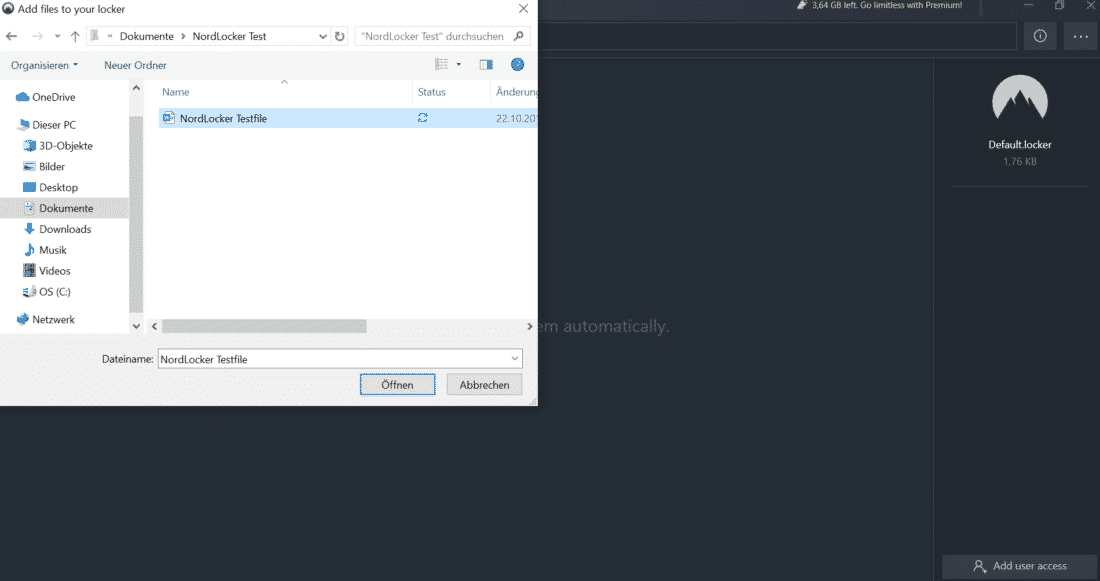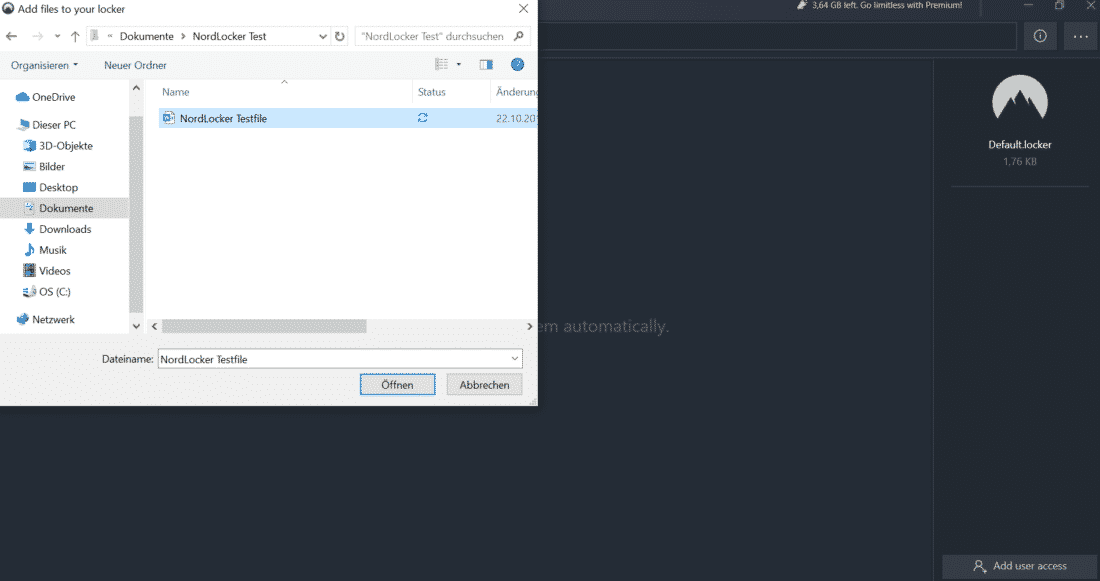 So you can quickly encrypt all your data. But NordLocker can do even more: You can also forward this encrypted data via a context menu. But the recipient must also use NordLocker, otherwise, it won't work. In any case, he or she will receive an e-mail with the relevant information.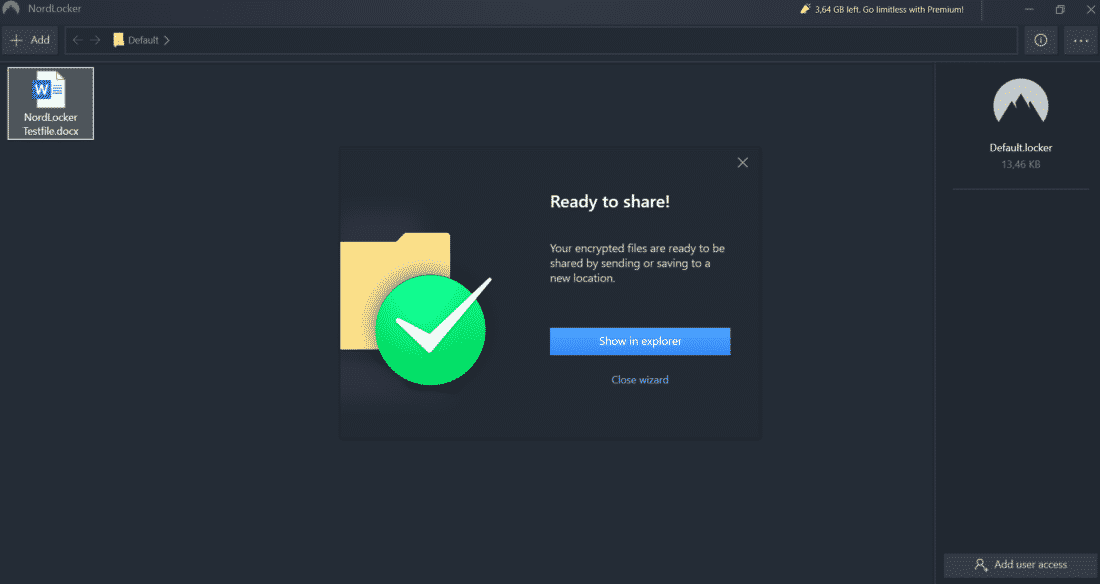 In short, you can encrypt and distribute data with NordLocker. There are currently no other functions, not even a search function. Which would of course be very practical.
Use NordLocker for free & premium tariff
The NordLocker costs look like this: You can use the tool for free – with unlimited local encryption. So you can encrypt your entire hard drive. Additionally, 3 GB of free cloud storage are included. To get unlimited encryption with 500 MB of cloud storage, you need the premium plan, which costs $7.99 for a month. With the 1-year plan, it's only $3.99 per month.
UPDATE 2020 – News since our test
NordVPN has taken a look at how users are using NordLocker in the first few months since its launch. Based on these findings, there are some practical innovations. Specifically, the following was implemented in 2020:
Search function: We were still missing this important feature – now you can also search.
Drag & Drop: Add your files to your Locker even more easily.
Select view: Decide for yourself whether you prefer to work with a list or a grid.
Dropbox integration: You can now share your lockers more easily in the cloud. All data After Dropbox, other proven cloud providers are to follow.
Enhancement of the start screen: Your recent Lockers are now displayed here.
Lower price: The premium tariff now costs $1.49 per month or $12 per year.
Optimised user interface: Thanks to additional columns, sorting and a settings window, NordLocker becomes an even more intuitive security app. Additionally, it is now possible to set yourself how long you can be inactive before NordLocker locks itself automatically.
Encrypted Cloud
In 2020, the NordLocker team also invested a lot of time in preparing and testing the introduction of its encrypted cloud storage. This essential upgrade transforms NordLocker from a simple file encryption app to a powerful file encryption tool with a private cloud. All files are encrypted before they are uploaded to the cloud and are therefore top protected. Users can access and automatically back up their files anywhere. NordLocker's cloud storage synchronises the user's data across multiple devices, so it's always just a click away.
Launching its Bounty campaign in early 2020
Just like NordVPN itself, NordLocker has also launched its Bounty campaign. The aim is to provide "ultimate security" for users' data.  Hackers can try to crack an encrypted NordLocker vault and win $10,000 – if they are successful. After 261 days and 600 unsuccessful attempts, the safe deposit box has not yet been decrypted. Which of course speaks highly for the security of the product.
Updates 2021
Mobile app: A NordLocker mobile app appeared in 2021.
Background Sync: With this feature, already available on macOS and coming very soon to Windows, you are notified by the background app when you make updates to your cloud so you can sync those changes.
Share via the link: This allows users to share their files via a link so that the recipient can open them without NordLocker.
Web access: Files in the NordLocker cloud will be accessible via a browser. Identical end-to-end encryption, but more convenient for the user.
Cloud Locker Sharing: A secure and easy way to share your encrypted cloud vaults. Simply enter the recipient's email address to have the vault appear in their app. If the recipient is not a NordLocker user, they will receive an invitation.
NordLocker test report – our conclusion:
NordLocker is a very good thing because it provides more security and data protection, as our NordLocker test showed. And, as we have seen for ourselves, it is really simple and fast. What's more, it can also be stored in clouds, which brings additional advantages. The multiple encryption itself is top league, NordVPN has really done a great job. Even better would be NordLocker with a search function, but maybe something will come. You can find more information about Nordlocker on the

official site

. If you want to know more about the maker of NordLocker, NordVPN, here you can find our

NordVPN review

.
Erstellt am: 12. October 2022